Frontlist | Hooked on Books returns with a virtual twist
Frontlist | Hooked on Books returns with a virtual twist
on
Feb 04, 2021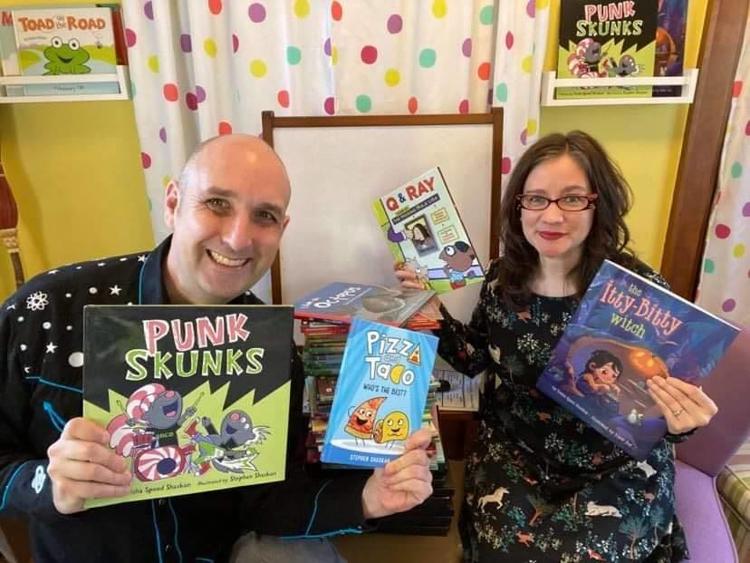 In a typical school year, authors and illustrators Trisha Speed Shaskan and Stephen Shaskan would visit between 30 and 40 elementary schools across Minnesota.
The Minneapolis couple, who met while teaching creative writing and art to elementary students, have written and illustrated over 50 books combined for children.
"The energy that comes with being with kids and helping them create their own characters is really wonderful and inspiring," Stephen said.
Trisha and Stephen are the featured authors of 2021's "Hooked On Books ... and the Arts, too!," a celebration of literacy and arts presented as a partnership between Eastern Carver County Community Education and the Carver County Library system. Started as a reading fair 15 years ago, Hooked on Books has evolved into a free event for families with activity stations, author meet-and-greets and musical performances — but this year, it's moving online on Feb. 6.
In the past, around 2,300 people attended the free event, which normally takes place on a Saturday morning in February, said Lori Kendall, district communications specialist.
"Clearly, that's more than the capacity of the COVID world we live in," Kendall said. "But even in this challenging time, we wanted to continue the celebration of the arts."
HOW IT WORKS
In previous years, the featured author would visit classrooms during the week leading up to the event. The 2020 celebration, held at Chanhassen High School, had nearly two dozen activity stations, including painting demonstrations and opera performances, and participants would receive a free book on their way out.
This time around, all activities will take place online the day of, with links that go live at on Feb. 6 at eccs.mn/hooked. Visitors can click and choose what they'd like to participate in throughout the day.
Trisha and Stephen created a musical performance related to their recent book and a build-your-own-character workshop. There will be an ethnic dance performance by Los Alegres Bailadores, an art gallery of elementary students' work, and an artistry creation workshop and music from Ten Penny Tunes. Readers can also submit a book review of any book and receive a coupon for a free treat from Qdoba in Chaska.
"These activities are quick and simple ... you don't have to go onto Zoom or Google Meet. Kids can choose from a variety of things and can do it by themselves," Kendall said. "If it's a snowy day, I think we'll have a lot of participation," she added.
HIGHLIGHTS
One of Trisha and Stephen's videos for the event is a family musical performance, where they both play the guitar, read their books (like "Punk Skunks," about two skunks who play guitar and drums) and explain how their ideas came to life.
Their second workshop shows how they came up with their original characters and guides kids through creating their own with the help of worksheets. One activity shows how participants can draw their own character with simple shapes, and another brainstorms names and traits. ("We get really funny things, like a pancake afraid of maple syrup," Trisha added.)
Also highlighted during the presentation are other Minnesota authors, like Ojibwe author Brenda Child and Colombian writer Anika Fajardo.
"Minnesota has a really rich community of children's book authors and illustrators, and we wanted to invite some of our friends that represent some of Carver County's population to introduce students to their books," Trisha said.
There is one downside to the online format: they're not able to see the kids, Stephen said, though they encourage teachers and parents to send their creations to the couple.
"We hope families have a lot of fun with it, because it really is fun and easy. We give simple tools to create, but it really draws upon the imagination," Trisha said.
"We try to make it accessible," Stephen added. "Art, writing and telling stories is accessible to everyone — and everyone can do it."