HBO Releases New 'Game of Thrones' Season 8 Trailer and Fans Have Feelings
HBO Releases New 'Game of Thrones' Season 8 Trailer and Fans Have Feelings
on
Apr 09, 2021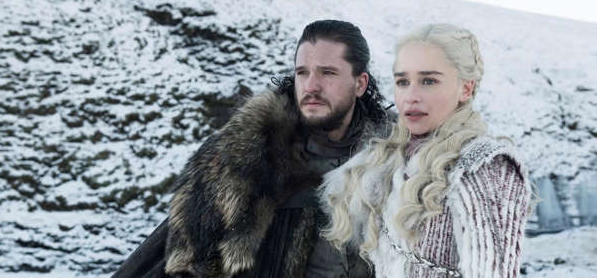 As part of
celebrating the 10th anniversary
of the launch of 
Game of Thrones
, HBO has released a new official trailer for the fantasy hit's divisive
eighth and final season.
The trailer is a well-edited clip that refreshes fans on the dramatic highlights and lavish spectacle of the final six episodes of the Emmy-winning series — yet is also stirring up all sorts of feelings among those fans who felt the last season was a massive disappointment. And, of course, there are plenty of renewed calls to remake season eight, a fan rallying cry that's been ongoing since the series ended in 2019, and one that seemed to gain additional bullishness after HBO's parent company, WarnerMedia, released the Snyder Cut of 
Justice League
 last month. So here's why remaking the final season isn't going to happen ... and one long-shot eventual scenario under which it might. First, with 
Justice League
, the situation was entirely different – 
Zack Snyder's Justice League
 restored the original director's vision of a universally derided film and almost entirely employed footage that had already been shot. Whereas 
GoT
season eight was considered a huge success in many respects: It was a rating blockbuster, it won the Emmy for best drama, and polls suggest roughly half of the fandom liked it, which is more than you'd think from reading comments in the media and on social media. It also represented the final chapter in a continuous series with its cast and creative team intact. Speaking of which, the show's cast has moved on to other projects and key players have said they are not interested in returning to the world of Westeros (let alone doing anything to overwrite their previous work, which they have repeatedly said they're largely extremely proud of). So there is no current desire for this to happen or, even if there was, a practical path to it happening.
Read | 22-year-old J-K author Soliha Shabir adds her name in India's World Records
That said, there is one way that, hypothetically, a new televised ending for Jon Snow, Daenerys Targaryen and others could happen. George R.R. Martin's final two books in his saga, 
The Winds of Winter
 and 
A Dream of Spring,
 will have different endings for many characters. After both are published, one could imagine HBO being tempted to do 
something
 with this new and presumably creatively unique material since the company owns the rights to
 A Song of Ice and Fire
 and is working closely with Martin, and has been very aggressively expanding its 
Game of Thrones
 universe to make HBO Max more competitive in the streaming world. Keep in mind many of HBO's 
six
 prequel ideas that are currently being explored are based on very small amounts of Martin's previously published material. Whereas Martin's last 
ASOIAF
 book, 2011's 
A Dance With Dragons
, was more than 1,000 pages long. So it wouldn't be surprising if his final two books topped 2,000 pages total — that's a lot of content to mine, and is also the sort of ultra-detailed, character-driven road map that helped make 
GoT
 a success in the first place. But given that 
Winds
 doesn't have a publication date yet — let alone 
A Dream of Spring —
 any such Martin Cut limited series, or the like, would be 
many
 years down the road, and would likely have a different cast as well. Such a project wouldn't be framed as replacing season eight, or a corrective or better, but simply a different vision of the end of 
ASOIAF
 based on Martin's novels that were not available when the show was being made. And if the idea of an actor other than, say, Gwendoline Christie playing Brienne of Tarth seems like an utterly blasphemous idea, you might be right — but we're already living in a world where recasting iconic 
Game of Thrones
 characters for a new project isn't hypothetical, but happening (in the form of a Broadway play being developed). So if one considers how much the 
GoT
-verse has exploded in just the past year ... who's to say where it will be a decade, and two more 
ASOIAF
 books, from now?
Source: hollywoodreporter.com