Frontlist | Gurgaon's Abhijita Gupta, Becomes the World's Youngest Author
Frontlist | Gurgaon's Abhijita Gupta, Becomes the World's Youngest Author
on
Nov 06, 2020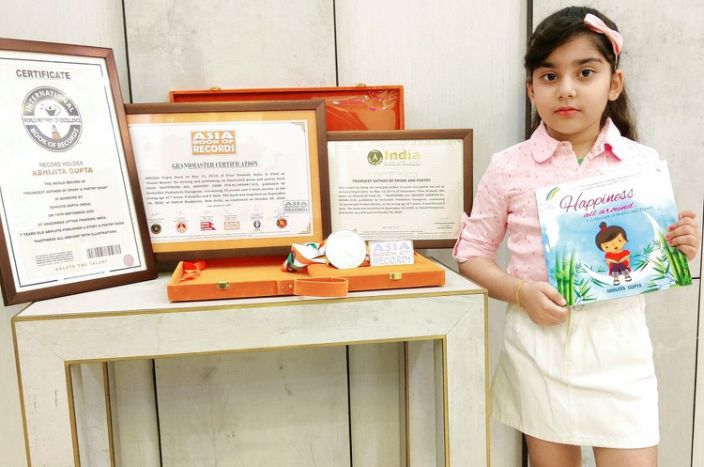 Seven-year-old Abhijita Gupta, who recently released her first book, 
'Happiness All Around', 
has been recognised as the world's youngest author by the International Book of Records. She has also been given the title of the 'Grandmaster in Writing' by the Asia Book of Records. Her book is a collection of short stories and poems with well thought-out illustrations. Her stories and poems written revolve around her parents and grandparents, nature, and friendship, among other subjects. The book published by Invincible Publisher, Gurugram, has 10 poems and four stories, and the illustrations have also been done by Abhijita. Abhijita's mother Anupriya Gupta has told the media, To our surprise she wrote the whole story with only one or two spelling mistakes. We were shocked when we came to know about her capability. The first story she wrote was 
The Elephants Advice 
and her first poem was 
A Sunny Day 
– both are included in the book. The Gurugram-based second grade student has always been an ardent lover of art. "Since nursery I have been adjudged as one of the outstanding performers in drawing and colouring competitions in school. I feel relaxed when I do it," says Abhijita, who studies at Presidium School, Indirapuram. Writing has always been close to Abhijita's heart. It is most likely that she draws these genes from her ancestors - after all, she belongs to the third generation of the renowned poet duo- Rashtrakavi Maithilisharan Gupt and Santkavi Shri Siyaramsharan Gupt. She began writing, when she was only 5 years old. She utilised the Covid-19 lockdown to do most of her writing, since it served as a great way to channelise her emotions, and feel positive. Of course, she didn't know her passion would earn her global recognition. She has said, "The surroundings and even the little things inspire me. I write about positive things- what I hear, see or feel." Abhijita has stated that her next book will focus on her thoughts on the pandemic and its impact on children.