Fun Time at CBSE: Sharing Memes on Twitter and getting Full marks for it!
Fun Time at CBSE: Sharing Memes on Twitter and getting Full marks for it!
on
Feb 21, 2020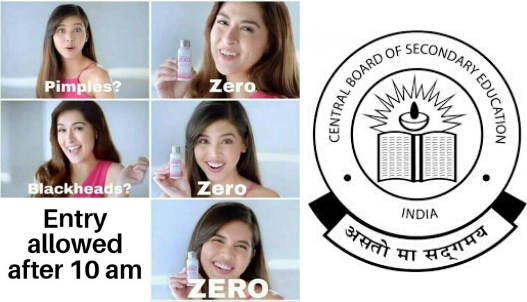 Boards are always the most stressful time of the year for students and their parents. Students are facing the ongoing pressure of board exams. The Central Board of Secondary Education (CBSE) is sharing all the important information related to the board exams. CBSE has found an entertaining way to share the information through memes.
The new trend of mems is very popular on social media among the students. So, CBSE is giving out information through the most trendy and popular medium. The memes are posted on the official twitter account of CBSE. The memes are about the importance of hard work, preparation on a daily basis and the other important information like - no entry after 10 am in the examination centre, details of barred items and requirement of uniform, use of blue pen, completing the syllabus on time.
All these memes are reclining a good amount of reactions from parents and students as this is a very creative way to spread information. Apart from sharing memes, CBSE has also shared an official circular about the information of barred items.
Barred items
Textual material (printed or written)

Bits of papers

Calculator

Pendrive

Electronic pen or scanner

Communication devices like  Mobile Phone, Bluetooth, Earphones, Microphone, Pager, Health Band, Camera, etc

Items like Wallet, Goggles, Handbags, pouches etc
Allowed items -
The students can only bring along admit card and school identity card with them to the exam centre

In the section of stationery items, students can bring- Transparent Pouch, Geometry/Pencil Box, Blue/Royal Blue Ball Point/Gel Pen, Scale, Writing Pad, and Eraser

Only analogue watches and transparent water bottles would be allowed

Bus pass and metro cards are allowed to carry
The students have to take care about what not to and what to bring to the list. The stress of board exams can cause a little confusion that is why it is really important to make students aware of the important information in a very easy way.
For Latest Updates please stay tuned to
Frontlist.in