Frontlist | UC Design students get worldwide for infographics on feminism
Frontlist | UC Design students get worldwide for infographics on feminism
on
Jan 15, 2021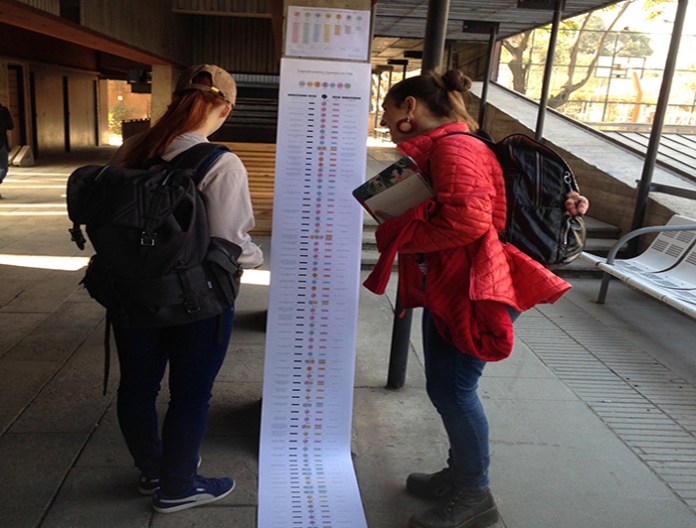 "208 Years of Feminism in Chile" is the work that the students Andrea Ellenberg, Francisca Martina and Pía Urzúa, developed as a project of the Information Design course and that obtained a bronze medal at the Infographic Awards ÑH 2020.
The order of the Information Design course, from the School of Design , contemplated making infographics inspired by the work of important designers, taking as a starting point a contingent theme in Chile. Thus, the students Andrea Ellenberg, Francisca Martina and Pía Urzúa developed a project about female empowerment in Chile, with which they obtained a bronze medal at the prestigious Infographic Awards ÑH 2020 . Inspired by the designs of David McCandless – creator of Information is Beautiful -, the three students developed "208 Years of Feminism in Chile", a piece whose research work was key to compose a visual story, which takes a historical journey through the milestones, mobilizations and legislation that have marked the feminist movement in the country . The ÑH Awards aim to recognize the value of design in the media . This initiative, promoted by the Society for News Design Spain (SND-E) , annually rewards the best design for print and digital media. The organizing body brings together professionals, teachers and students of journalism, graphic design and fine arts, with the aim of improving the quality of the press and communication, through quality visual journalism. The Information Design course taught by Professor Rodrigo Ramírez , who is also the director of the School of Design , seeks to develop a base of knowledge and techniques that allow students to efficiently master the editing of visual content in different situations and supports. Through analysis and research, students have had to develop criteria to manage processes of understanding different types of information, using visual representation tools. "Information design is a discipline that, from visual communication, is a mixture of art and science, 
to represent information that is visible, understandable and usable for people
 . In these three steps, the fact is synthesized that information that is clear and understandable will allow us to approach new content, acquire knowledge and transfer it to actions ", explains the academic. "We are interested in the students being able to link the course content with topics that are meaningful to them. In this sense, I first highlight that Francisca, Andrea and Pía have related the challenge of visualizing information to a topic under discussion today such as female empowerment, proposing an infographic that unfolds as a vertical timeline. Secondly, I appreciate that it is a graphic piece with a high degree of experimentation (it requires a careful look although it presents simple reading rules) and resolution in its physical display (it measures about three meters high) ", says the teacher. .
208 years of feminism on campus
"Obtaining this recognition was quite surprising for everyone. In 2018 Professor Jorge Cortés noticed the gigantography of feminist infographics in the Design yard. This, at that time, was developed to be printed and installed in a public space, in order to generate impact, measuring more than a meter in length " 
,
 comment the awarded students. When the piece developed by the awarded students is printed, it is 
a visible milestone in the space, which allows people to interact with the information on various scales, both as a whole and in details: events, dates, type of event and who participated
 . "I think that both the treatment of the subject and the innovation when presenting and displaying visually, were two strong points that the ÑH jury valued in this proposal," says Rodrigo Ramírez. Andrea Ellenberg, Francisca Martina and Pía Urzúa have plans to 
continue expanding their project, with an investigation that covers the different historical events of female empowerment until 2020
 . "The recognition itself is very encouraging regarding our abilities as Information Designers, also regarding the recognition of a work from Chile and specifically on feminism. We are very happy about this, and with plans to continue developing this project: firstly, update the information until 2020 and then create a platform where you can interact with the informative content, creating a kind of journey through more than 200 years of history and also present ", they point out.
Source: India Education Dairy