Frontlist | Shillong university library unveils first-of-its-kind book sanitising machine
Frontlist | Shillong university library unveils first-of-its-kind book sanitising machine
on
Oct 04, 2020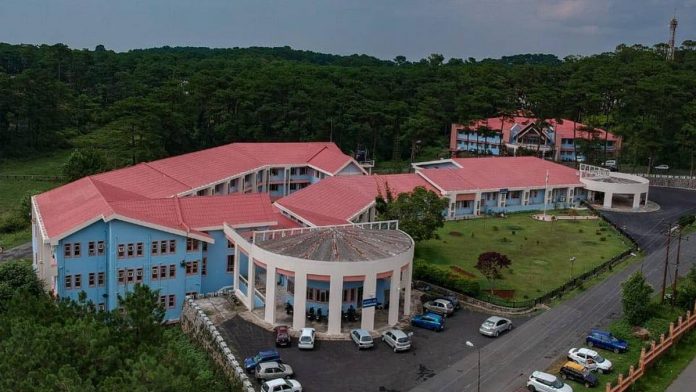 Snippets from the vibrant Northeast that capture politics, culture, society and more in the eight states.
New Delhi: 
The Auto Book Sanitising Composite Machine, a first-of-its-kind device was recently unveiled at the central library of the North-Eastern Hill University (NEHU) in Shillong, Meghalaya. It works in an auto-controlled mode to sanitise all kinds of books without causing damage to their material. Up to 150 books can be sanitised in a single cycle of about 45 minutes and at a minimal cost of Rs 0.20-0.30 paise per book. The device was developed by a team from the Department of Biomedical Engineering and the Department of Basic Sciences & Social Sciences, NEHU, in just two-and-half-months.
---
Sculptor spends Rs 1.7 lakh on dining table with panoramic village landscape
Ningwon Zingkhai, from Kuirei village in Manipur's Ukhrul district, has built a dining table using a block of tree trunk in which he has delicately carved out a panoramic village landscape. The glass top table was built over a year, at a cost of Rs 1.7 lakh. The lifelike scenery is replete with huts, bridge, waterfall and even a stream flowing into a lake. Zingkhai, who now lives in Dimapur, Nagaland, has been quoted as saying, "After the news about the dining table was published in local and regional media outlets, I have received four orders already. One is from California by an American and the other from Delhi." "Zingkhai took a huge block of wood last year. We asked him what he is going to do with it and he said that he will make a dining table with a village, waterfall, mountains etc. We did not believe him and thought he was joking. But he turned his imagination into reality," said Ninglum, a neighbour of Zingkhai.