Frontlist | Paytm in India turns Android smartphones into point-of-sale machines in merchant push
Frontlist | Paytm in India turns Android smartphones into point-of-sale machines in merchant push
on
Mar 09, 2021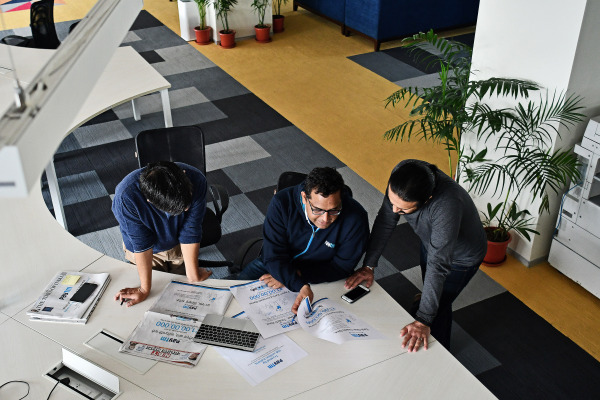 Paytm said on Tuesday it is turning NFC-enabled Android smartphones into point-of-sale machines, as it seeks to gain more merchants in one of the world's largest mobile payment markets.
A Paytm partner merchant will now be able to activate the card acceptance function from their Paytm Business application. Once activated, they will be able to process a transaction by tapping a plastic card on their phone. Paytm Smart POS supports Visa, Mastercard and Rupeek, the Indian startup said. The existing payment devices in the market have not proven to be very effective in reaching small and medium-sized businesses in India, most of which remain offline, said Vijay Shekhar Sharma, founder and CEO of Paytm, at a conference virtual press release today. To win over these merchants, Paytm has in recent years rolled out QR codes that work across multiple payment networks, and launched jukeboxes and other gadgets to make it easier for merchants to accept payments digitally. With today's decision, Sharma said, "the requirement to purchase a point-of-sale machine is no longer necessary either." The startup said that most new models of Android smartphones support the NFC function. Paytm also unveiled the next-gen jukebox POS that looks like a QR plate. "The reason merchants have not actively adopted most of the existing POS machines is that they are not comfortable with it," said Dilip Asbe, head of the NPCI payment organization, during virtual conference. The Indian start-up, which processed more than 1.2 billion transactions last month, said it would charge merchant partners a nominal subscription fee to access any of the aforementioned payment services. The move, which in many ways pits Paytm against Pine Labs, backed by Sequoia Capital, a market leader in the point-of-sale category but a significantly smaller startup, demonstrates how Paytm is expanding its payment platform to attack traders.
"By the way, mobile phones have seen an evolution from multifunction phone to smartphone, we believe the merchant point of sale market in India is at an inflection point to evolve from traditional (aka stupid-PoS) to Smart -PoS. Unlike traditional PoS, which only allows transactions from a debit / credit card, some of the features of a Smart-PoS are: GST compliant invoice, scanner / printer, takes all payments including UPI , is Bluetooth compatible and can be customized for different merchants according to their needs. While fintech companies currently offer these devices, we expect banks to catch up eventually, "Bank of America analysts wrote in a recent note to clients.