Frontlist News | Hindi publishers sold no books, fired no staff in lockdown. Now they plan for e-book future
Frontlist News | Hindi publishers sold no books, fired no staff in lockdown. Now they plan for e-book future
on
Aug 24, 2020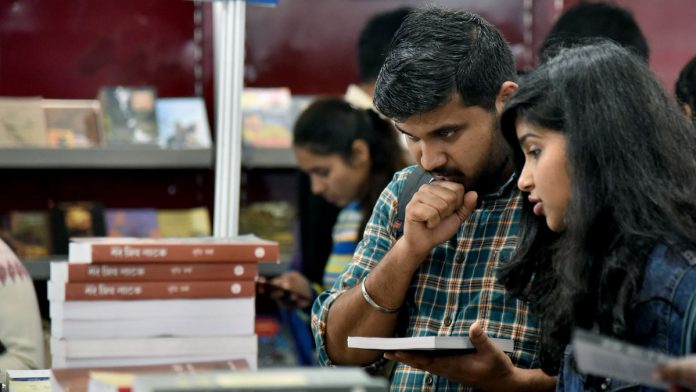 No one is sure of the total losses the Hindi publishing industry suffered under lockdown. But demand has begun to recover through online sales & e-books.
New Delhi: 
Economies across the world have faced major upheavals due to the Covid-19 pandemic and the resultant lockdowns. The Hindi publishing industry in India has also sustained a major hit, although none of the stakeholders can quite pin down just what the scale of losses has been. The ban on interstate transportation implemented with the lockdown in March affected both the offline and online delivery chains of physical books, be it printers or book sellers. But now, publishers are busy planning for a new future, as demand begins to recover. ThePrint spoke to five major Hindi publishing houses — Vani Prakashan, Rajkamal Prakashan, Prabhat Prakashan, Hind Yugm and Rajpal & Sons — to assess the losses to the industry, and discuss their plans for the road ahead.
No retrenchment of employees
Soon after the lockdown was announced, numerous companies across sectors began laying off employees, or sending them on long leave, or cutting their salaries. But Hindi publishing houses claim that though their industry came to a complete halt, they did not retrench a single employee or cut any salaries. Vani Prakashan's executive director Aditi Maheshwari Goyal told ThePrint: "In the publication world, most relationships are several years old. People are personally connected to each other. So, retrenching someone during a pandemic might be detrimental to him or her. It would be a cruel thing to do." Vani employs about 100 people to work on its catalogue of books, which includes six languages besides Hindi and English, and subjects ranging from poetry to sociology and ideology. Shailesh Bharatwasi, founder of Hind Yugm, also said no one in his small team of 12 people was fired. "We are a young organisation, but we have not let anyone go," he said. The jobs of Rajkamal's 100-odd employees, Prabhat's 75 and Rajpal & Sons' 55 are also safe. The publishers say while the strict lockdown was in place from March to May, their teams worked on upcoming books from their homes
Zero sales till May, losses incalculable
However, it is undeniable that the publication houses faced problems. Piyush Kumar, director of Prabhat Prakashan, said there were absolutely zero sales of physical books between 23 March, the day PM Narendra Modi called for a 'Janata Curfew' ahead of the lockdown, and 15 May. Rajkamal's director Alind Maheshwari added that sales started picking up through their website and WhatsApp in May, when online deliveries were allowed again. However, no one can pinpoint exactly what the total loss to the industry due to the Covid-19 pandemic and the lockdown has been. Naveen Gupta, chairman of the Delhi Book Fair Committee, who is also associated with the Federation of Indian Publishers, told ThePrint: "In 2015, an AC Nielsen Report had estimated the total business of books across India at Rs 26,000 crore. Of this, Hindi books' share was Rs 7,000 crore. Since then, no other government report has come on which we can base a profit or loss figure for the Hindi publishing industry." Gupta said the publishing industry has already been impacted due to technological advances, so much so that the drop in value could be about 50 per cent. "Right now
, 
it is difficult to say exactly how much damage was sustained during the lockdown, but as no physical copies were sold, the economic backbone of the industry would definitely have been broken," he said. Numbers also reflect this reality — while Prabhat Prakashan published just 50 new books between March and August, and reprinted 600 others, the numbers for Vani are 24 and 600 respectively.
Motivational/self-help books in demand during pandemic
The Covid-19 pandemic has severely affected mental health, something PM Modi has addressed several times on his
 'Mann Ki Baat'
 radio programme. Prabhat Prakashan's Piyush said the impact has also been felt in the publishing industry, where the highest demand has been for inspirational, self-help books and those about yoga, showing that people wanted to "read something to feel more positive". For Prabhat, this has meant sales of books by icons like Swami Vivekananda and Dr A.P.J. Abdul Kalam, while for Hind Yugm, it has been Urdu poetry by Jaun Elia. For the Amazon-owned Westland Publications, the top-selling book was '
Ruk Jana Nahin
' by IAS officer Nishant Jain. However, for booksellers in the states, the most sought-after books were textbooks, which many people travelled long distances to buy. In Bihar, which is facing floods in addition to the pandemic, Patna-based Anupam Book Seller's Anoop said people came from far-flung districts to buy textbooks.
Tech-savvy authors
The publishers said the pandemic forced writers and readers, even the elderly, to become tech-savvy to connect with people using platforms like Facebook Live, which have meant that even 80-year-old authors are pulling an audience, which wasn't the case before. However, many publishers also believe that one positive aspect has also come to fore amidst all this negativity. This is that writers and poets as old as 80 years have also become part of Facebook Live programmes. Usually, writers with advanced age, who travel less due to age-related hassles, are less likely to get an audience. But through the live events those writers are also getting connected with the readers. Aditi Maheshwari Goyal of Vani Prakashan gives the example of veteran writer Mamta Kalia, who was able to connect with readers on Facebook Live. Rajkamal Prakashan, meanwhile, formed several WhatsApp groups to give 25,000 readers content, and organised around 150 Facebook Live events with authors. However, this is not a feeling reflected across the board. Prabhat Prakashan, for example, believes that online interactions won't have a regenerative effect on Hindi publishing, so it has steered clear of them. Ditto Hind Yugm, which has conducted few live sessions. But its chief Bharatwasi said: "Now the age-old ways are changing, plans have to be made to make deeper inroads in the online world."
e-books and other challenges for publishers
The good news for the publishers was that in May and June, sales of e-books registered an increase of 70-80 per cent (Vani), or even 100 per cent (Rajkamal) or more (150 per cent for Prabhat Prakashan). But since then, the percentages have come back down to "usual" — 22.64 per cent growth during the entire lockdown for Rajkamal, 15-20 per cent for Hind Yugm, and 30 per cent for Prabhat. Hind Yugm's Bharatwasi said of the trends: "These are exceptional times. Those who could not access physical books downloaded e-books. But now, since there is no longer a strict lockdown, Hindi readers are back to the usual, physical books. To say that the e-book trend has really grown in the Hindi publishing industry, we need solid data. Maybe in the coming year, we will have a clear picture." However, Ramesh Mittal, president of the Federation of Indian Publishers, said Hindi publishing in particular needs a push towards e-books. "Hindi readers had not yet developed any appetite for e-books. Publications should be exploring more in this direction," he said. Vani Prakashan's Aditi agreed that Hindi readers are neither used to Kindle, nor do they have continued access to the internet. "So e-books will be a big challenge for publications," she said. Bharatwasi also highlighted another problem he anticipates — the decline in book orders from government schools and college over the last five or six years, which formed a sizeable chunk of the publishers' revenues. "Under these circumstances, it is still not clear how much the schools and colleges are thinking about e-books," he said. Piyush, meanwhile, believes that ultimately, the biggest challenge for the industry will be a price war in the e-book market.
Challenges for distributors and sellers
The future of publishing in any language faces huge challenges, some of which will affect publishers and distributors/sellers differently. Speaking about distributors and sellers, Ramesh Mittal said: "They will have to find new sources of revenue. Digital book fairs, literary festivals and digital sessions with authors are now requirements of the day. Many digital marketing agencies have also emerged to take advantage of this situation." For sellers and distributors, a major consideration will be book fairs, which are generally organised between September and March, the most prominent of which are the Delhi Book Fair and the World Book Fair in the national capital, and the 
Boi Mela
 in Kolkata (also known as the International Kolkata Book Fair). But in the current era of social distancing, that doesn't seem possible. Delhi Book Fair Committee's Naveen Gupta said if things improve dramatically, a decision might be taken about the International Book Fair scheduled for January 2021. But another idea under consideration is 'digital book fairs'. The idea has drawn positive responses from publishers, and Gupta says it might be a good platform for publishers, writers and readers to connect, but distributors will continue to suffer. Anoop from Patna's Anupam Book Seller said: "I have never witnessed such a situation in my 55 years in the industry, neither during the Emergency nor the JP movement (the Jayaprakash Narayan-led socialist movement). I alone have suffered a loss of at least Rs 25-30 lakh. But in July, we have found a new way of sending books through postal dispatch." Avatar Singh of Punjab Book Center, Chandigarh, added: "Instead of visiting book stores, people are opting to order books online and get them delivered to their homes."