Frontlist | Micro review: 'Djinn Patrol on the Purple Line' by Deepa Anappara
Frontlist | Micro review: 'Djinn Patrol on the Purple Line' by Deepa Anappara
on
Mar 18, 2021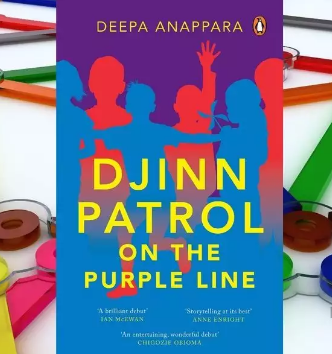 With a light-hearted childlike tone,
'Djinn Patrol on the Purple Line
' delivers the harsh realities of life in an Indian slum. The book is told from the point of view of a 9 year old boy, Jai, who is becoming aware of kidnappings in his locality. His principal taught the children of stranger danger in school and his parents advised him and his sister to be careful as children were disappearing. One day his classmates disappears and he decides to play detective. He and his friends try to investigate any rumour they hear, from djinns stealing children to the kidnappers taking the children to town by the purple line of the train. He and friends get into detective work with childlike optimism but over the book we see it crumble against the apathy of life. As the kidnappings increase, we see how the community reaches for help and is shunned, how rumours and blame fly and how living becomes harder. Sometimes Jai's perspective is interrupted with the perspective of those who were kidnapped right before it happened and over the book you see the helplessness of the situation. The book is well written and eye opening. The language draws you in with every sense, with it's beautiful descriptions of all sights, smells and sounds. While it's childlike perspective can be sweet and even funny at times, it highlights in detail the several social evils. it is a must read for every Indian.
How critics view the book:
A young boy's sleuthing illuminates the grim realities of Indian slum life in an endearing, engaging debut, writes
Hannah Beckerman
in 
The Guardian
This is the power of this novel, how it keeps us grounded — not in the flats of the hi-fi dwellers but in something closer to India's heart, which she locates in the minds of children with bony shoulders and dirty feet, praised 
Lorraine Adams
 in 
The New York Times
Read: Micro review: 'A Burning' by Megha Majumdar
Source: indiatimes.com