Frontlist | Author Frances Smith's new book "Growing Up while Going Down the Rabbit Hole" is a profound recollection of growing up, in its happiest and even downward-spiraling times
Frontlist | Author Frances Smith's new book "Growing Up while Going Down the Rabbit Hole" is a profound recollection of growing up, in its happiest and even downward-spiraling times
on
Jan 25, 2021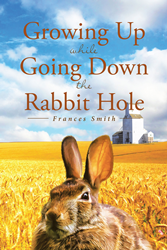 Frances Smith, a loving mother, a retiree, and a writer; has completed her new book "Growing Up while Going Down the Rabbit Hole": a captivating tale told from the author's perspective as she speaks about her memories of being young and her upbringing, and how her childhood self remains within her as she goes into adulthood.
As the author's childhood tumbles from her memory onto the pages of print, the reader is privy to all sorts of surprising revelations. Be prepared to chuckle with glee, feel your mouth gape reading about situations too weird to be untrue, wince as your heart breaks in sadness and anger over sordid situations, and shake your head both in disbelief and even perfect understanding of unusual childhood tales.
Between the covers of the book, the author's very direct style in sharing the goings-on around her that profoundly affected her talks to the reader personally and even bluntly. As the years pass, the toll from various elements in her life becomes clearer and grows higher.
The book's title was chosen because it chronicles from a curious angle a young girl's memories of growing up. The story's framework of recollections connected to given residences, the number of those residences, and the regularity with which this family migrated from one to another was interesting from the storytelling perspective and fortunate for Frances and all her readers. That her memories were mentally magnetized, that they attached and were thereby preserved according to the various times and places Frances called home, was an innovative, efficient, and effective writing device. Use of the rabbit hole idiom was spot-on, because despite growing older, taller, and maturing in ways (growing up), simultaneously an ominous, downward momentum was also steadily gaining more of a foothold in the life of this young person. Left unchecked, this destructive force would increasingly result in a stranger, more problematic, and chaotic life, an exquisite analogy provided by Lewis Carroll. The story shared within this book is a poignant and absorbing account as seen through the eyes of the child who lived it. Much is revealed throughout this narrative, and although the book ends, the story obviously continues. The indubitable question is not written but silently screams, what happens next?
Published by Page Publishing, Frances Smith's heartfelt memoir is a source of inspiration and heart-touching narratives from a child who saw much of the world even at a young age.
With this journal, readers will be able to relive the happiness and sorrows that are woven throughout its pages and get a closer look into what it is really like down the rabbit hole.
Readers who wish to experience this true-to-life work can purchase "Growing Up while Going Down the Rabbit Hole" at bookstores everywhere or online at the Apple iTunes store, Amazon, Google Play, or Barnes and Noble. Source: PR Web