Frontlist Article | Top 10 books every Cancerian must read
Frontlist Article | Top 10 books every Cancerian must read
on
Sep 14, 2020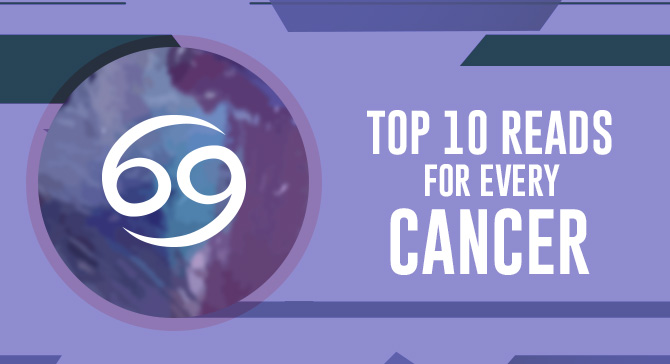 Sensitive, romantic, nostalgic, touchy, feely. Cancers are just like that, they are driven by emotion and intuition. If you wanted to take a stroll inside the fairyland that is the mind of cancer, you would encounter a dreamy place that is like no other. This is the reason why it won't take any ordinary book to grip a Cancer. It needs to be rich, enthralling and it needs to be a source of enlightenment.
If you're a Cancer, your goal is to learn from each book you read. It can be a new philosophy, a new word, a new concept, anything. 
Cancers are people who feel a lot. So when it comes to reading, they need something that can move them in such a way that changes their perspective and lightens up their heart. The book should be able to provide them with emotions that can move a mountain. A good love story that leaves you wanting for more or a gripping father and son tale that leaves you teary-eyed. A one of a kind read is what would fit you best, something that has relationships at its crux and makes you cry your heart out. 
Keeping in mind your sensitive, emotional, empathetic, and intuitive character traits, we've curated a list of books that you are definitely going to like.
Check out the top 10 books that you should read if you're a Cancer: 
It Works: The Famous Little Red Book That Makes Your Dreams Come True! by RHJ
IT WORKS presents a concise, definite plan for bettering your conditions in life. It shows you how to use the Mighty Power within that is anxious and willing to serve you if you know how to use it. IT WORKS shows you how.
Where the Sidewalk Ends by Shel Silverstein 
"Where the Sidewalk Ends" by Shel Silverstein is a three-stanza poem that depicts the adult world as something harsh and demanding, in contrast to a more childlike mentality that can provide a break from the responsibilities and pressures of being an adult.
The Handmaid's Tale By Margaret Atwood
The Divine Feminine Oracle by Meggan Watterson
The Devil in the White City: Murder, Magic, and Madness at the Fair That Changed America by Erik Larson
Anatomy of a Misfit by Andrea Portes
Every Day by David Levithan
Challenger Deep by Neal Shusterman
Brave, Not Perfect by Reshma Saujani
Extraordinary Means by Robyn Schneider