Frontlist | 10 Most Anticipated Comic Book and Graphic Novel Adaptations
Frontlist | 10 Most Anticipated Comic Book and Graphic Novel Adaptations
on
Jan 13, 2021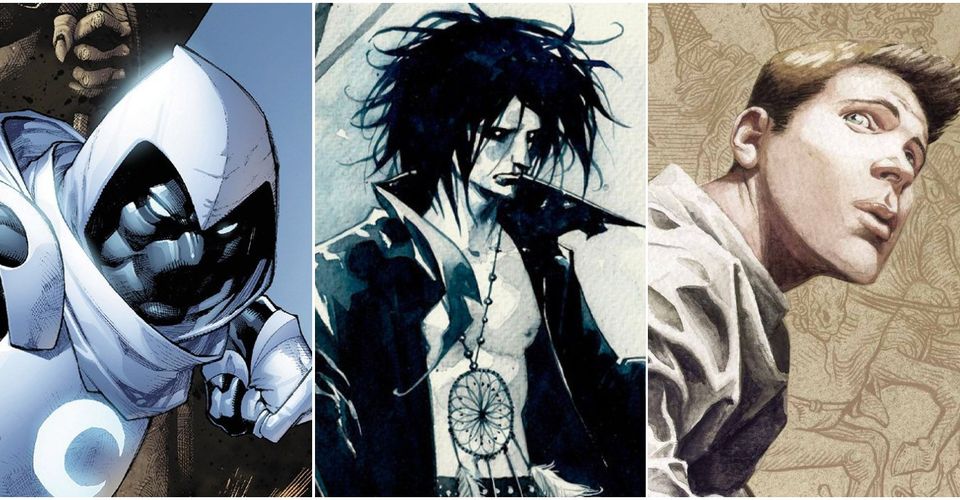 Comic books and graphic novels have for long been popular sources for film and television adaptations. The Marvel Cinematic Universe, the DCEU, and the myriad series and films such as 
The Walking Dead, The Umbrella Academy, The Old Guard, Sin City, Bloodshot, Preacher
, and 
The Boys
 are examples of great comic book and graphic novel adaptations. Despite the global pandemic, which caused a massive slowdown with Hollywood releases in general, there are still several excellent adaptations to look forward to in 2021 and beyond.
10

Ms. Marvel (2021)
Based on the character Kamala Khan, created in 2013 by Marvel writers Sana Amanat, Stephen Wacker, G. Willow Wilson, and Adrian Alphona, 
Ms. Marvel
 tells the tale of a Muslim teenager who gains shapeshifting powers after being exposed to Terrigen mists. The show will presumably tell the origin story of Khan and her powers and will serve as her introduction to the extended MCU. Production was scheduled to begin in August 2020, but this has been pushed back due to the pandemic. There is no set release date at this stage, but fans can expect to see Ms. Marvel on screen for the first time in 2021.
9

The Sandman (2021)
Neil Gaiman is a fan-favorite among lovers of graphic novels. Several of his works have already been adapted for the screen, including
 American Gods
 and the 
Good Omens
 miniseries. Still, after decades of possible development, fans are finally getting an 11 episode Netflix series. Gaiman himself will join the team as an executive producer, with David S. Goyer joining the production team. The first season will cover the comic's first storyline plus a little more, according to Gaiman.
8

Moon Knight (TBD)
Based on the comics by Doug Moench and Don Perlin, 
Moon Knigh
t is kind of like Marvel's answer to Batman. The difference between the Bat and Marc Spector? Well, Spector has multiple personalities and supernatural powers, which were gifted to him by an ancient Egyptian God. Kevin Feige described the character as such: "He was left for dead, and he may or may not be infused with powers from the moon god … or he might be crazy." Jeremy Slater (
The Exorcist
) is on board as executive producer and showrunner, and Oscar Isaac is rumored to be the favorite actor to play Spector. At this stage, there is no set date or year for the release of this multi-faceted and plagued character.
7

Hawkeye (2021)
Fans of Jeremy Renner's 
Hawkeye
 were up in arms about the SHIELD archer not appearing in 
Avengers: Infinity War
 and the character barely had enough screentime in 
Avengers: Endgame
 to appease them. Fortunately, to everyone's delight, rumors of a 
Hawkeye
 Disney + and Marvel TV show were confirmed, and the series will follow Renner's Hawkeye as he trains a new Hawkeye, Kate Bishop. The show is set for 2021 currently, but with the pandemic's continuing limitations, this show might be pushed to 2022.
6

Justice League Dark (TBD)
Justice League Dark
 is based on the DC Comics series, which centers around supernatural and magic-user heroes such as John Constantine, Swamp Thing, Madame Xanadu, Deadman, and more. The DCEU TV series are no stranger to DC's weirder characters; 
Doom Patrol
, which was well-received by critics and fans alike, is a perfect example of weirder characters doing well in adaptations. Back in January 2020, Bad Robot and J.J. Abrams started developing a new iteration of an adaptation of Justice League Dark. At this stage, there is no release date.
5

Y: The Last Man (TBD)
Y: The Last Man
 tells the tale of Yorick, the last living man on Earth. The comic is a hilarious action adventure featuring angry Amazon warriors and a monkey. What more could one ask for? A pilot for the show was completed back in 2019, and the show was ordered, but FX decided to revamp the project. Eliza Clark is the show's current showrunner, after Aida Croal and Michael Green departed the series back in April 2019. Y: The Last Man is set to begin production in early 2021.
4

American Jesus (TBD)
Mark Millar is a household name when it comes to mature graphic novels. Netflix has an ongoing relationship with the graphic novel fan-favorite scribe, and 
American Jesus
 will tell the tale of a 12-year old boy who discovers that he is the Second Coming of Christ. This massive revelation forces the kid to grow up quickly to decide the fate of the world while dealing with pre-teen issues. Production was set to start in 2019 in Mexico, but guess what? It was delayed, and at this stage, there is no official release date.
3

She-Hulk (2022)
January 2021 will see the start of the MCU's slate of TV series on Disney + with 
WandaVision
.  Kevin Feige recently announced that the Marvel 
She-Hulk
 TV series would take a half-hour legal comedy format. The show will be penned by showrunner Jessica Gao of 
Rick & Morty
 fame. It will star Orphan Black's Tatiana Maslany as Jennifer Walters, the cousin of Bruce Banner, a lawyer and superhero.  
She-Hulk
 will also feature several MCU cameos, including Mark Ruffalo, who is reprising his role as Bruce Banner, aka 
The Hulk
. The show is slated for release on Disney + in 2022.
2

Port Of Earth (TBD)
Amazon's 
Port of Earth
 is based on the Top Cow comic of the same name, written by Zack Kaplan, released in 2017. It's a gritty sci-fi story about an alien alliance known as The Consortium, which has come to Earth with a business proposition to open Earth as a new spaceport for their customers to use in exchange for access to advanced alien technology. Kaplan and Top Cow's Marc Silvestri and Matt Hawkins will serve as the show's executive producers.
1

Green Lantern (TBD)
Everyone remembers the terrible Green Lantern film, which hit theaters back in 2011. The film was so bad that the main actor, Ryan Reynolds, has poked fun at it numerous times in the 
Deadpool
 film franchise. 
The Green Lantern
 TV series was announced at WarnerMedia's HBO Max presentation back in October 2019. It will be a sci-fi drama series about the Green Lantern Corps patrolling the universe's many sectors. Greg Berlanti is developing the series and is known for co-writing the film and Marc Guggenheim and Michael Green. The series is set to span several decades of Green Lantern history, telling two stories during the first season.
Source: Screen Rant