Formal education soon for 4,100 out-of-school kids
Formal education soon for 4,100 out-of-school kids
on
Mar 23, 2021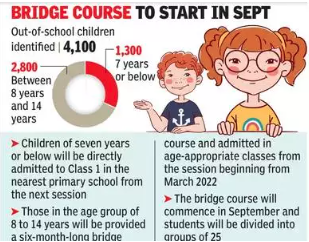 Gurgaon: As many as 4,100 children, including 1,300 kids who are aged seven or below, were found out of school when the district education department went for a door to door survey across the city earlier this month. As a result, the education department has now started planning to bring back all these children to the formal education system. Officials said that the kids below seven will be admitted to Class 1 in the state-run primary schools and those in the 8-14 age group will be provided with special training.
Last month, the state education department had announced its plan to bring out-of-school children across 22 districts back to the mainstream. The department had directed the district education officers to deploy school teachers for a week-long, block-wise survey to identify the children who had dropped out or never enrolled in the formal schooling system. The compiled data was to be submitted to the department for the rollout of a special programme.
The identification and admission of such students were announced majorly as a part of the government's efforts to mitigate the impact of Covid-19 that might have led to increased dropout in schools. "Soon after the directive, we launched an exhaustive drive to find all such students. The exercise was conducted block-wise and all the government schools were tasked to identify such students in their area. We have received the block-wise data and have compiled them into classified data for the entire district and shared it with the department," said district project coordinator Sangeeta Chaudhary. "The children below seven don't need any special training and will be directly admitted to the nearest primary school. But others will have to be first given proper training before they can be admitted into their age-appropriate classes," Chaudhary added. The bridge course session for the students will commence in September 2021. For this, the department will make a peer group of around 25 students and allot them training centres in their nearest primary schools. To bridge the learning gap, these students will receive training by education volunteers (Siksha Mitras) identified by the department. These volunteers will be provided training in the Kadam Step-Up methodology developed by Humana People to People India.