Fall Regionals Will Mix Live, Virtual Events
Fall Regionals Will Mix Live, Virtual Events
on
Jun 21, 2021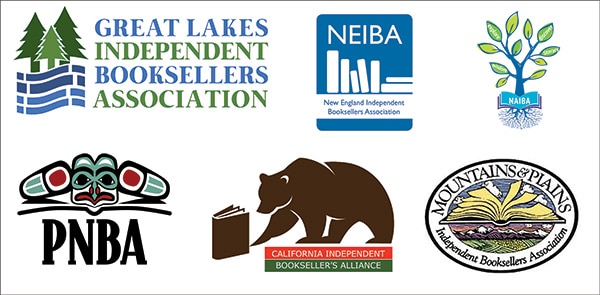 With vaccination rates increasing across the country, the industry is showing more signs of opening for business as usual. Among some of the first large in-person publishing events to be held will be the fall regional bookseller association shows. The Pacific Northwest Booksellers Association will be the first to hold a live event when it opens the 2021 PNBA Tradeshow in Portland on October 3. The show will run till October 5 and feature typical in-person author events and education sessions, along with what the association is calling a "virtual annex."
"The decision was made final after a visit to the hotel show site, the balance of inquiries and endorsements from members and supporters tipping in favor of a show, and an all-day staff retreat to lay out a workable plan," explained Brian Juenemann, executive director of the PNBA. "We have to move fast in response to the truncated timeline. We're eight to 10 weeks behind a traditional show planning schedule but embracing the challenge, because, you know—real live in-person connection!"
Mountains and Plains Independent Booksellers Association will be next to have a live show, with its FallCon taking place October 7–9 in Denver. The organization put out a call for authors earlier this month. "The situation in Colorado is making this possible," said Heather Duncan, executive director, of MPIBA. "We are basing it on our last show from 2019 and will be as close to a traditional trade show as possible, with an exhibition hall, education, and social and networking events."
FallCon will also feature some virtual elements, such as virtual rep picks and a virtual galley room. Badges to enter the show will be offered for free to members of the American Booksellers Association or any regional bookseller association. "We are opening it to all booksellers, and we have already heard that there is a lot of interest from California booksellers in attending," Duncan said. She added that overall interest from potential exhibitors has also been higher than expected, and the event may be bigger than initially thought—possibly bigger than previous years. "We are preparing for less, but planning for more," she noted.
In addition to FallCon, MPIBA is hosting three different sessions of its Bookseller Summer Camp, July 13–15, July 20–22, and July 27–29. Each session offers virtual sessions with authors, workshops on best practices, and happy hours.
The New England Independent Booksellers Association will host a virtual event September 21–23. "The most exciting piece of the puzzle this time around is what we're planning for the New England Book Awards: an in-person gathering on October 21 in Providence—the NEIBA Masked Ball," said Beth Ineson, NEIBA executive director. "So we'll have a virtual conference, take a month's pause, and then get together in person. It will be our first in-person event since January 2020, and we can't wait. We're finalizing the details now, but the plan is to encourage costumes of all kinds. It will be a chance for booksellers to celebrate having navigated through this terrible time, and all of our industry partners who want to make the trip to Providence are welcome to join in the fun."
The Heartland Fall Forum, covering booksellers in the Midwest and presented by the Great Lakes Independent Booksellers Association and Midwest Independent Booksellers Association, will once again be a virtual show, with programming scheduled during August, September, and October, culminating in an awards ceremony in October. "Heartland's 2021 events will be scheduled as they are produced," explained GLIBA executive director Larry Law, with the focus on specific events rather than on the usual publisher exhibits. "It'll be more event-driven than schedule-driven."
Publishers, in fact, won't even be exhibiting in a virtual exhibit hall as they did at the last Heartland; instead, the focus will be on featured titles. "Our plan is to 'unbox the booth' and deliver content to booksellers in a thematic cross-publisher experience," said MIBA executive director Carrie Obry. "Our book room will be a vibrant hub for new-title discovery, highlighting a title's regionality, as well as that author's live-event placement—if applicable—and rep picks pitch."
Reps will record their pitches on video, and these will also be available alongside each title in the Heartland (virtual) book room for instant access. Videos will also be timestamped for specific titles or publishers, allowing viewers to click directly to the content they want to see. "This way, booksellers won't have to sit through an hour of presentations that may not be appropriate for their needs," Law said. "They can go directly to, say, Candlewick's presentation."
This year's New Voices, New Rooms meeting, hosted by the New Atlantic Independent Booksellers Association and the Southern Independent Booksellers Alliance, will be held September 27–October 1, and it's theme is "Opening Doors." Two full days of education will be held starting September 28. The compact education schedule will help bookstore staff attend programming throughout the week without conflicting with interacting with publishers and authors, Linda-Marie Barrett, executive director of SIBA, said.
New this year at New Voices, New Rooms will also be the Vindies! A Celebration of Indie Bookstore Videos, which will have winners in several categories, including best drama and best Covid-related video. "We'll encourage folks to dress up for the awards ceremony," Barrett said. Another new feature will be "interludes" videos to be broadcast throughout the conference. These will be brief, focused videos spotlighting the creativity of the book business, such as a video of an illustrator working in their studio, a visit to a library, or a poetry reading.
The first 400 booksellers to register for New Voices, New Rooms get show boxes. "Booksellers receive it before the virtual show, and it contains items from publishers and gift vendors that correspond to programming at our virtual show," Barrett said. "Last year's show box contained tote bags, recipe cards, posters, books, a squeezable 'stress ghost' toy, Mardi Gras beads, our show journal, and more."
The California Independent Booksellers Alliance is planning a hybrid in-person and virtual Fall Discovery Lab. On October 24, Books Inc. in San Francisco will host a live, in-person event for booksellers. Virtual programming is set to run October 25–27, with another in-person event set for October 28 at Vroman's in Pasadena. The week will end with a virtual town hall for the entire organization on October 29.
Regional Association Fall Trade Show Schedule
California Independent Booksellers Alliance: Fall Discovery Lab; virtual, October 25–27; live events, San Francisco, October 24, Pasadena, October 28
Great Lakes Independent Booksellers Association and Midwest Independent Booksellers Association: Heartland Fall Forum; virtual, various dates in August, September, and October
New England Independent Booksellers Association: Fall Conference; virtual, September 21–23
New Atlantic Independent Booksellers Association and the Southern Independent Booksellers Alliance: New Voices, New Rooms; virtual, September 27–October 1
Pacific Northwest Booksellers Association: PNBA Tradeshow; Portland, October 3–5
Mountains and Plains Independent Booksellers Association: FallCon; Denver, October 7–9
Source - Publishers Weekly