Frontlist | Excerpted from Shohini Ghosh's 'Sky Above and Grass below'
Frontlist | Excerpted from Shohini Ghosh's 'Sky Above and Grass below'
on
Jan 20, 2021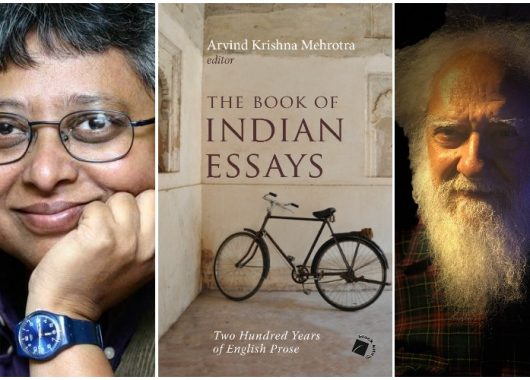 In the 1970s and early 1980s I grew up in Hindustan Park, a neighbourhood in South Calcutta. My mother had spent many of her growing-up years in Hindustan Park, so my sister and I had heard of this place even before we moved into it from North Calcutta. Hindustan Park became much better known when Jyoti Basu, whose house was centrally located in the area, became chief minister of West Bengal. As he consolidated his position in successive elections, the house became bigger and the various hangers-on around the premises acquired an air of self-importance. The rapid transformation of the house led one wit to write graffiti on the walls that read:
Opore bhara, neechey bhara
Moddhye khane shorbohaara
Which, roughly translated, reads: With a tenant upstairs and a tenant downstairs Lives in between, the proletariat.
Hindustan Park was the target of both anger and envy for the rest of Calcutta because, as part of a VIP neighbourhood, we rarely suffered power cuts.
 So, during the city's worst experience of "load shedding", Hindustan Park was an idyllic pool of light in a city of literal darkness.
One day, I came home and told my mother that one of my girl friends had said I shouldn't be wearing boyish clothes all the time. My wardrobe was all wrong, she had said. My mother said, "They have not heard of tomboys? Don't you remember George from Enid Blyton's Famous Five? Tell them you are a tomboy." Then Pratima-di, my neighbour downstairs, told me, "Don't be silly and call yourself a boy. You can be a girl and still do all the things that boys do." I had never heard anything so sensible in my life. Pratima-di was my mother's contemporary and I should have addressed her as "mashi" (aunt), but we ended up calling her "didi" (elder sister). Her son, whom we called Ajit-da, was our childhood hero. He was "good in studies" and a badminton champion in his university. He played cricket well and seemed to excel in everything he did. It struck me that in our quiet and unambitious neighbourhood it was only Ajit-da who seemed to have a life. My first lesson in cricket was from Ajit-da. He taught me the grip and stance with which to take the crease. I discovered that the correct grip was nothing like my father had taught me –  clearly, he had known nothing about how to play the game. But could anybody hit the ball comfortably while holding the bat along Ajit-da's instruction? What was the purpose of such a contrived posture? Why couldn't you just hold it like a stick and swing it around any way you wished? His "correct grip" led to my being clean bowled several times. It was Ajit-da who told us that women's teams had been formed at Bibekananda Park, and that if I was really interested in cricket I should join the club and learn the game properly. The following Sunday, I accompanied him to Bibekananda Park in South Calcutta. I was struck by what I saw when we reached. I had never seen so many women in white flannels playing cricket. There was a batswoman at the net and other women bowling to her. A man whose physique was scandalously unathletic was coaching them. He was genial and diminutive, with the hugest belly ever. Everyone called him Debu-da and Ajit-da introduced me to him. Debu-da asked me to bowl. Mercifully, if there was anything I did consistently well, it was bowl. It turned out to be one of those good days when I was able to maintain a good line and length. Debu-da was thrilled and Ajit-da looked very proud. As we walked back home he patted me on the back and kept saying I had bowled very well. I felt vaguely conscious of being happy in a new sort of way. Meanwhile, the street matches continued right in front of our houses. We were so possessed by the game, it hardly mattered that the ball was regularly crashing into the neighbour's house. Then, one day, my mother joined the neighbour in scolding us. The cricket ball had upset the goddess Saraswati and she had taken a tumble. I may have felt bad for a few minutes. I can't remember. I was now visiting the nets regularly. One day, during a mock match, I bowled out the captain of our team, who was horribly taken aback. She was an excellent cricketer and couldn't believe that this slip of a girl from nowhere had uprooted her middle stump. She remained at the crease and continued to stare uncomprehendingly at the umpire, whose raised finger looked like an insult. Then it was my turn to bat and the captain insisted she bowl to me. The balls were hurtling towards me and I felt terrified. "Keep your eyes on the ball," Debu-da kept shouting. "If you keep your eyes on the ball, you'll see a football." Now what the hell did that mean? I played too many on the back foot even when they weren't short pitched. Then I nicked one to the wicketkeeper. The captain and I became very good friends later and not only did we play together, we hung out, visited each other's homes, and watched movies. The grip and stance that Ajit-da had taught me was fast making sense. Now I couldn't understand how people had at any time in human history held the bat like a stick. Debu-da had asked me to focus on forward defensive. I played backward defensive well but seemed to misjudge the length when it came to playing forward. One day, I was deeply embarrassed when I was playing on the streets of Hindustan Park and a man started hollering from a rickshaw. It was Debu-da returning from Gariahat after buying vegetables with his wife. "Put your foot forward and keep your eyes on the ball. Understand?" he shouted as he trundled by. Everyone, including my father who was taking a walk, had stopped to watch. It became less and less embarrassing as this peculiar spectacle became more and more frequent.
Source: She The People