Everything Changes: A Memoir by Sreemoyee Piu Kundu : Book Review
Explore the heartfelt journey in 'Everything Changes: A Memoir' by Sreemoyee Piu Kundu with a compelling book review on Frontlist.
on
Oct 19, 2023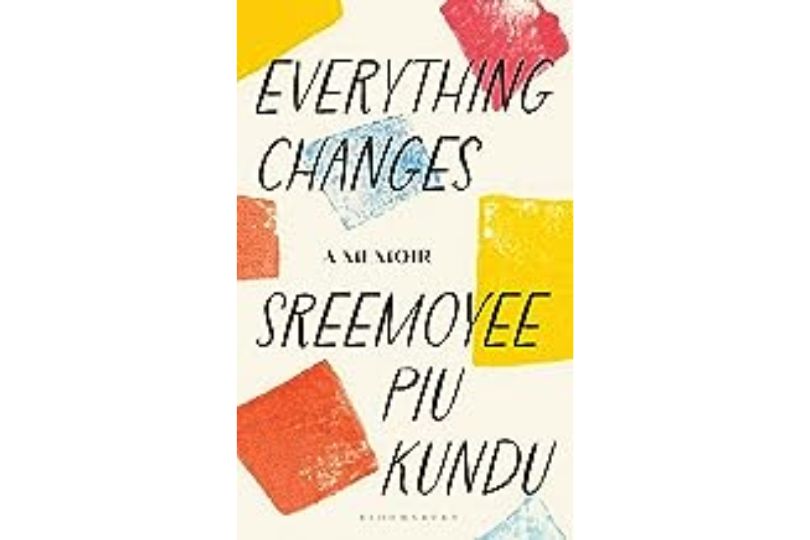 The latest book, "Everything Changes," authored by Sreemoyee Piu Kundu, embarks on a poignant journey through her life, employing a poetic monologue to break free from the prison of her memories that held her captive for so long. Through her candid storytelling, Kundu delves into the complexities of her past, offering readers a glimpse into the experiences that have shaped her journey as a woman.
The memoir takes readers on a reflective journey through Kundu's life, marked by the sudden suicide of her father, who battled schizophrenia. The absence of closure and the looming shadow of his death cast a profound impact on her pursuit of self-love. However, Kundu's story goes beyond the label of a fatherless daughter, exploring how patriarchal expectations weigh heavily on her soul.
Born into a privileged Bengali household, Kundu grapples with the need for validation, particularly from her maternal grandmother, a powerful matriarch. Her mother's silence and suffering after her husband's death mirrors the struggles of numerous widows who lack the agency to live with dignity. In her late 40s, her mother's decision to remarry a man from South India exposes the class and regional jealousies prevalent in Bengali society.
As Kundu unravels the intricacies of her family's lives, she sheds light on the absence of sex education and trauma counseling in schools. She addresses the prevalent issues of bullying and body-shaming among teenagers, drawing from her own experiences. Kundu's emotional journey also touches upon her battles with PCOD and endometriosis, shedding light on the shame and stigma attached to female bodies and sexualities.
The narrative beautifully captures the nostalgia of journalism before the digital age and the challenges faced by female reporters, often at the mercy of lecherous bosses. Kundu introduces the concept of self-marriage as a rebellion against the patriarchal norms of society. The book is a cathartic experience for readers, endowing them with the confidence to confront their own traumas.
Through its unconventional structure, the memoir takes readers on a journey of self-discovery, punctuated by pivotal moments in Kundu's life, providing insight into the experiences of single women in India's rapidly changing society.
In a world where the role of parents in the lives of professional women remains pivotal, Kundu's account underscores the importance of supportive and liberal parents. Her memoir also reveals her role in creating a community of urban single women, offering a glimpse into the challenges of singlehood and personal fulfillment.
The book is not just Kundu's story; it is a reflection of the lives of many single women in India. With honesty and vulnerability, Kundu weaves a narrative that resonates with readers, providing a glimpse into the intricate journey of self-discovery and personal growth.
In essence, "Everything Changes" is a compelling exploration of life, love, and womanhood. Sreemoyee Piu Kundu's poetic monologue, in which she bares her soul and experiences, is a testimony to the power of storytelling and the enduring spirit of women.