Frontlist | Erotic novels are the source of Indian girls' sex education
Frontlist | Erotic novels are the source of Indian girls' sex education
on
Dec 15, 2020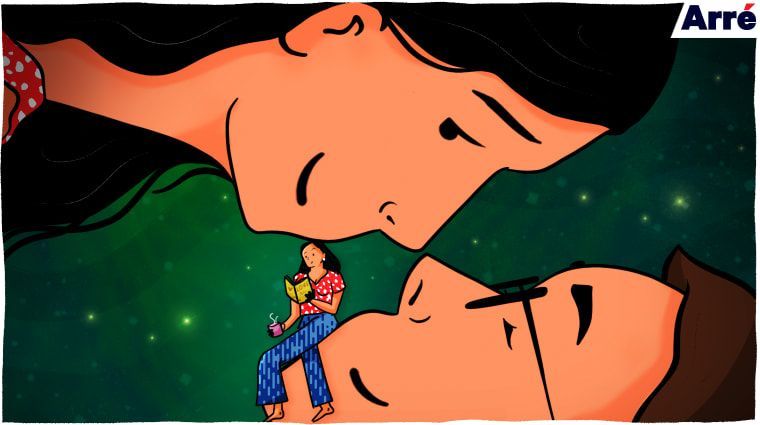 One of my most vivid teenage memories is of seeing my best friend's mother reading a Mills & Boon novel while three others lay at her bedside. The library that I would frequent had an entire section dedicated to these pulp "romance" novels, but the librarian knew me too well for me to ever risk borrowing from there. This hardly kept me from satiating my curiosity. In books that are written solely for teenagers or young adults, there are enough and more allusions to sex. Books that look modest on the outside contain a world of opportunities for sexual awakening within the pages. If you are someone who grew up reading Meg Cabot's mammoth 11-part 
Princess Diaries
 series, you know exactly what I'm talking about. These books grew successively explicit. The cover said "Princess" and "Diaries", insinuating innocence, but that is exactly what made them so easy to consume in plain sight. While I took to Meg Cabot, some of the other girls in school found their thrill in Chetan Bhagat. Many of my friends would jacket these books with newspapers. It not only concealed the shame of indulging in a Bhagat novel but was also a preventative measure against rousing suspicions of parents. If they were ever questioned, protecting a friend's book from sullying was a good enough excuse. Within the pages of Meg Cabot, Chetan Bhagat, and Julia Quinn (to name a few) lay the path for sexual exploration for young women. It was easier and more socially acceptable for men to gain access to erotic media in the form of magazines and videos because their introduction to adulthood was celebrated. However, for women, puberty came with concealment: of sexuality, breasts, and acne. Women's education of these taboo topics was largely through word-of-mouth. Popular media like film and television played their part too, but catered to the male gaze. Erotic fiction masquerading as "romance literature" then became the medium of instruction for many women as they grew into adults.
My friend, Medha, who dived headfirst into Mills & Boon novels stolen from her sister, firmly believes that reading these "trashy novels" at a young age had a deep impact on how she perceived relationships. Because she constantly read about angry, dominating, dangerous men, she sought the same qualities in her prospects. Only in her adult life did she realise how skewed her perceptions were. Kareena also indulged in Mills & Boon books borrowed (in a very broad sense of the word) from her mother, in her bathroom so as to not get caught. She believes that reading smut at 14 played a key role in making her open-minded with respect to sex and threesomes. At the same time, Esha indulged in a totally different kind of smut: period dramas. In the books that she read, the portrayal of sex was limited to ankle-showing and wrist-kissing. Despite her Victorian influences growing up, she confesses that reading smut exponentially "upped her sexting game" as an adult. With the democratisation of the internet, online fan-fictions soared. They were rife with sex scenes of every nature: vanilla, kinky, BDSM, and even bestiality. The descriptions were very detailed and could border on obscenity. Readers tired of vanilla content could constantly discover more taboo topics. This smutty literature is not unlike porn; instead of motion pictures, it was characterised by the written word. What sets it apart from porn is that it leaves much to the imagination and is more clandestine for no one knows what's going on in your mind, even in public. There was no dearth of reading material and if you were curious like me, you could give writing a shot too. In my pre-teen years, my best friend and I stumbled upon some of these stories while looking up Justin Bieber and Jay Sean. This became my gateway to fan-fiction. It opened me up to this whole new format of story-telling sans censorship. Websites such as fanfiction.net, archiveofourown.org, quotev.com had writers around the same age that I was. It became a great way to purge sexual anxieties. The stories on these sites catered solely to sexually explicit content. It must be noted that the narrative was ultimately a bridge to the final act, albeit an unstable, crooked one. Much like porn, the story here is subpar and predictable. Thus, what lies at their heart is sex and the build-up to it, even if it's unrealistic and mostly unfathomable.
However, while porn and smutty stories might serve a similar purpose, one aspect where they differ is how they are consumed. With constant exposure through the internet, audiences become immune to porn. The more taboo the topic, the more thrilling it gets. But because reading is more active unlike the passivity of watching porn, readers have not been deterred by the increasing accessibility thanks to the internet. For so many teenagers, aphrodisiac literature has done much to simplify and ease the understanding of sexuality - an education that many timid parents are ill-equipped to provide. Even though writing and the habit of reading erotica is condescended upon in the literary milieu, certain bookstores continue to guard shelves that expressly serve this genre. It is no secret that generations of mothers and their daughters indulge in these books. While men are lauded and encouraged to indulge in Playboy and PornHub, women need to build their own private world with this literature where they are not shamed for expressing interest in sex. Yet, between generations of mothers and daughters, their participation in smut consumption remains a hush-hush topic. This prompts the question, how much longer will we enjoy smut in the sheets and feign ignorance in the streets?
By Sahej Marwah