'Enjoyed book, but...': Teenage author given 1 star review for 'being an immigrant'; furious netizens rally in support
'Enjoyed book, but...': Teenage author given 1 star review for 'being an immigrant'; furious netizens rally in support
on
May 14, 2021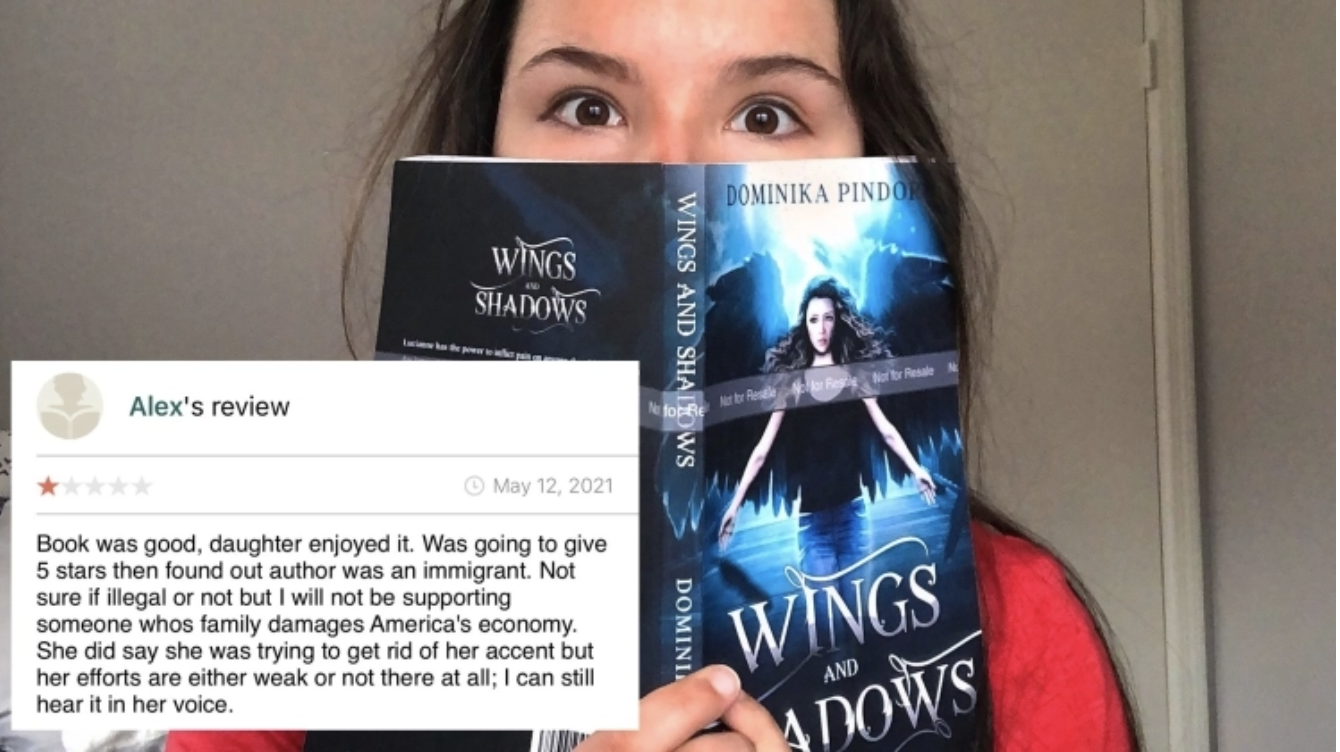 What are the hallmarks of a good novel? While one would assume that a fast paced, riveting plot or interesting characters may be defining attributes, the race and ethnicity of the author must be considered. And so, a teenage author and her young adult fantasy fiction novel have now become the topic of a heated social media debate after she flagged a rather problematic book review.
Dominika Pindor, as per her Goodreads (a book reviewing social website) author profile, is a teenager who was born in Poland and now resides in Illinois with her family. The writer of a recently self-published book called Wings and Shadows, she is also prominent on TikTok where she shares videos about books and writing.
Someone just left me a one star review because I'm a (LEGAL) immigrant. I can't do this today, she tweeted on Wednesday, sharing a screengrab of the now deleted review. The 1-star post by an user named Alex Peterson said that while their daughter had enjoyed the book, the poor rating was intended to serve as a lesson to all immigrants to stay in their own country.
Had I known this author was an immigrant leeching off our language to get a bigger audience I would have never bought this crap. Pindor if you see this, write in your own language, the angry reviewer concluded.
Also read | 
https://www.frontlist.in/finding-the-raga-by-amit-chaudhuri-beauty-of-digressions/
Going by comments left on Pindor's Twitter post, the reviewer later changed the rating to five stars, to get the dimwits in the replies out of their inbox. The post does not seem to be available on the site.
Following the incident, countless individuals have rallied together in support of the young author, with many buying multiple copies of the book to show their support. One user even shared redeemable links for four copies of the book on Twitter. Pindor's post has been liked, shared and commented upon thousands of times thus far. I hadn't heard of this book, but then the author received a hateful 1-star review for being *checks notes* an immigrant. Congratulations, you xenophobic jerk -- you're the reason I bought a copy! read one Goodreads review. Sigh. Getting the book for my son and daughter now. Paying full price despite Kindle Unlimited - because this...sigh. You deserve to be paid...By the way, much respect to anyone who can write a novel. Awesome achievement in itself, said a Twitter user.
The story however does not end here. While many skeptics suggest that the author had written herself the nasty review, others are convinced that it had been left by a fake account. This too has been added to the remarks on Goodreads. Pindor for her part took to Twitter later on Thursday with an explanation of sorts, stating that the review was from someone she had met and spurned recently. Source: https://www.freepressjournal.in/