Education is Responsible for the Overall Development of the Human Beings: Dr Ramesh Pokhriyal
Education is Responsible for the Overall Development of the Human Beings: Dr Ramesh Pokhriyal
on
Apr 08, 2021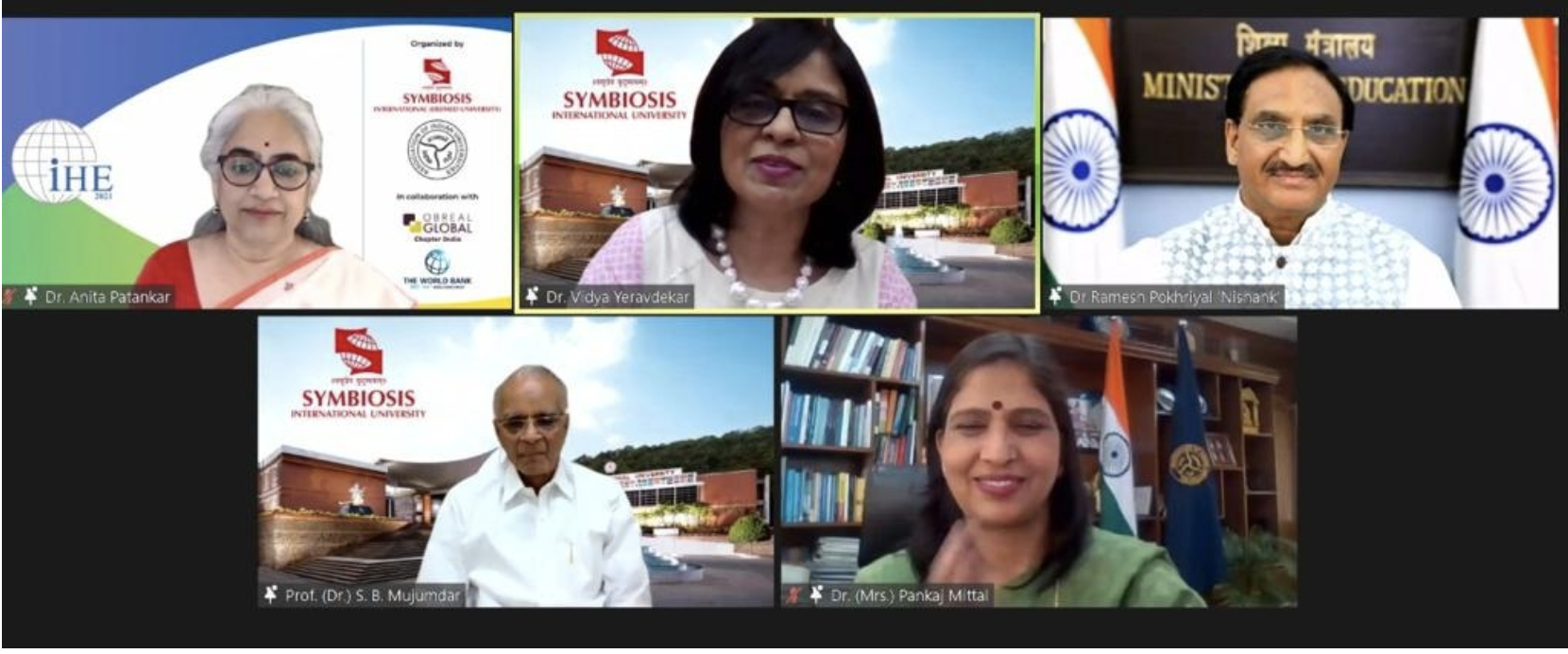 Education is what makes a human being capable in life. In India, we have overcome the challenge of Covid. We have turned the challenges into opportunities. Other nations have gone one year back but we in India have confronted the crisis and have not stopped at any point in time, said Dr Ramesh Pokhriyal, Minister of Education, Government of India.
He was invited as the Chief Guest for the fifth edition of the annual international conference on 
Internationalization of Higher Education (IHE 2021)
 organized by Symbiosis International (Deemed University) SIU and Association of Indian Universities (AIU) in Collaboration with Obreal Global India Chapter and The World Bank. 
Hon. Minister Dr Ramesh Pokhriyal congratulated SIU and AIU for arranging an International Conference during the current difficult times of Covid.
Speaking at the conference Dr Pokhriyal said, "In India, the total number of students and teachers is so huge that it equals the total number of population in many countries in the world. This is the Digital Age and with the help of digitization/ online education, we continued teaching and managed to complete the academic year. We have not wasted an academic year of any student in the country. We have also formed a revolutionary NEP 2020 during these tough times. 
Education is responsible for the overall development of a human being. We have a legacy of the Universities like Takshila and Nalanda. India was the education leader in the world during those times. We have always considered the world as one family – Vasudhaiva Kutumbakam."
Talking about NEP 2020 Dr Pokhriyal mentioned that NEP 2020 is inclusive and innovative. Now we will not only search for talent but will give quality content as well. We are putting efforts to go further in all areas of education. We are moving forward in the areas like research and development. We have launched a study in India program. We have unique things to offer to the world like Yoga, Ayurveda, Music, Arts, and Literature etc. 
The last person in our country should get the benefit of the policy. We are inviting International Universities to our Country. We have formed the Academic Book of Credit to facilitate students to become their academic account holders and pave the way for seamless student mobility between or within the degree. NEP 2020 is also focusing on the education and development of the teachers.
At the end of his speech, Dr Pokhriyal said, we want to create human beings and not machines. We want to make our nation a global superpower and want to make the world a good happy family.
Dr SB Mujumdar, Founder and President of Symbiosis and Chancellor Symbiosis International University during his speech said that we should not be afraid of Covidization. It will go definitely but till it goes we should not stop. Our mission should not stop.
Online education is not a substitute for campus education. Campus education has produced leaders across the world. Countries are shaped in the classrooms and on the University campus. Activities outside the campus shape the personalities of the students. Let's be optimistic and defeat Covid, Dr Mujumdar added further.
Dr Anil Kumar Nassa, Member Secretary National Board of Accreditation (NBA) India; Nina Arnold, Lead Education Specialist, South Asia Global Lead for Territory Education, World Bank; Dr Pankaj Mittal , Secretary General, Association of Indian Universities India were the other distinguished speakers for the Ceremony.
Dr Vidya Yeravdekar, Principal Director Symbiosis and Pro-Chancellor Symbiosis International University gave opening remarks. Dr Rajani Gupte, Vice-Chancellor, Symbiosis International University gave a Vote of Thanks and Dr Anita Patankar, Dy. Director, Symbiosis Centre for International Education was the anchor of the program.