Frontlist | Despite of physical barriers, Festival of the Book is still alive
Frontlist | Despite of physical barriers, Festival of the Book is still alive
on
Nov 05, 2020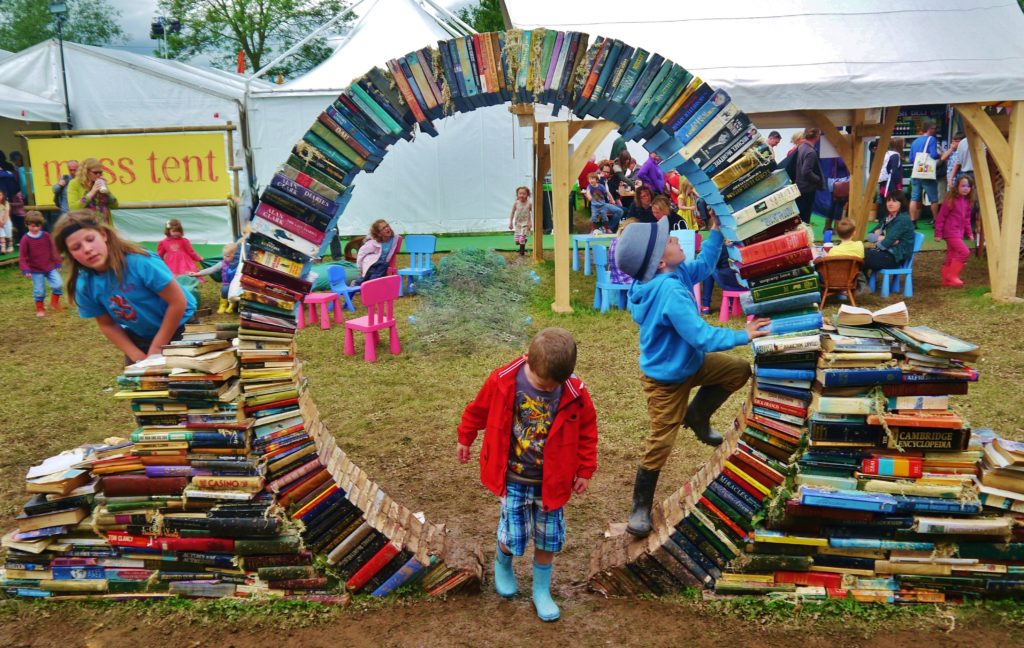 The Harbor Springs Festival of the Book was not able to hold its annual in-person festival weekend this year. However, that didn't stop the celebration of authors and books.
"After the May announcement that the festival was cancelled, the board worked to determine what the year would look like without the in-person event,"
Amy Gillard, HSFOTB Executive Director, said.
"We offered a unique experience in our 'Meet the Presenters. Build Your Bookshelf' program. Presenters who would have been at this year's Festival answered questions via video or print. Each weekday from August 18 until September 26, an author or illustrator was introduced to the Festival's electronic newsletter subscribers."
The Festival board got creative in keeping the energy alive online. Along with the author interviews, cookbook author Maureen Abood presented a live cooking demonstration. "Maureen's expertise and obvious love of Lebanese culture shine through in her charming presentation and viewers get terrific tips on how to prepare delicious and easy recipes," Julia Fogarty, HSFOTB chair, said. "Anyone who missed this will want to hop online and take a look. The response was so positive that we are considering the possibility of future culinary events." Maureen Abood Cooks Lebanese is available on the Book Festival website under "Culinary Event." All the author interviews can be found on the website as well. The HSFOTB is also known for providing books for schools with their Books for Schools Fund and this year was no exception. "The Harbor Springs Festival of the Book, through donations to the Books for School Fund, purchased 3,300 books ($54,336 value) to be distributed to students and classrooms in Alanson, Beaver Island, Harbor Springs, Inland Lakes, Pellston, Petoskey and Wolverine districts," Gillard said. "The titles selected were from authors and illustrators who would have been at the September book festival had it not been cancelled due Covid-19. The books, ranging from Pre- K through 12th grade, include 21 titles from 16 different authors." The saying "It takes a village" may sound cliche, but it's true. Without the generosity of many businesses and community members, this would not have been possible. "We are so grateful for the major contributions from donors who contributed to the Festival's Books for School Fund: Steve & Amy Van Andel Family, the Youth Advisory Committee of the Petoskey-Harbor Springs Area Community Foundation, Robert & Susan Clarke, DTE Foundation, Great Lakes Energy People Fund, The Susan Book Club, the L'Arbre Croche Fund, and 30 other individual donors," Gillard said. "We are so excited to have the opportunity to inspire readers of all ages with this amazing program. And knowing we could continue this program, even without being able to host the in-person Festival, has provided a ray of light in this very unusual year." The Festival board continues to plan and look toward next year in hopes of returning to its in-person festival celebrations. "We are very excited about having Malcolm Gladwell here with us, if all goes well, in 2021," Fogarty said. "The Author Committee is meeting and starting the process of putting together next year's lineup, while recognizing that we all face many unknowns." In spite of so many unknowns, the board is always looking to improve the festival in whatever creative ways they can. "The Book Festival Board and staff have been meeting often, even in this non-Festival year, to both strengthen our organization and to plan engaging events that can help us all get through the upcoming winter months," Fogarty said. "Our love of books can carry us through, and can remind us of all that we have in common during these challenging times." The best way to stay up to date with all HSFOTB news is via the website: www.hsfotb.org The 2021 HSFOTB dates are September 24 – 26 and everyone involved is hopeful as they prepare for the upcoming year. "We do not know what the future holds, but we are hopeful we will be able to be together again soon," Gillard said. "The health and safety of our attendees will drive all of our decisions." Donations, either for the General Fund or Books For Schools Fund, can be made to the Harbor Springs Festival of the Book, P.O. Box 766, Harbor Springs, MI 49740 or on the secure website, www.hsfotb.org/donate. Donations can also be made in honor or in memory of book-loving friends or family.