DC Comics Is Letting Fans Choose Its Next Series
DC Comics Is Letting Fans Choose Its Next Series
on
Apr 01, 2021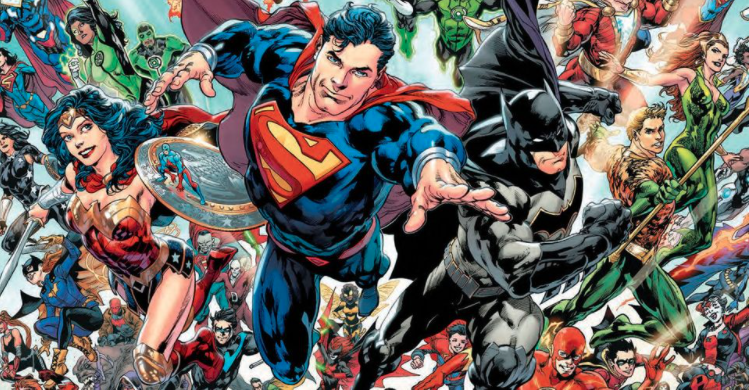 DC Comics
 has just announced that it's letting readers decide its next series. Revealing their new DC Round Robin, fans will be able to vote from a selection of 16 different story pitches, with a final victor eventually being chosen to be written, drawn, and published in late 2021. Not only that, but DC has also revealed that story teases and sneak peeks will be shown for each hopeful contender with every block of voting until the tournament whittles down to a victor. DC is no stranger to fan voting, as this new vote comes right off the heels of the one DC just held for fans to help name Nightwing's new dog, not to mention the iconic fan vote in 1988 to decide the fate of Jason Todd's Robin. Marvel just held a vote as well, letting fans choose the final member of its new X-Men team. Voting for the new DC series will be done in rounds, and voting for Round 1 will occur between March 31 and April 7 on DC's Twitter and Instagram pages. DC Comics will also hold Q&As with the creatives who put the pitches together on April 6. Furthermore, sneak peeks and teaser art will be revealed on April 8, along with the results from the first round. Subsequent rounds will continue in the same manner until a winner is declared. Fans are able to vote 
on DC's Twitter page
 for the first 8 match-ups of the Round Robin, and will also be able to vote on three different match-ups a day on DC's Instagram story. As far as the pitches themselves, each of the 16 offerings appear to be just as dynamic and entertaining as the next, making it a tough choice for the first round of match-ups. It's almost cruel that only one of these stories will make the cut, both for readers and the creatives who pitched them.
DC also provided story details for each pitch. 
Green Lantern: Underworld on Fire 
will be a Kyle Rayner/Kilowog Green Lantern team-up series, while 
Etta Candy: Holiday Hero, Inc. 
will see Wonder Woman's friend getting powers of her own. 
The Brave and the Bug: Crisis On Infinite Ambush 
is a tale of Ambush Bug fighting off Ambush Bugs from across the Multiverse, while 
Zatanna and the King of Nightmares
 will see Zatanna struggling with her powers as she faces an all new foe. 
Lobo/Animal Man: Scorched Earth
 will see a shift in the Main Man's status quo that somehow involves Animal Man, and 
Son of the Creeper 
will see the Creeper's son trying to save him from himself. 
JLQ
 will feature a young group of queer heroes assembling to form a league of their own, and 
Robins
 will feature every hero who's been the Boy Wonder coming together.
Paws Off The Justice League
 will be an all new Super Pets adventure, which will face off against 
Jesse Quick: Control
 where Jesse Quick trades her speed for elemental powers. 
Blue Beetle: Graduation Day 
will have Blue Beetle struggling with a new crossroads in his life with the help of Starfire, while 
Nightrunner: Love in Paris 
will see the Nightrunner fighting rouge celebrity A.I. 
Swamp Thing: A House Of Secret
s
will be a tale of love and the dead, while Harley Quinn will lead 
The Suicide Squad Seven.
 Last but not least, 
Asteria: The Last Amazon
 will feature Asteria's return to Man's World, while 
Superman & Lois: Ignition
 will see the solar system conspiring to kill the Man of Steel. Fans can vote right now for all 8 of the Round 1 match-ups through April 7, though nearly every choice is going to be a difficult one. Regardless of which pitch ends up winning to become an actual series, here's hoping 
DC Comics 
pays attention to the fan feedback and considers publishing more than just one of these exciting DC pitches.