#BookTok: A Hashtag Transforming the Publishing Sector
on
Oct 20, 2022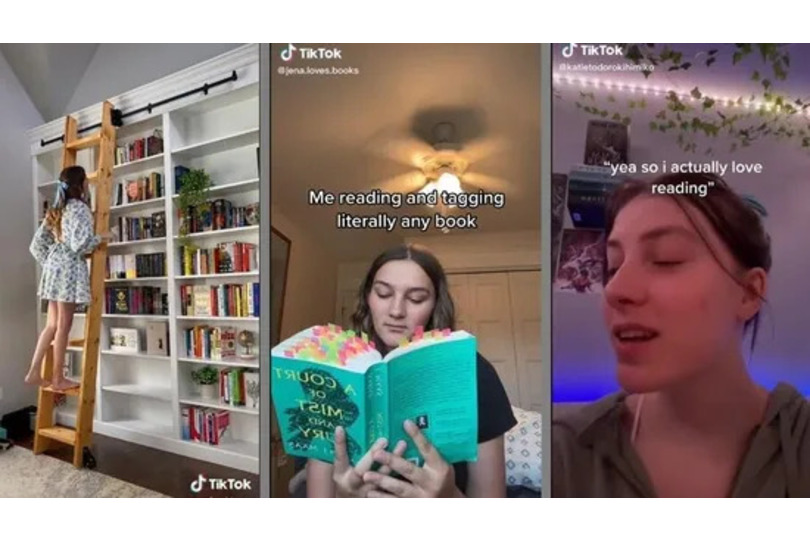 Who would have imagined that TikTok, an app that first served as a platform for amusing films and dancing videos, would revitalize the book market?
Numerous young people are utilizing the hashtag #BookTok to post on social media about their favorite books, continuing the Bookstagram trend. More than 84 billion people have seen the videos that use the hashtag collectively. Given that the majority of users on TikTok are members of Generation Z, those born in the late 1990s or early 2000s, they appear to have a strong interest in books.
Recently, TikTok has seen remarkable growth. According to estimates, half of all 12 to 19-year-olds and a third of those in their 20s frequently use TikTok in Germany.
The app, which is owned by a Chinese business, has been charged with using word filters to restrict content.
In the late 2020s, the platform started using the hashtag #BookTok. TikTok users produce imaginative short movies, most of which are around 60 seconds long, as opposed to dull book reviews. They share what they've lately read, act out fictional stories, or participate in challenges like reading a book in a single day in them.
A lot of BookTokers have arranged their bookcases according to hue. They undoubtedly base their purchasing decisions on a book's cover.
At first glance, this might seem flimsy, yet TikTok hypes are changing sales numbers and bestseller lists. The 2011 book "The Song of Achilles" by Madeline Miller serves as an illustration.
Years after its release, thanks to a review on BookTok, the book became a success, much to the surprise of the industry and the author herself.
Fantasy, suspense, and romance novels for young adults are particularly popular.
US author Colleen Hoover is a master of this genre. Young readers connect with her books' suspense, drama, and strong emotions. While reading Hoover's works, BookTok users record themselves crying in the process. They don't appear to mind too much that many stories have recurring themes.
The possibility of interacting with others who share similar interests is what makes #BookTok so popular. Nobody at the top decides what books should be read. Readers exchange recommendations through digital word of mouth.
Beyond supporting well-known authors, #BookTok has facilitated the ascent of up-and-coming authors. The Atlas Six, a self-published book by Olivie Blake, was so popular on TikTok that Tor Books, a Pan Macmillan company, signed the author. Along with the subsequent books in the trilogy, the publishing house also issued a completely updated and edited edition of her work in 2021.
Under the hashtag #OwnVoices, books with characters from underrepresented or marginalized groups and authored by authors who share that identity are promoted, fostering the growth of new reader communities.
Retailers have also acknowledged TikTok's potential.
For instance, the German bookstore chain Thalia has created displays in its storefronts that are just for the best-selling titles on BookTok, and its online store prominently features BookTok as a distinct search area.
The marketing divisions of publishing firms are now affected by the worldwide phenomenon.
Influencers on BookTok are receiving complimentary review copies from Piper Verlag. To publish BookTok material, such as films advertising new releases or brief interviews with authors, other publishers have also created their TikTok accounts. They also copy the formats that are successful on BookTok, such as surveys asking readers which book has affected the way they view the world or contests to see who can stack the most volumes.
The two children's and young adult literature-focused German publishers with their accounts, DTV Verlag and Loewe Verlag have had the most success thus far. However, they haven't even come close to matching the most popular BookTokers in terms of views.
The Frankfurt Book Fair, which takes place from October 19–23, has also acknowledged BookTok's promise. This year, it includes a brand-new BookTokers-only stage where they will provide a variety of lectures about their methodology and the most recent trends.