Book Review - Vichhoda In the Shadow of Longing
Book Review - Vichhoda In the Shadow of Longing
on
Jan 25, 2020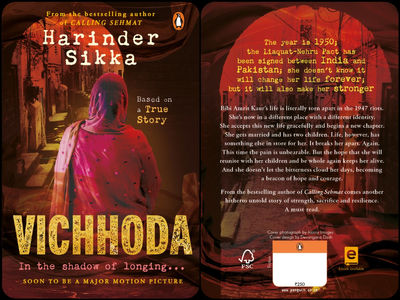 Writer Harinder Sikka presents another great story of a Punjabi girl named Bibi Amrit Kaur who got married to a Muslim. Her whole family was killed in the riot created by the Muslims of her village. The book narrates the story is based in the time after partition where Amrit married a Muslim in order to survive with the changes which were happening around her. Her life was completely turned upside down. Her whole life was torn apart. She learnt to build her life from nothing. "Vichhoda" is the book which shows the life-changing story of the main character and struggles to carry her life after the riots of 1947 which took everything from her and left her the lone survivor to carry the memories of her family buried in her heart. Writer Harinder Sikka's first novel was turned into an
amazing Bollywood movie, 'Raazi
' which won the hearts of the audience. Again he has done justice with this new story of his new book. The title of the book,
"Vichhoda '' is a Punjabi word which means 'Bichdann' in Hindi
. As the title says, the story does justice with the title and with its readers.