Frontlist | Book Review: Another 24-hour book! Finally!
Frontlist | Book Review: Another 24-hour book! Finally!
on
Jan 06, 2021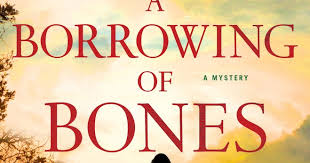 Another 24-hour book! Finally!
I have read many books lately that are hard to finish (I am a reader/judge for three literary awards that just about anyone can enter so reading lower-quality books to the final page can be a long chore); therefore, I was delighted to discover
A Borrowing of Bones
to be a good, fast, yet long read. Value added was provided by the two main characters having been deployed to Afghanistan (as was I) and their two dogs being r-e-a-l major characters: one, a Malinois/Belgian Shepherd, Elvis, (like a German Shepherd) had been a military working dog while the other, a rescue Newfie mix, Susie Bear, was trained in search-and-rescue (SAR) for his person, a Fish and Wildlife Department game warden in Vermont.
I truly liked all the characters plus the two dogs play a major role. What more could one ask for? In addition, . . . .
The reader will be pleasantly surprised to find several chapters (out of 50) ending on cliffhangers and be totally surprised by the twists and turns!
Plus plenty of references to Shakespeare and Vermont history and geography. Though I have been to Vermont, if I had a map, I would hopefully be able to find the places mentioned - unless they are fictional.
Bonus I also found half a dozen 'triplets,' two in the beginning, one in the middle, and others at the end. After noticing the first two, I paid attention, looked for others and realized author Paula Munier was having fun with her readers. Here is an example of the triplets: bones, bodies and bombs in one sentence. and another - Shakespeare's scripts and sonnets and soliloquies.
But, . . . . Any book this long is bound to have some errors - either typos or factual errors, even in a fiction book, if the author is not a subject matter expert. I read some reviews that really harped on this. I can usually forgive one or two - Munier wrote some other things that I wasn't quite sure about plus there were several sentences that I had to read a few times to understand. However, both protagonists had been deployed to Afghanistan as I had: I learned early in my work there that Afghani referred to the currency not the people. I was quite harshly called on that so I didn't forget it. The author, on page 44, makes the same error. She has not been to the country but has spent a lot of time with an organization called MissionK9Rescue so I was surprised at that error. Now, About the Plot A woman veteran and her former Army dog are walking through the woods one morning when they come upon a baby! She takes the baby, reports the incident - and later the baby is removed from the hospital by someone unknown. This veteran also finds human bones in the woods close to where her dog alerts on the scent of explosives. A man is stabbed to death. The veteran's home is ransacked. Her grandmother, a veterinarian, tries to match our hero up with the Fish and Game agent, also an Afghanistan veteran, with a SAR dog. Another stabbing. And so on. Exciting. Writing Style I like short chapters. Munier provides them along with considerable conversation so the 50 chapters (untitled though) speed by. I liked this book so much that I just might read the second and third books in the new series (hope they are a bit shorter) and may also read Fixing Freddie: A True Story of a Boy, a Mom, and a Very, Very Bad Beagle. Source: Patch