Frontlist | Book on 'Tarun Gogoi' hits the stand at Guwahati Book Fair
Frontlist | Book on 'Tarun Gogoi' hits the stand at Guwahati Book Fair
on
Jan 07, 2021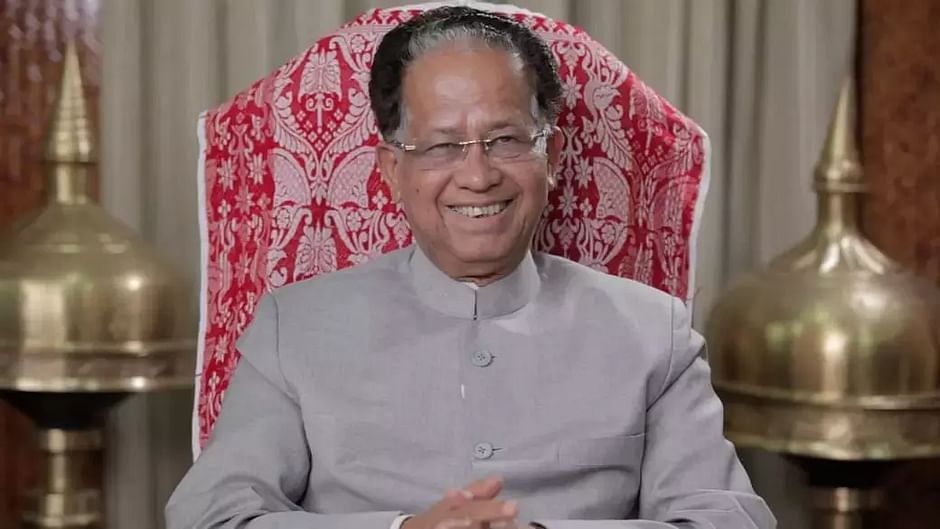 The book about the veteran Congress leader Tarun Gogoi was unveiled by his son MP Gaurav Gogoi at the 33rd edition of the Guwahati Book Fair.
A book on the former Chief Minister of Assam, Tarun Gogoi was released on Tuesday at the Guwahati Book Fair. This is the 33rd edition of the book fair. The book is titled as 'Tarun Gogoi'. The book 'Tarun Gogoi,' which is authored by Nirmal Deka, is a biography on the life and works of the veteran leader Gogoi. The book was unveiled by his son MP Gaurav Gogoi. The book is published by Panchajanya Printing and Publishing house. Anyone can buy books on Tarun Gogoi from amazon.
The 12-day book fair started on December 30, and will officially conclude on January 10. The book fair is being organised within a budget of Rs 50 lakh, which has around 117 bookstalls. The fair is simultaneously hosting various other events, which also includes book releases. It was earlier reported that as many as twelve selected books were said to be released in the book fair.
Veteran Congress leader Tarun Gogoi breathed his last on November 23 at Gauhati Medical College and Hospital (GMCH). He was put on ventilator support as his health condition deteriorated. The 86-year-old Congress leader was hospitalised for two months since August 25 as he tested positive for COVID-19. However, he was discharged on October 25 after he tested negative. The government deputed a team of doctors to take his care at his official residence as the veteran leader was showing the post-recovery complication.
Gogoi was readmitted to GMCH on November 2 after he complained of breathing problems. However, on November 3, the GMCH doctors said that he was out of danger. Gogoi was rushed back to GMCH on November 18 night. On November 19, the GMCH Superintendent, Dr Abhijit Sarma informed that Gogoi was stable, however, his condition deteriorated. Veteran leader of Congress, Gogoi was born on October 11, 1934, at Rangajan Tea Estate in Jorhat district of Assam. He did his primary schooling from No. 26 Rangajan Nimna Buniyadi Vidyalaya and then moved to Jorhat Madrassa School, where he studied up to class IV. He then moved to Bholaguri High School near Badulipara Tea Estate where he studied till class VI. Gogoi passed his HSLC examination from Jorhat Government High School.
Source: The Sentinel