Book Launch: The Panama Papers
Book Launch: The Panama Papers
on
Nov 27, 2019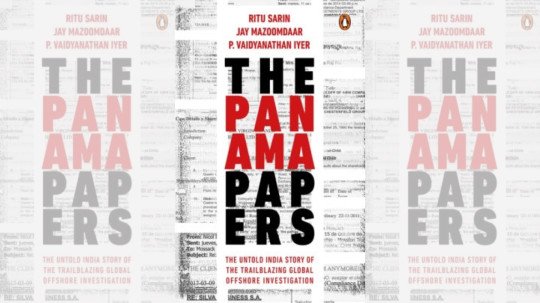 Authors and journalists Ritu Sarin, Jay Mazoomdaar and P. Vaidyanathan Iyer release their new book, "The Panama Papers" on 26th November. The book is about the detailed offshore investigation. It covers financial corruption, black money and goes beyond the investigation.
The chief guest of the event and former President of India, Shri Pranab Mukherjee launched the book and said that the book is an 'out of box' work done by the authors. Guest of honor, Pratap Bhanu Mehta said that the book is a remarkable piece of work. He also added that you will get a strong sense of what investigative journalism looks like when you will read the book. A sheer determination is needed to get a story like this, particularly in the context of India. "The Panama Papers: the untold India story of the trailblazing global offshore investigation," tells the India story of the mega investigation that shook the world, woke up governments and showed what investigative journalism could achieve. In India, black money has gained more currency than never, as a political metaphor. Financial corruption though cannot be defeated without transparency in election funding. The book underlined the loot of public money and the need for tax reforms. The only Indian publication in the global collaboration on this investigation, the Indian express played a crucial role. The book is the result of the hard teamwork of three authors and journalists who did their investigative research for nine months. Speaking about challenges while writing this book, Ritu Sarin said, "There were several platforms, everything was encrypted, difficult technology steps but the fascinating thing was we have a part of the global newsroom." She also added, "taxation matters are always confidential. All you get is just figures! nobody is obliged to tell you names." Access to data was the biggest challenge while writing this book. In the answer to the question that while piecing the story together, what you were hoping to accomplish at the end of it. Author Vaidyanathan discussed the two aspects of such kind of story. First is, if you put it out in the public domain, then what damage it does to the reputation of people because there is still a kind of question mark on the legality of it. And second, let the law enforcement agencies look at it because there is a very thin line of legality in this so let it put across, let them do their work.
The book raises questions like -
What qualifies tax avoidance? What qualifies tax evasion? The authors realized that there is still so much secrecy out there. They also narrated the small incidents which took place while investigation.