Frontlist | Book fair at Ultadanga
Frontlist | Book fair at Ultadanga
on
Mar 12, 2021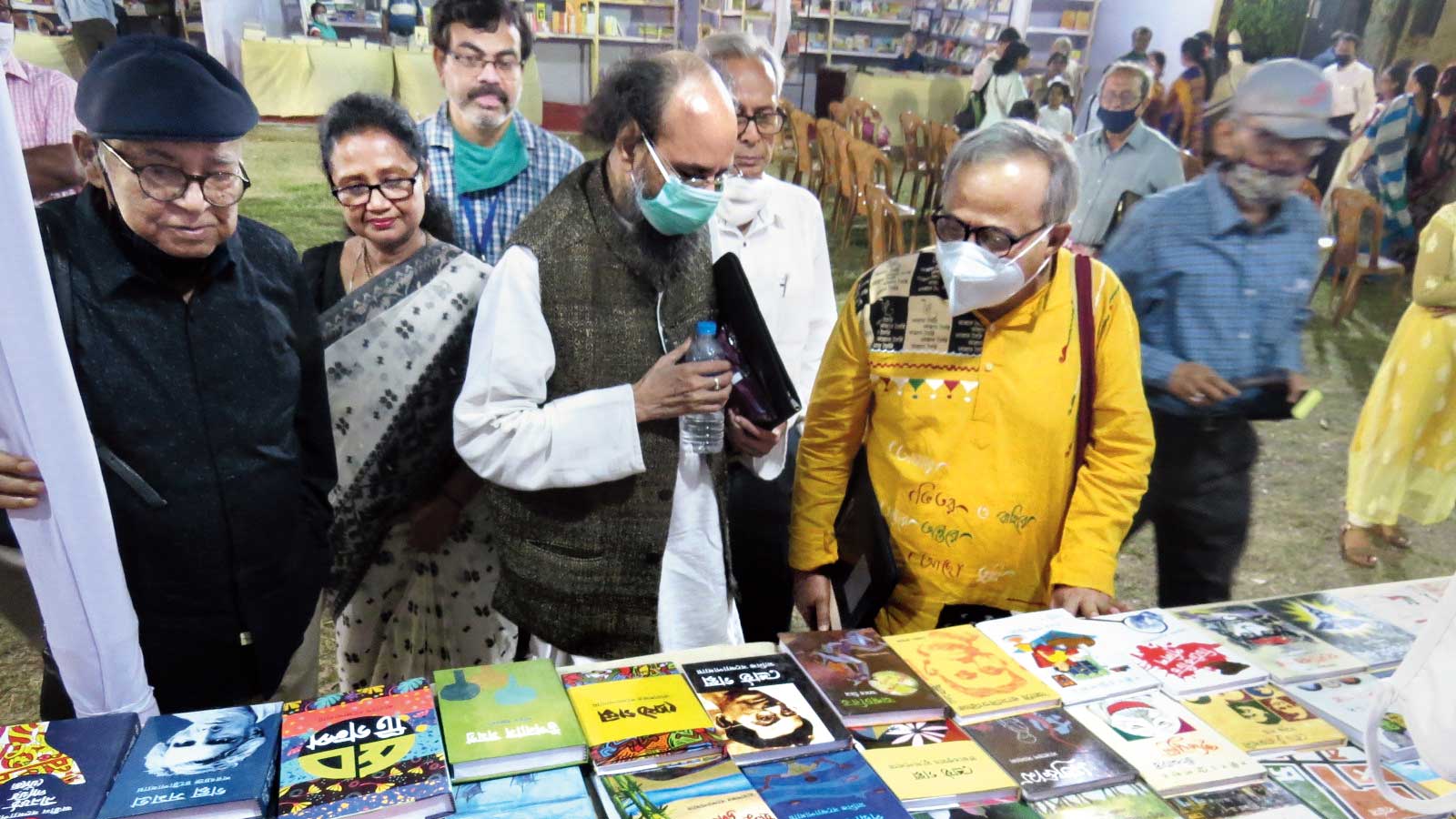 It has 41 stalls, all selling books, including the likes of Ananda Publishers, Dey's Publishing, Patra Bharati and Deep Prakashani
There was no Calcutta International Book Fair in Central Park this winter, but spring is making up for the loss. Even as the New Town Book Fair was drawing to a close, another book fair started next door.
Bidhan Boi Mela was inaugurated last Friday at Bidhan Sishu Udyan in Ultadanga, next to Police Abasan. There are 41 stalls, all selling books, including the likes of Ananda Publishers, Dey's Publishing, Patra Bharati and Deep Prakashani.
"This is the first time we are holding the fair in a big way. In 2018, we had held a three-day event with just a single stall from the guild," said Gautam Talukdar, secretary, Bidhan Sishu Udyan.
It was an appeal from him to the joint organisers, Publishers and Booksellers Guild, on stage during the inauguration that has resulted in a 20 per cent discount on all sales. Visitors buying books over Rs 1000 will also get a folder as gift from the Udyan authorities. The fair is on till March 14, and is open from 2pm to 9pm.
[caption id=attachment_11172 align=aligncenter width=1024]
A new leaf: People throng Bidhan Sishu Udyan on the opening afternoon of Bidhan Boi Mela on Friday.
Picture by Sudeshna Banerjee[/caption] "There is no other city in India with so many booklovers. We have 24 lakh people visiting and sales worth Rs 22-24 crore at the Book Fair. In the run-up to that fair, which has been postponed to July this year because of the pandemic, we are holding smaller book fairs across the city. The one in Jodhpur Park in February was a success. So now we are here,"  said Tridib Chatterjee, president of the guild.
Read More - 
Amazon Won't Sell Books Framing LGBTQ+ Identities as Mental Illnesses
Princess Seetah Award recognizes projects that helped Saudi Arabia through pandemic
Maharashtra education minister meets parents, teachers to convince them for offline board exams
The inauguration was attended by two literary greats who stay in neighbouring Salt Lake — theatre personality Manoj Mitra and poet Joy Goswami. Poet Sankha Ghosh who stays close to the venue had been invited too but could not make it due to advanced age. [caption id=attachment_11173 align=aligncenter width=976]
Taste of polls: Cakes with symbols of various political parties on display at the fair which has the slogan Pochhonder boi chinhe chhap din (Cast your vote on the symbol of your chosen book) at the entrance[/caption] "During the lockdown period, we could not open bookshops. But when people started asking us for books, we made deliveries on bikes and cycles. So many people spent the lockdown period reading books," said guild general secretary Sudhangshu Sekhar Dey. Talukdar recalled how Atulya Ghosh, the founder of the Sishu Udyan, had left instructions that only books be given as prize. "He had a great personal collection in his Karbala Road house which even Pandit Jawaharlal Nehru had gone to see. Till now, we stick to the tradition of giving books as prizes to our little members," he said. Source: telegraphindia.com