Book based on Founder of IUBAT launched at the Ekushey Book Fair
on
Mar 08, 2022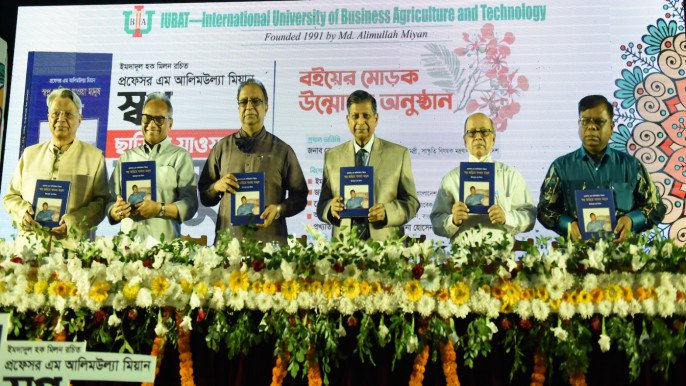 A book based on the founder of the International University of Business Agriculture (IUBAT) was launched at the Ekushey Book Fair. The book titled ' Shawpno Chariye Jaoa', written by Imdadul Haq Milan is about the life of Professor M Alumullah, founder of IUBAT.

The launching ceremony of the book was held at Abdul Karim Sahitya Bisharad Auditorium of Bangla Academy on Saturday. KM Khalid, State Minister for Cultural Affairs spoke as the chief guest. Novelist Selina Hossain, President of Bangla Academy; eminent writer Monaem Sarker, Director General of Bangladesh Foundation for Development Research; Professor Emeritus Abdul Mannan, Former Chairman of UGC; Rtn SAM Showket Hossain, PD of Rotary International; M Hamid, Former Managing Director of Bangladesh Television graced the event as special guests.

Relatives, friends, colleagues, students, and well-wishers of Prof Dr. M Alimullah Miyan and IUBAT teachers, students, and officials showed their presence in the program.

Professor M Alimullah Miyan is the pioneer of the non-government universities in Bangladesh and established the International University of Business Agriculture and Technology in 1991 in Dhaka as the first non-government university in Bangladesh. He authored 46 academic articles and is author/co-author of 15 books on a wide range of topics related to the promotion of business, sustainable development, education, development and disaster management in Bangladesh, social safety (pension), climate change, family planning, industrial relations, energy policy and the like.