The HRD ministry has launched another online application, Bharat Padhe Online
The HRD ministry has launched another online application, Bharat Padhe Online
on
Apr 14, 2020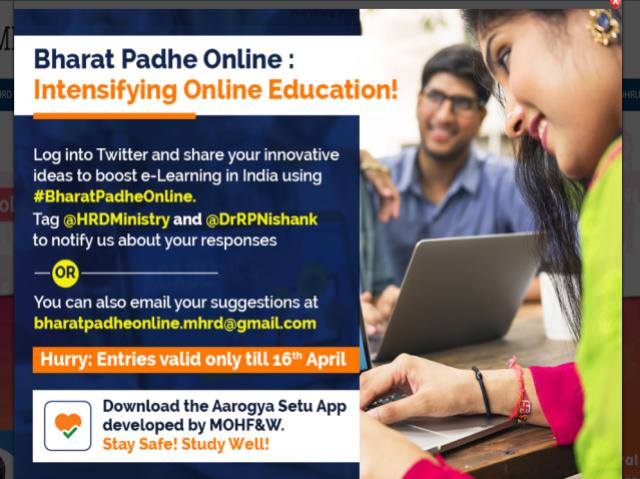 The young minds can directly share their ideas and suggestions to prevent the growth of coronavirus with the HRD ministry.
The online programme was launched by the HRD ministry on April 10th. It has received more than 3700 suggestions within three days!
The closing date of this online programme is April 16.
In a statement released by the
HRD Ministry,
it was stated that the people have been appreciating the initiative thanking the Ministry for promoting the online education system in the country. The country people who are interested in helping the
Indian government
by sharing their suggestions can also use the hashtag
#BharatPadheOnline on Twitter.
They can also write an email on
bharatpadheonline.mhrd@gmail.com
and share their helpful ideas directly with the
HRD ministry.
The whole world is fighting the war with COVID-19 pandemic in their own ways. The major step in prevention is Lockdown.
Today, Prime Minister Narendra Modi has made the announcement to extend the lockdown till May 3.
The 21-day lockdown has now extended further to prevent the ongoing impact of COVID-19. The Indian government has launched many
E-learning portals
and applications for the students to cope up with the boredom in this quarantine.
Check out the link to know more about Ebook stores.