Author pens books to help kids COPE during disasters
Author pens books to help kids COPE during disasters
on
May 17, 2021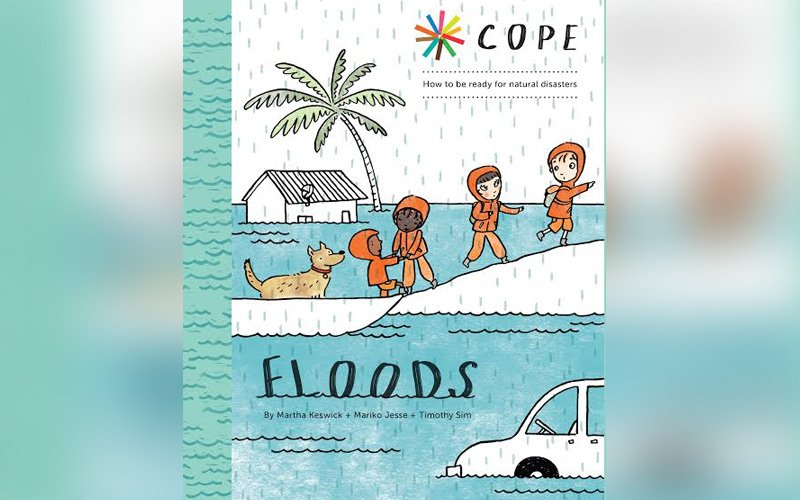 PETALING JAYA: Since the beginning of time, natural disasters have been an unpleasant but inevitable part of human life all over the world. While Malaysia is geographically blessed to be spared from earthquakes and hurricanes, natural disasters can and have struck in the country. Even though technology and emergency services have come a long way in terms of disaster response, these tragedies still remain costly and sometimes, deadly affairs. Normally, children caught in natural disasters are regarded as little more than helpless victims whose place is in evacuation centres. In reality, even the young have a role to play in disaster prevention, a factor children's book author, Martha Keswick, hopes to highlight through her work. Based in Hong Kong, Keswick is the proud author of several titles in the COPE series, which are educational books for children on how to prepare for disasters.
Each title focuses on a specific type of natural disaster such as earthquakes, landslides, volcanic eruptions and cyclones. To help make such a heavy topic digestible for young minds, the books are filled with beautiful illustrations by artist and personal friend, Mariko Jesse. Speaking to FMT, Keswick explained that her writing career began once she realised the lack of good books to read to her son. "I searched in bookshops in Hong Kong, Singapore, and Beijing but could not find any," she said. "So, I decided to write a series of my own and came up with the idea of bilingual Max and Mei." Her first series centred around a pair of good friends who meet up with every single animal of the Chinese Zodiac. This was also her first project with Jesse.
"She is a talented, award-winning illustrator whose charming drawings really bring the COPE characters to life and capture children's imagination," Keswick said of Jesse. Since then, she has published several more titles for children and expanded the number of titles under the COPE series. Given the subject matter, Keswick finds it important to keep her stories simple but relatable to young readers and her characters are likewise, designed in that way. In the COPE books, Candy, Ollie, Ping and Eddy are 'disaster risk reduction agents' who are trained to prepare children and their communities for natural disasters. "The COPE books are humorous too. There is Rescue, the huge Kunming Wolf dog, who loves chasing flies, and snatching food off the table when he is not meant to!" Her books have since been translated into several languages, and has received support from aid organisations as well as disaster management groups.
Keswick bases her writings on the real-life accounts of child victims of natural disasters, whose stories she said needed to be told. Her latest book, Floods, is based on the Kelantanese experience of dealing with monsoon floods on a regular basis. "For the Floods book, COPE teamed up with The Hong Kong Observatory as well as Dr Masayu Dzainudin, Senior Lecturer in the Department of Early Childhood Education at the Sultan Idris Education University and her research team members," said Keswick. At present, Dr Masayu is translating COPE Floods into Malay and putting together supplementary material to teach flood preparedness to toddlers. The thought of children playing a role during disasters might be a little strange to some, but Keswick strongly believes that children are more important than adults give them credit for. "Children can act as agents of change within a community," said Keswick, relating the real-life example of a young girl who saved hundreds of lives during the 2004 Indian Ocean tsunami.
The girl, Tilly Smith, had learned about tsunamis in her geography class and recognised the warning signs, giving her sufficient time to warn the others to flee. Keswick said she was also hopeful that children who read her books would be better prepared to deal with natural disasters, by knowing what to pack when evacuating and what escape route to take. As for the future, Keswick is moving onto COPE titles focusing on wildfires, droughts, heatwaves and volcanoes. "Our goal is that children will come away remembering the key DRR message for each disaster, which may one day save their lives as well as the lives of others," she said. "Make the difference. Be ready!"
Source: freemalaysiatoday