Frontlist | AutHer Awards 2021 declares its top winners
Frontlist | AutHer Awards 2021 declares its top winners
on
Mar 18, 2021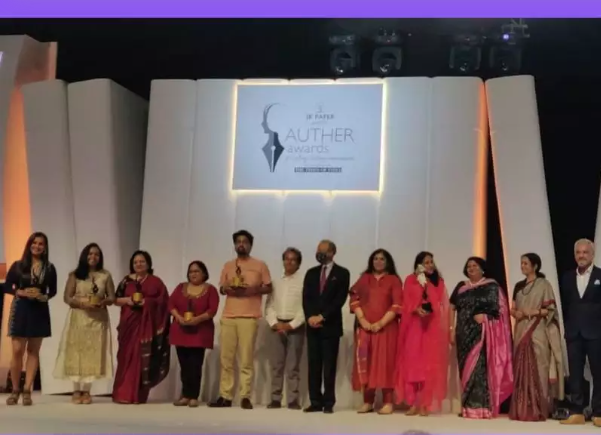 It was an exhilarating evening at Taj Palace, New Delhi that saw a heart-warming celebration of women on the occasion of AutHer Awards. Times of India and JK Papers joined hands to celebrate women authors who have added value and creativity to the literary space. The AutHer Awards 2021 was attended by the who's who of the town. Authors, academicians, publishers, bureaucrats, politicians, artists and book lovers cheering at the winners was a sight to behold.
And the awards went to…
The awards were handed over in 4 categories – Fiction, Non Fiction, Children's and Debut. There was a Lifetime Achievement award and a Popular choice award too.
In the Fiction category, the award was bagged by Jahnavi Barua for 'Undertow' (2020) published by Penguin Random House India. There was also a runners-up prize that was won by Madhavi Mahadevan for 'Bride of the Forest' (2020) published by Speaking Tiger.
The Best Author Non-Fiction was bagged by Shylashri Shankar for her book 'Turmeric Nation' (2020) published by Speaking Tiger. There was also a special jury recommendation for Sai Paranjype, author of 'A Patchwork Quilt' (2020) published by HarperCollins India. The Best Author Debut Award was jointly shared by Lavanya Lakshminarayan for her book 'Analog Virtual' (2020) published by Hachette Book Publishing and Deepa Anappara for 'Djinn Patrol in the Purple Line' (2020) published by Penguin Random House India. Author Rasil Ahuja won under the category Best Author Children's Award for her book 'Unfair' (2020) published by Penguin Random House India. The Popular Choice Award was shared by Anuja Chandramouli for 'Mohini the Enchantress' (2020) published by Rupa Publications India and Preeti Shenoy for 'When Love Came Calling' (2020) published by Srishti Publishers & Distributors for garnering maximum number of votes online. Legendary author and historian Romila Thapar was awarded the prestigious Lifetime Achievement Award said, "I am delighted that these awards have been instituted particularly for women who write about contemporary issues that are very relevant. Celebration of the work of women is much overdue and they have to contend with those in our society who deny their existence and forbid them to speak. To remove the servitude of women is an arduous process, but still needs to be done."
The journey of the awards
The books were chosen, post multiple layers of screening, out of a whopping 1000 plus entries submitted by both publishers and individual authors for the coveted national award, the first of its kind in India. The jury considered books by women published in India between December 2019 and November 2020. Engineer, innovator and education reformist – Sonam Wangchuk, who was the chief guest of the event, said, "I would like to see a world where men become more womanly, rather than women becoming manlier for a world that is equal in all aspects."
The Jury
The chairs for the AutHer Awards jury consisted of author Anand Neelakantan (Fiction), actor and author Kishwar Desai (Non-Fiction), columnist and author Kulpreet Yadav (Debut), and author Archana Garodia Gupta (Children's books). The other jury members were the Director Arts for the British Council in India Jonathon Kennedy (Fiction), author and film maker Tahira Kashyap (Fiction), historian and columnist Hindol Sengupta (Non-Fiction), writer, critic and literary historian Rakhshanda Jalil (Non-Fiction), author Devapriya Roy (Debut), marketing and publicity professional Ratna Joshi (Debut), therapist and writer Shelja Sen (Children's books), and media professional, actor, model and storyteller Janaki Sabesh (Children's books). Vinita Dawra Nangia, Literary Director, AutHer Awards in her inaugural speech said, "Women have been writing amazing, trail-blazing books throughout history. And yet, more often than not, they have never had the kind of attention, sales, reviews or prestige that men writers have had. Living in traditionally male-dominated societies, their voices were always throttled." Concluding her speech, Ms Nangia said, "In an ideal world there would not be a need for a separate Women Author Award – but till we achieve utopia, we all need to be feminists as Chimamanda Adichie famously said, "And I have no doubt that one day soon there will be category called 'women's writing' – there will only be 'writing'." Sorce: TOI Read more: 
https://www.frontlist.in/frontlist-women-auther-awards-2021-longlist-announced/