Frontlist | Another virtual book fair got a huge success in 2020
Frontlist | Another virtual book fair got a huge success in 2020
on
Dec 11, 2020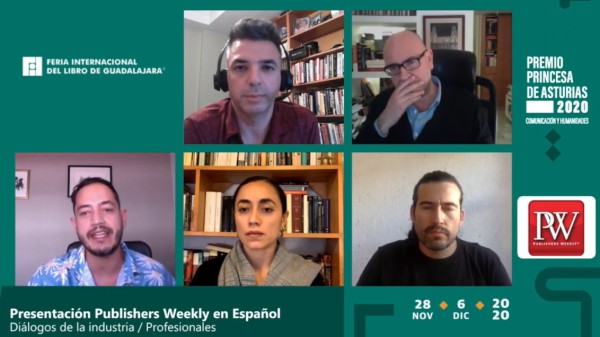 The Guadalajara International Book Fair (FIL), the largest Spanish-language book fair in the world, was held virtually from Saturday, November 28, to Sunday, December 6. This year's event featured 406 events with 811 speakers participating from 46 countries, including 310 authors from 38 countries. The online activities, television and radio broadcasts, attracted an audience of some 21 million people around the world.
In contrast, last year the fair had 3,000 live events, 828,000 visitors to the fair grounds and 110,000 people attending lectures and other events.
Highlights at FIL included the presentation of the 2020 FIL Award for Literature in Romance Languages to Portuguese writer Lídia Jorge; the awarding of the Carlos Fuentes Medal to Leonardo Padura and Silvia Lemus, as well as a conversation between Salman Rushdie and Javier Cercas. All events can be viewed on the FIL's YouTube page and at fil.com.mx.
Thirty-one events for industry professionals, featuring 79 participants from 10 countries, promoted 5,700 professionals from 53 countries to register. A total of 2,470 virtual appointments were made through the fair's various platforms.
Among the biggest undertaking for FIL was been the production of a virtual catalog of books from more than 1,000 publishers. Although the fair does not sell the books, it offers links to where books can be purchased in 24 countries. The fair estimates 9 million titles were available for sale.
We concluded a special online edition of the FIL that belongs to everyone: readers, authors, publishers and all members of the book chain, said Raúl Padilla López, in a press release. We will be back in 2021, with renewed strength, to celebrate the 35th anniversary of the Guadalajara International Book Fair, with a face-to-face edition.
Next year's fair will take place from November 27 to December 5 with Peru as the guest of honor. The event will most certainly be a hybrid event, both at the fairgrounds and online, said Padilla López at a press conference, to achieve the greater reach of the digital formats.
For her part, fair director Marisol Schulz Manaut said that the challenge for the 35th edition of FIL will be to develop it in face-to-face and virtual formats and scale them so as to host more events. The experience has to be analyzed, because this year, the virtual program had to be reduced, she said, pointing out that in a normal year the fair would have had thousands of activities.