Amazon's bestselling books of lockdown 3.0, from 'Bridgerton' to 'Pinch of Nom'
Amazon's bestselling books of lockdown 3.0, from 'Bridgerton' to 'Pinch of Nom'
on
Mar 25, 2021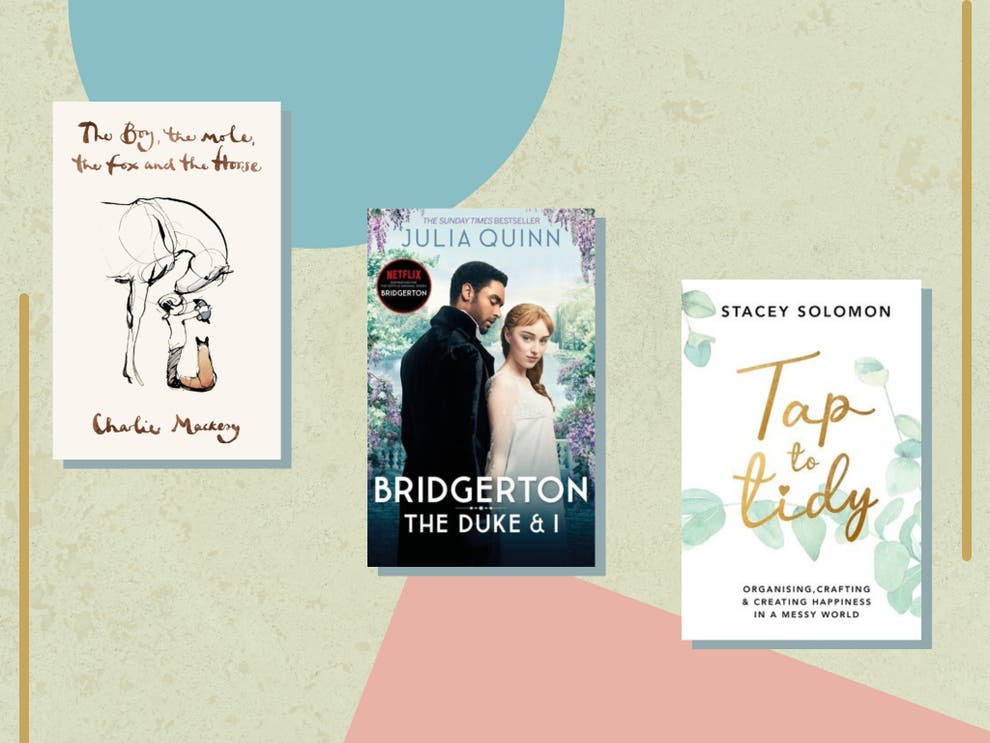 What a year it's been. When we welcomed in the roaring Twenties, many of us were blissfully unaware of Zoom, the vast number of TV shows and films we would watch, how supermarkets would sell out of toilet roll and flour, and that we'd spend a year in and out of local and national lockdowns. Over the course of the pandemic, we've constantly sought new ways to stay entertained, with many of us turning to books to keep our minds busy. Research suggests that there was a surge in book sales in 2020 – it has been estimated that 202 million flew off the (mostly virtual) shelves, surpassing 200 million for the first time since 2012. These stats are hardly surprising, since reading offers the escapism so many of us have craved this past year. In the case of excellent novels or non-fiction titles, books can allow you to travel far, learn about different cultures and grapple with life's mysteries.
Read: Books on slavery and immigration among Lukas project winners
Often the very best fiction reads are the ones that evoke emotion and eloquently examine important social issues. Non-fiction books, meanwhile, similarly allow us to learn new things – from heavyweight biographies so we can understand better people's lives and experiences, to self-help guides that help us to deal with our mental health. And it's clear from Amazon's recently announced bestsellers list from lockdown 3.0 (the figures cover 4 January to 28 February), that we've turned to an array of fiction and non-fiction books in our droves. What's clear is that mental health was a key theme, with both Charlie Mackesy and Matt Haig's top titles featuring. And, perhaps unsurprisingly, demand for Julia Quinn's historical romance novels has been high following the Netflix adaptation of Bridgerton. So, how many of them have you read? If you're looking for some inspiration, pick one up to discover some adventurous new recipes, tips on how to clean your home or a thrilling tale. You can trust our independent round-ups. We may earn commission from some of the retailers, but we never allow this to influence selections, which are formed from real-world testing and expert advice. This revenue helps to fund journalism across The Independent.
'Pinch of Nom Quick & Easy: 100 Delicious, Slimming Recipes' by Kay Featherstone and Kate Allinson, published by Bluebird
With a focus on helping you create simple, healthy dishes, Kay Featherstone and Kate Allinson, the duo behind the popular Pinch of Nom, guide you through a range of dishes, from one-pot wonders to sweet treats.
'The Boy, the Mole, the Fox and the Horse' by Charlie Mackesy, published by Ebury Publishing
Far from a conventional picture book, this contains a non-linear narrative that works to bring people together. Mackesy's inspiring paintings and delicate words celebrate the importance of being kind, compassionate and hopeful. It's a tome that carefully conveys a vital message that has been helpful during the past year.
'The Thursday Murder Club' by Richard Osman, published by Viking
Full of one-liners and featuring an artfully constructed twist, this novel is set in a peaceful retirement village and centres around four 80-year-old friends – Elizabeth, Joyce, Ibrahim and Ron – who form "The Thursday Murder Club". The group meet weekly to investigate unsolved killings, but the suspicious demise of a property developer finds them in the middle of their first live case. Joyce and the gang will become your favourite crime-solving team in this compelling read. Owing to its popularity, it has been shortlisted for the Crime and Thriller Book of the Year in the British Book Awards 2021.
'Where the Crawdads Sing' by Delia Owens, published by Little Brown Book Group
A big hitter over the past year, Where the Crawdads Sing was one of Amazon's bestselling books of 2020 and was also included in the Duchess of Cornwall's first book club, The Reading Room. It's a murder mystery, coming-of-age novel and a celebration of nature all at once. Set in date-jumbling and tension-building order from 1952 to 1970, the story follows Kya Clarke from aged six to 25 as she grows up in a North Carolina swamp after being abandoned by her family. After years of surviving alone, Kya pines for touch and love, and as two boys from the local town become intrigued by her, she opens up to the idea of a new life. Then, the unimaginable happens. Character-driven and with a poignant sense of place and time, Where the Crawdads Sing is an animated story of a community beset by tragedy. It's painfully beautiful and definitely worthy of being your next lockdown read.
'The Duke and I' by Julia Quinn, published by Piaktus
Given the popularity of the Netflix period drama series, it comes as no surprise that all of Julia Quinn's six novels featured in the top 50 most-sold books on Amazon, with two making it into the top 10. The Duke and I is the very book that inspired the show and tells the story of the oldest daughter of the Bridgerton family, Daphne, and the Duke of Hastings, Simon Bassett. The pair befriend one another and enter a fake courtship – her mission is to strike the interest of more suitors and for him to escape the eagle eyes of ambitious society mothers. Real feelings develop and the pair quickly realise they want their ruse to become reality.
'The Midnight Library' by Matt Haig, published by Canongate
Featuring in our review of the best novels of 2020 as well as our editors' picks of what we've been reading and loving in lockdown, The Midnight Library has been a favourite at IndyBest, so it's no surprise that it features in Amazon's bestselling list from lockdown 3.0. Plus, it's also been shortlisted for Fiction Book of the Year in the British Book Awards 2021. Haig's novel follows 35-year-old Nora Seed, who views her life as one of misery and regret. But when she finds herself at the Midnight Library, she discovers she can undo her previous worries and plan her perfect future.
'The Viscount Who Loved Me' by Julia Quinn, published by Piatkus
Ahead of the eagerly anticipated second season of Bridgerton, it's no surprise that the second instalment in Quinn's book series features here. It focuses on Anthony Bridgerton, who has been head of the family ever since his father died, taking care of all responsibilities except for finding himself a wife, opting instead to be London's most eligible bachelor. He decides it's time to settle down and find a suitable match, but under one condition – he can't love her. After finding the perfect candidate he becomes more interested in her sister, Kate, who provides a welcome distraction. It's a story of love and the impact of grief, loss and trauma. '
Tap to Tidy: Organising, Crafting & Creating Happiness in a Messy World' by Stacey Solomon, published by Ebury Press
Having only been released on 4 March, Solomon's debut topped the charts with an overwhelming number of pre-orders. Following her "tap to tidy" Instagram stories, she's turned the phenomenon into a book that is filled with positive, upbeat and quotable lines, as well as tips and tricks for tidying and organising your home. '
The Other Passenger' by Louise Candlish, published by Simon & Schuster
Featuring in our review of the best crime and thriller novels of 2020, Candlish's story is set in London's docklands and follows the life of forty-something barista Jamie, who lives in a showy home on the river with his partner Clare. After they forge a friendship with Kit and his girlfriend Melia, the four of them start commuting to work via the riverbus. But one morning Kit doesn't turn up and Jamie is in the frame for murder. Our reviewer called it a clever, pacy novel that they read "in one sitting".
'The Glass House' by Eve Chase, published by Penguin
Following the lives of the Harrington family and their nanny, Big Rita, The Glass House is told in two timelines set in 1971 and the present day. The former follows Rita and the secrets she uncovers about a mystery body that was found at the bottom of the garden. Meanwhile, the present-day story follows Sylvie, dealing with divorce and looking after her mother and daughter. As both timelines unravel, it becomes apparent how connected the past and present really are. The Glass House is a pacy and suspenseful read.
Source: independent.co.uk