Al Ain Book Fair opens featuring over 100 local publishers and 50 writers
Al Ain Book Fair opens featuring over 100 local publishers and 50 writers
on
Sep 22, 2021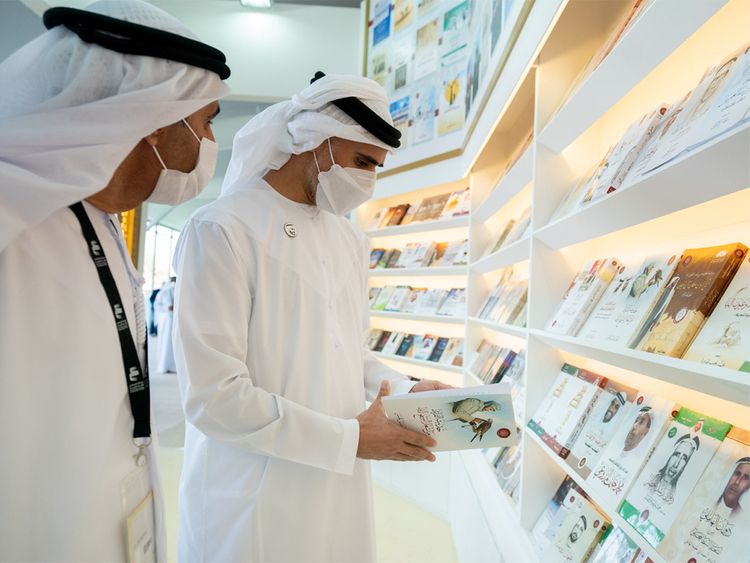 Al Ain: The 12th edition of Al Ain Book Fair opened on Tuesday with more than 100 participating local publishing houses.
Sheikh Khaled bin Mohamed bin Zayed Al Nahyan, Member of the Abu Dhabi Executive Council and Chairman of the Abu Dhabi Executive Office, officially inaugurated the 10-day event. Mohammed Al Nahyan, the Ruler's Representative in Al Ain region. The fair, organised by the Abu Dhabi Arabic Language Centre (ALC) under the Department of Culture and Tourism – Abu Dhabi (DCT Abu Dhabi), is taking place at Zayed Central Library until September 30. Sheikh Khaled was accompanied on his tour by Mohamed Khalifa Al Mubarak, Chairman of DCT Abu Dhabi; Saif Saeed Ghobash, Director-General of Abu Dhabi Executive Office; and a number of other senior officials.
Golden Jubilee
As part of his tour, Sheikh Khaled visited several exhibitors and publishing houses taking part in this year's fair. Coinciding with the UAE's 'Year of the 50th', the book fair is taking place under the theme 'A reading generation is a leading generation'.
More than 50 renowned Emirati intellectuals, writers, and poets will present 24 dialogue sessions. There will also be at least nine performances of western and eastern music by musicians from the Bait Al Oud music centre.
Cultural hotspot
Al Mubarak said: "DCT Abu Dhabi constantly strives to promote cultural events and activities in Al Ain, especially as the city has a unique role in preserving the nation's cultural heritage. In line with the celebration of the UAE's Year of the 50th, Al Ain Book Fair reaffirms its importance to the Emirati cultural scene and highlights its rich cultural and intellectual heritage."
Dr Ali bin Tamim, Chairman of the ALC, said: "Al Ain Book Fair is one of the highlights of the UAE's cultural calendar. With its unique programme, the fair enables Emirati writers to engage with their readers, which in turn invigorates Al Ain's cultural scene. AABF also presents a wealth of family-friendly events to encourage reading and active engagement between children and their parents."