Frontlist | Achintya Gupta pens a book at the age of 9
Frontlist | Achintya Gupta pens a book at the age of 9
on
Feb 01, 2021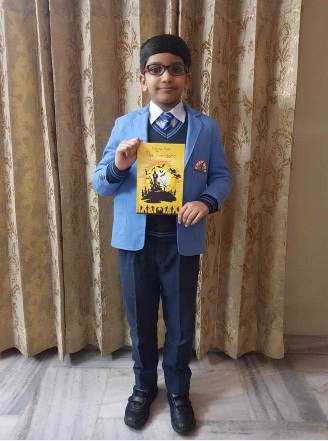 At an age when kids are usually glued to their gadgets, Achintya Gupta loves the smell of his new book. The 9-year-old is fond of reading books during his free time. His love affair with the books went a step ahead when he came up with his own book. Achintya Gupta, a Class IV student of Sat Paul Mittal School, has penned down a novel named 'The Tomitaro-A Devil's Labyrinth'. The novel tells the story of a boy who is stuck in a game. Story carries tale of strange and deadly adventures faced by him.
"I love to read and thought why I couldn't have my very own book. The idea of writing a book came into my mind during the pandemic when I was at home and was not allowed to go out for attending school and other activities. I thought of utilising the time by writing a novel," quips Achintya.
"We were surprised when Achintya came out with this novel during the pandemic. He told us that he was writing a story but we didn't took him seriously. But when after a couple of months of hard work he came out with the complete book and took us by surprise. He had developed reading habit through Satyan Reading Challenge at his school," said Achintya's father Arun Gupta.
Source: The Tribune