Frontlist | Aalto's art books gain international recognition
Frontlist | Aalto's art books gain international recognition
on
Feb 04, 2021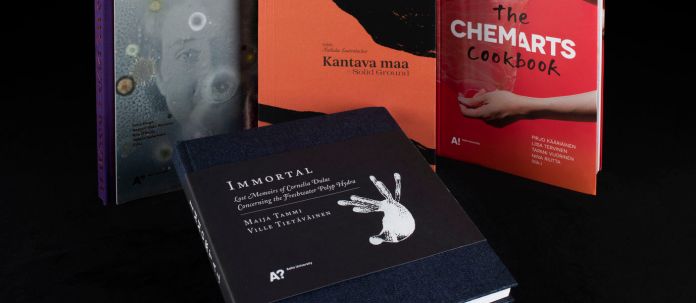 Almost all non-fiction books published by Aalto ARTS Books last year were awarded at the competition. The best placed was 
Solid Ground
, edited by the ceramic, lecturer 
Nathalie Lautenbacher
, telling the story of contemporary ceramics. The book won Silver Award in the category of 'Scientific books, educational textbooks, schoolbooks'. Two books were awarded the Award of Excellence in the same series: 
Art As We Don't Know It
, which presents a wide range of bioart research, projects and works of art, edited by 
Erich Berger
, 
Kasperi Mäki-Reinikka, Kira
O'Reilly
 and 
Helena Sederholm
, and 
The ChemArts Cookbook
, which inspires experiments on wood and plant-based materials, edited by 
Tapani Vuorinen
, 
Nina Riutta
, 
Eeva Suorlahti
, 
Pirjo Kääriäinen
 and 
Liisa Tervinen
.
Also,
 Immortal: Lost Memoirs of Cornelia Dulac Concerning the Freswater Polyp Hydra by 
Maija Tammi 
and 
Ville Tietäväinen 
was awarded the Award of Excellence in the category of photo books.
Aalto ARTS Books has received international recognition as a publisher of books in the visual fields for four years in a row. 'We are very proud and happy with the recognitions. We have been an exhibitor at the Frankfurt Book Fair for more than ten years, which has certainly made our books better known', says editor 
Sanna Tyyri-Pohjonen
. The silver-winning work Solid Ground was designed by 
Annika Leppäaho
, who is a Aalto University's graphic design student. 'It was wonderful to get to work on a ceramics-focused publication where creativity was also allowed to emerge in the book's layout. The award has a special place in my heart, as it is the first prize in my own career. I am personally proud of the book, so it feels good that it is also recognized elsewhere', says Leppäaho. The International Creative Media Award ICMA is a global competition for corporate publications, books, corporate identity and magazines and is organized by the International Editorial-Design & Research Forum. Altogether 387 publications from 20 countries participated in the 11th ICMA.
Source: India Education Diary