'A Radical Decision': David Wiesner on Wordless Picture Books
'A Radical Decision': David Wiesner on Wordless Picture Books
on
Jul 28, 2021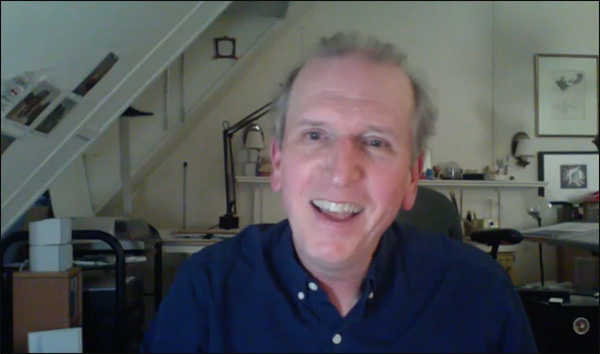 "It's a radical decision not to use words," picture book creator David Wiesner told an online audience in a lecture last Thursday night, July 22. "When the artist removes the text, they invite readers to decode the pictures for themselves."
His talk accompanied the opening of an exhibition that he curated at the Eric Carle Museum of Picture Book Art called "Speechless: The Art of Wordless Picture Books." (Wiesner's talk also served as Simmons University's Center for the Study of Children's Literature's 2021 Mary Nagel Sweetser Lecture.)
Wiesner's own wordless picture books have won three Caldecott Medals (for Tuesday, The Three Pigs, and Flotsam) and three Caldecott Honors (for Freefall, Sector 7, and Mr. Wuffles!). Although his online presentation meant that viewers could not visit the museum, it offered access to a global audience. Every available ticket was claimed, and picture book enthusiasts attended from as far away as Tokyo and Auckland.
Wiesner spoke warmly about the power that wordless stories give to young readers, and argued that looking at picture books should be regarded as reading, full stop. "You read the pictures," Wiesner said, "and there are no air quotes around 'read.' " When children are allowed to read the pictures in a book for themselves, Wiesner said, they invariably see things that adults don't. ("When do people stop looking at things?" he wondered aloud.) Just as there is free play—play activity with no rules and no expected outcome—studies have shown that wordless picture books form a kind of free reading play that provides endless possibility. "It's the parent, the child, and the images collaborating in the storytelling process," Wiesner said.
That freedom makes some adults nervous. He related a story told to him by the artist Jerry Pinkney. An anxious parent queried Pinkney about his wordless picture book The Lion and the Mouse. "When do I turn the page?" the parent asked Pinkney. "Whenever you're ready!" Pinkney answered.
Teachers have told Wiesner that picture books without words are especially useful for children whose native language is not English. They're also powerful tools for children with learning differences. Wordless picture books have even been used for research. Wiesner's Tuesday, he said, was part of a study that investigated the way children with autism create stories from pictures. It's sometimes difficult for these children to process the book's factually impossible scenes, in which squads of frogs drift silently through a village, sailing past the windows of unsuspecting residents. "What is this flying frog?" one literal-minded child said in bafflement.
For children who have anxiety about decoding words, Wiesner said, wordless picture books are a gift—books that can be read without fear of failure. A British mother wrote to him about her son, a boy with dyslexia who struggled to write even simple sentences. The boy's teacher gave him Tuesday and let him pace around the classroom telling the story out loud while she followed behind, taking down everything he said. Without having to worry about writing, he produced a long, elaborate narrative.
Wiesner also shared behind-the-scenes details from Tuesday, Flotsam, Sector 7, and Mr. Wuffles! He described the alien language he invented for the aliens in Mr. Wuffles!, made up of geometrical shapes that defy decoding (although children in classrooms have tried). He confessed that in Sector 7, the original image of a cloud showing its form-shifting virtuosity failed to pass muster with the team at his publisher: "He looks angry," they said. Wiesner redid the spread.
After speaking about his own journey, Wiesner guided the audience virtually through the Carle Museum's exhibit. He spoke about the way two distinct painting styles in Raúl Colón's book Draw! delineate the boundary between fantasy and reality. He noted the way borders and forms mirror each other in Barbara Lehman's The Red Book. He pointed out the fuzzy edges of the vignettes in Matthew Cordell's Wolf in the Snow, perfectly suited to the loose, scribbly drawing style of Cordell's spreads. (Cordell, as it turned out, was in the audience.) Photographer and picture book creator Tana Hoban came in for praise as Wiesner shared spreads from Circles, Triangles and Squares, her wordless collection of urban photos from 1974. A conventional picture book might include prompting questions: "Can you find the circle?" Hoban trusted readers to journey through the book themselves.
An informal question-and-answer period followed, featuring questions from a seven-year-old attendee ("What's your favorite book?" Wiesner said he couldn't choose) and a question from Matthew Cordell, who asked how Wiesner presented his books in actual classrooms to actual children. (Wiesner admitted that what he'd really like to do is just hold up the book without saying anything at all, but that he does talk—"It's more like a walk-through.")
Wiesner shared another story about the act of creating text for a wordless picture book. He showed the group some photos a librarian had forwarded to him. They showed yellow strips of paper with handwritten words on them. One strip had fallen out of the library's copy of Wiesner's Flotsam, and when the librarian took the book off the shelf to look, she found that every page had a strip of yellow paper slipped into it, the child's own narrative, idiosyncratically spelled. The child had named the story's hero "John." A dramatic image in the story shows a boy looking at a photo from a camera he's found on the beach that shows an adult octopus in an underwater living room, reading aloud to a group of young sea creatures. The yellow strip of paper for this page said laconically, "John finds an unnormal pikcher." The story delighted the audience, and when the talk ended a few minutes later, a message appeared in the chat: "David Wiesner is unnormally brilliant!"
Source - publishers weekly