A quick history of the rise of magazines
A quick history of the rise of magazines
on
Jul 13, 2020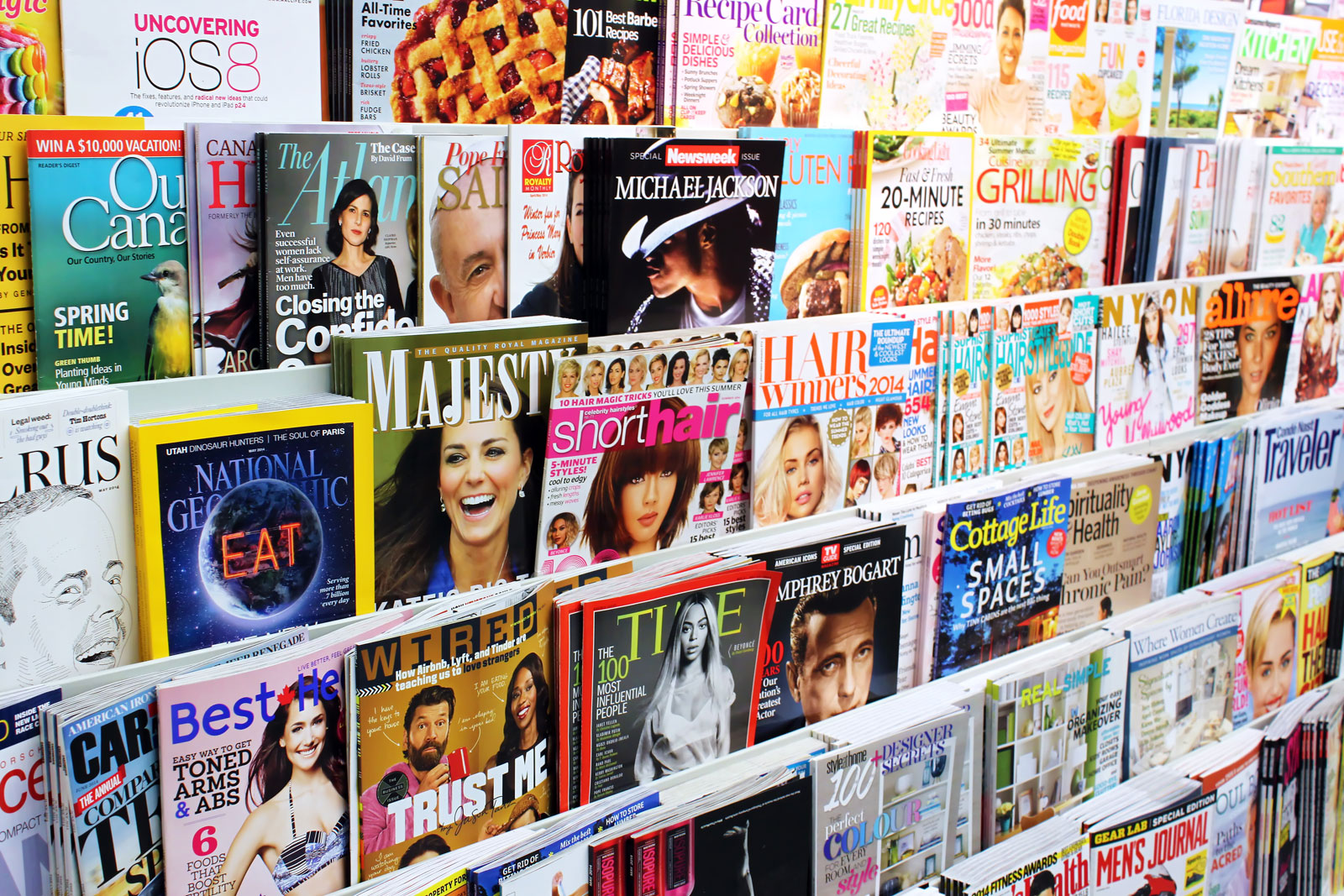 The history of journalism and publishing is characterised by a close interplay of technical innovation and social change, each promoting the other. Journalism and publishing, as known today, depend on a series of several major inventions – writing, paper, printing and investigative writing and well-researched writings, besides one crucial social development — the spread of literacy in urban as well as rural areas of our country. Basically, the magazine is a by-product of the newspaper. It is a compilation of various items written by different authors on the subjects like politics, social, sports, entertainment, comments on current affairs, book reviews, etc.
---
The word magazine first appeared in 1731 with the occurrence of the 
Gentleman's Magazine
. The word, magazine, derived from the Arabic word, meaning 'warehouse', was used to describe the place which deposits large quantities of various goods, while the analogy used to describe a book that contained many useful information for the travellers and sailors. The first publication which can be called a magazine was the German 'Erbauliche Monaths Unteretungene', launched in 1663. It was a literary and philosophical publication, and after its release, several other periodicals with similar content and topics, mostly targeted for an intellectual audience, were published. Initially, the magazine started as potpourri of various prime news items about social, political or economic news covered in the newspapers, besides literary and creative works like poetry, prose or reviews of prominent literary books. Such magazines were issued after a week or alternate week after such items were published first in the then newspapers. The reception of success of the magazine was great but the cost of every issue was higher than the previous issue. Printing cost was higher vis-à-vis newspapers and the number of printed copies could not be more than couple of thousand, because it was technically impossible to squeeze a larger amount of paper through the machine at one go. Distribution was also a big problem because it was difficult to move large number of magazines at great distances. In the beginning, the thematic scope of a magazine was very narrow; it was mainly written by one author. A publication similar to modern, rather I should say today's magazine – different themes and several authors – appeared in 1672 when a French author by the name of Jean Donneau Vize created 
de Mercure Gallant
. It had a variety of content covering current events, theatre, literature and even sports. The concept of this magazine was copied by most of European countries. Surprising enough, first woman's magazine was released in London by the name 
The Lady's Mercury
. It was published for only four weeks in 1693. The first issue of the periodical was issued on 27 February 1693 by its founder, publisher, editor John Dunton. All these publications in the initial years were called periodicals.
Magazines in India
During early 16th century Christian missionaries brought printing presses to India for publishing evangelical materials and literature besides the 
Bible
. All these activities were focused to assist conversion and evangelisation. This was the beginning of mass printed materials for people's consumption. James Augustus Hicky, a British citizen, was responsible for the first newspaper in India. Its first issue was released on 29 January 1780 in Calcutta, bearing the name 
Bengal Gazette
. It was a weekly newspaper published in English and addressed exclusively to the large group of British residents in Calcutta. It was a two-page newspaper and the size of the paper was 12x8-inches inches carrying all the classified advertisements on front page and the content of the paper on the other side. James Augustus Hicky was the founder, editor, printer, publisher and promoter. But this so-called newspaper never carried any news items about Indians. Here, let me point out that journalists or the newsman was always hounded by the ruling class (as it is happening currently). So Warren Hasting finally took action against Hicky for defamation in 1781. Hicky was convicted and sentenced to a year's imprisonment and to pay a fine of Rs 2,000. But 
Bengal Gazette
 continued to appear regularly while Hicky was in prison. Hicky continued to lampoon Warren Hasting and in return, he was suppressed and harassed by Warren Hasting by very mean methods like raiding and confiscating his type faces and printing materials. This was the beginning of the unceremonious end of India's first newspaper. Finally the seizure of the printing press was a severe blow to the already hurt editor and Hicky died in obscurity. Some say Hicky was the first creator of yellow journalism in India. After the premature demise of 
Bengal Gazette,
 yet another Calcutta based Britisher, Sir James Silk Buckingham assumed the charge of editorship of 
Calcutta Journal
 in 1818 and the first issue of 
Calcutta Journal,
 much talked-about in social circles, was launched on 2 October 1818. It was an eight page bi-weekly with a price tag of Re 1. Its content included political, commercial, social and literary news and views. 
Calcutta Journal
 was in reality the beginning of a news magazine sort of publication in our country. This publication was entirely different from Hicky's 
Bengal Gazette
 which mostly carried gossip, scandals and scurrilous writings.
Language magazines
Pundit Jugal Kishore Shukla started the first newspaper-cum-magazine in India in Hindi language and named it 
Udant Martanda
 and its first copy was launched on 30 May 1826 in Calcutta. The paper was in Khari Boli and Brij Bhasha dialects of Hindi. Only with 500 copies, the issue sold like hot cakes. A serious and concentrated beginning of Hindi newspaper and periodical publishing efforts goes back to Bhartendu Harishchandra's efforts in the years 1850-1865 by publishing his own writings with a social message of mass appeal. Several other Hindi writers followed his writings. A reputed publication during that period was 
Saraswati
, a monthly magazine published from Allahabad by Chintamani Ghosh, on his owned printing press named Indian Press, Allahabad. He handed over the command of editing of 
Saraswati
 to a great litterateur Mahavir Prasad Dwivedi (1903-1920) and it led to the flourishing of modern Hindi prose and poetry, especially in Khari Boli dialect. This was followed by Gita Press, Gorakhpur publication 
Kalyan
, which was mostly dedicated to religious preaching and analytical articles about Hindu scriptures. The Indian freedom movement gave a big boost to Hindi publishing with scores of Hindi newspapers and periodicals being fielded to reach the masses. Maulavi Mohmmed Baqir in 1836 founded the first Urdu language newspaper-cum-magazine by the name 
Delhi Urdu Akhbar
.
Changes over the years
In the Western world, things were moving faster vis-à-vis India because of technology being at their disposal. Great Britain closely followed continental Europe's lead in producing magazines during the early 18th century, resulting in three major influential magazines 
The
Review
 by Daniel Defoe; 
The Tatler
 by Sir Richard Steele, and 
The Spectator
 by Joseph Addison. All the three publications were published either daily or several times a week. They were supplied as frequently as newspapers but the content was very close to that of magazines. The first American magazine which appeared on the scene was 
American Magazine
 in 1741 and was published by Andrew Bradford. This publication was followed by a new publication 
General Magazine
 by Benjamin Franklin. Neither of these magazines did last long. The first one ceased publishing after three months and the second one just after six months of its inception. The first really successful magazine in the United States was the 
Saturday Evening Post
. This weekly magazine first hit the newsstands by 1821 with very wide circulation until 1969. 
Saturday Evening Post
 featured famous artists and authors. The popularity of those writers contributed to the continuing success of the magazine. Yet another mass magazine was 
Youth's Companion
. Then there were exclusive news magazines like 
Time
 and 
Newsweek
.
Rise of Indian magazines
On the home front, Indian journalism scene kept on marching ahead with the slow spread of literacy in early 19th and late 18th century. By this time several English and regional language newspapers had taken roots in the minds of the educated class of people and the need for more reading materials was needed. 
Illustrated Weekly
 was launched by Bennett and Coleman Group under the flagship 
Times of India
 in 1923, which ceased publication in 1993. Its first copy appeared on the scene way back in 1880 by the name of 'Times of India Weekly'. 
Illustrated Weekly
 was considered to be an important English language publication in the country for more than a century. This publication was edited by many illustrious editors. But the most popular was Khushwant Singh. It is well-known that he gave a big boost not just to the 
Weekly
 but to all magazine journalism in India. New Delhi-based Delhi Press gave a real and new twist to Hindi magazine journalism by starting a cost-effective Hindi household magazine by the name 
Sarita
 in 1945, immediately after its English magazine 
Caravan
, which was launched in 1940. What made Delhi Press group stand out was its capacity to publish popular consumer magazines for women and children, besides 
Caravan
, 
Alive
 and 
Sarita
, for more than 76 years. The group has always maintained affordable cover price of the magazine while using cost-effective technology to produce them.
Among the oldest in the world
Here, I may say, print-media started in our country as early as 1780, whereas Radio broadcasting began in 1927. Indian print-media is among the oldest in the world. As mentioned earlier, printing machines in India were brought by Christian missionaries for printing their conversion materials and for printing of the 
Bible
. This appearance of technology was obviously responsible for the spread of the printed word in India. The print industry mainly comprises of newspaper and magazine publishing. Book publishing is smaller but significant in terms of revenue; it is a mature industry. New magazines are being launched every year. India has been one of the fastest growing world economies since 2010-2011 (although there is slight pause because of the Covid pandemic). Robust consumption and rising income levels added with literacy growth in urban as well as rural India have helped the growth of print-media, of which, the magazine sector is quite phenomenal. 
Economic Times, 
in its recent first quarter survey of 2020, said, 'Indian print and publishing industry's turnover will touch Rs 739 billion, which includes books, magazines and newspapers, etc. The Registrar of Newspapers for India, government of India, in its recent release, said more than one lakh newspapers and magazines have been registered with the department (the exact figure is 1,05,443). This is a clear indication of literacy growth and demand of reading materials. Newspapers and magazines have become more affordable world-wide in the recent times, the reason being in the late 19th century, prices of magazines and newspapers became much affordable because print-runs increased because of new advent of technology in the printing, binding and other quick and productive technologies used in the print-production in shortest period of time. Rotary presses with offset printing method, which is cost-effective, quick reproduction and sharper images and new experimental designs and more number of copies at much less cost and less time consumed in production operation and that is how we entered 2oth century. The growth of magazines and newspapers are on a continuous track onward because the reader base in India is growing fast. India has always been a multilingual country and with the country set to become a hub of the largest English speaking population, magazines, newspapers and book sales will directly grow-up, so will the sales of regional newspapers and magazines. During the late 20th and early 21th centuries, the advent of online technology began to affect both the magazine industry and the print-media as a whole. Much like newspaper publishers, magazine publishers will have to rethink their structure to reach out to an increasingly online market. Source: PrintWeek