A Publishing Factory Grows in Brooklyn
A Publishing Factory Grows in Brooklyn
on
Aug 27, 2019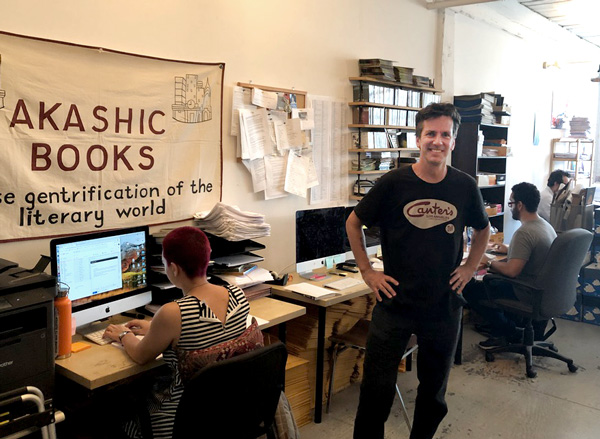 Manhattan's Financial District may be the hot new neighborhood for corporate publishing, but independent publishers know where the real action is: Brooklyn. The Gowanus neighborhood, to be exact.
In Gowanus, the 130,000-sq.-ft., 19th-century building known as the Old American Can Factory, which housed the Somers Brothers Decorated Tinware Co. from 1884 to 1901 and, subsequently, the American Can Co. until 1910, has become a hotbed for literary publishing. Small presses Akashic Books, Archipelago Books, and Restless Books share a hallway in one of the old factory's seven extant buildings, as does One Story, the print literary magazine. Ugly Duckling Presse, which prints its own books, is in the next building over, on the top floor. At the Can Factory, publishers have offices alongside those of fellow artists and artisans—other tenants include filmmakers, instrument makers, and record producers, among many others—in a building where a sliding scale allows creative businesses to pay rent at prices hard to beat in a city where the relentless pursuit of real estate is king.
All five of the publishers cited the building's reasonable leases and location—just a mile or so away from the new Center for Fiction and a handful of independent booksellers, including Greenlight Books' Fort Greene location—as key factors in their success. Not to mention the wealth of collective knowledge of the book business that's available just down the hall from each of their headquarters.
"I feel fortunate to be a part of the literary community in the Can Factory. It really is a gift to have so many colleagues who I respect enormously and feel close to within reach," Jill Schoolman, publisher of Archipelago Press, said. "It was something that I felt was missing in DUMBO, where we set up our first office. That was before Berl's or Powerhouse or Melville House had moved in. There are other excellent publishers in Gowanus, including Cabinet Magazine and Tin House, but the Can Factory has a very rare and genuine feeling of community, where the exchange of ideas happens effortlessly and friendships grow naturally over time. I strongly believe that this feeling of community has grown out of Nathan Elbogen's vision and nurturing."
In fact, the publishing community at the Can Factory has been carefully nourished by Elbogen, president of XØ Projects, the company that developed and operates the Old American Can Factory as a for-profit business on behalf of a family, which wishes to keep its ownership anonymous. The publishers are kept as close together as possible, said Elbogen, who describes himself as "curator" of the building, to encourage collaboration and a sense of community. Ugly Duckling, the exception, moved up from a basement space after outgrowing it, and its noisy and heavy printing machinery required a more isolated location.
Elbogen first visited the Can Factory in 1989—by which point the complex was sparsely occupied and had fallen into disrepair—when a major fire decimated the building that four of the five publishers now occupy. Two years later, he was a tenant, and by 1996 was managing the building complex. (Elbogen is personal friends with a member of the family that owns the space.) A "self-taught" architect, Elbogen began work on dividing the building from its then 15 individual spaces into smaller studios (relatively speaking, as even the subdivided rooms remained spacious), to which he drew many of the current tenants by virtue of the building's inexpensive rent, large open-format spaces (with high ceilings and many of the original features, including some wood and door frames, preserved), and burgeoning creative community. In January 2003, Elbogen took over the Can Factory as developer and "curator/operator," and after significant work on the building, there are now roughly 110 units, only one of which is currently unoccupied.
That the publishers are next to each other is not accidental; Akashic, for instance, once located in an adjacent building, was moved to a new office when more publishers began filling the hall. "When you have people working in similar disciplines and they're close to each other, they'll share and exchange knowledge and experiences in a way I hope will further their work," Elbogen said. "I don't know if they collaborate, and I'm not sure if they're competitors per se, but their work is so different that my hope was that they would just support each other by being in close proximity."
Akashic moved into the building in 2004, from the Union Square area, once a nexus of the publishing world, where the press had "basically free space" provided by Artisan Records, publisher Johnny Temple said. "Moving out here, to the relative boondocks that Brooklyn was then, it was immediately obvious to me that I preferred it to being in Manhattan." At first, Temple said, that was due to a much-appreciated distance from the book biz echo chamber. Now, he said, it's about the community.
"I'm glad that literary culture has shifted over toward Brooklyn," Temple said. "When we first moved in here, if you were going to go to some literary event, nine times out of 10 you were crossing the river. Now it's down to about four times out of 10." He added: "It's an incredible community of people here, not just the publishers but the filmmakers and neon sign makers. I don't think there's anything else like it in this country. All the publishing entities in this building are so distinct from one another, which is the way indie publishing should be."
Ugly Duckling, the poetry, translation, experimental nonfiction, and literary ephemera publisher, moved into the building in 2007. Like Archipelago, its first headquarters had been in DUMBO. After a sojourn in Red Hook, the press moved into the Can Factory. Ugly Duckling's model is unique in publishing: a volunteer editorial collective works in conjunction with a working collective of administrative staff, and the press is, indeed, an operating press, printing its own books in addition to acquiring, editing, and designing them. The press's quirks fit into those of the building, which for nearly two centuries has been a place where objects have been made—a mission Elbogen proudly maintains.
One Story has also been in the space since 2007, and formerly shared offices with Archipelago—as Restless Books, which was founded in the building in 2013, did later. In 2010, One Story held its first benefit in the building, cofounder and executive editor Hannah Tinti said, and Elbogen connected them with a number of artists throughout the building to collaborate with on the event. Both she and fellow cofounder, publisher Maribeth Batcha, said the building was a huge part in allowing One Story to grow from a tiny zine into one of the biggest literary magazines in the country, with a circulation of nearly 10,000 and no backing from a university or other institution.
Restless, which, like Archipelago, focuses primarily on books in translation, also benefits from the
arrangement. "Being surrounded by other creative folks is really wonderful," Arielle Kane, CFO of Restless, said. "We work really closely with our friends at Archipelago on a variety of things. And the rates the Can Factory has for artists are really great. I don't think we'd find a space at the rate that we're getting anywhere else, to be quite frank. And we like being in Brooklyn."
Despite the Can Factory's for-profit model, Elbogen considers it a personal mission to foster creative arts in the borough, and knows that to do so, artists need a place they can afford. "We set rents based on tax returns, not on credit checks and not on what the market can bear," he said. "I review the tenants' income and taxes, and if they're doing better, they'll pay more rent. But if one publisher loses a huge grant for the next year or two, we'll adjust the rent down. We ensure that the place will be there for them and that the price point stays as reasonable as we can keep it."
Elbogen is "not sure" how long he'll be able to keep the Can Factory "the most affordable place in town," but plans are currently in the works to "triple the size of the complex," adding more space for people to live and work. XØ Projects hopes to build at least one if not two new buildings, bridging over the existing Can Factory and building up. Some of the new construction would subsidize the spaces that are existing, and those could remain affordable in perpetuity. The plan, Elbogen said, is to create "a 24/7 community of artists, artisans, and nonprofits," allowing some to live and work in the building while also installing larger market, exhibition, and performance spaces, among other improvements.
Presumably, once the work is done, there will be plenty more space for publishers looking for an affordable home among their own.