A book fair post pandemic: What book lovers in Chennai were treated to
A book fair post pandemic: What book lovers in Chennai were treated to
on
Mar 09, 2021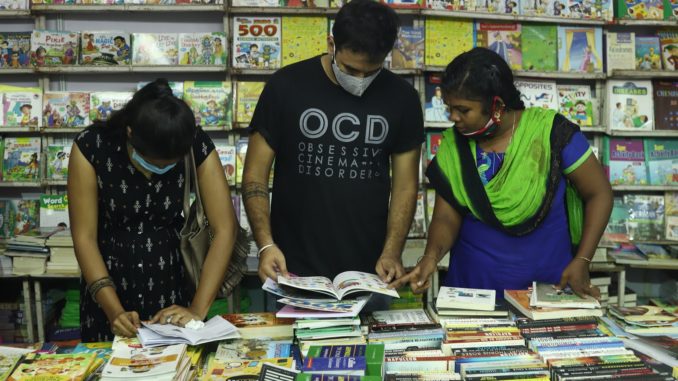 Bibliophiles in the city finally found cause to celebrate over the last fortnight as the much-awaited 44th annual book fair was held on the YMCA grounds, Nandanam. Citizens from all sections of society flocked to the event to check out the new collections and buy their favorite books. The event comes to an end today, March 9th. But how did the book fair in the age of the pandemic go? Having been cancelled last year due to COVID, the book fair this time, organised by the
Booksellers and Publishers Association of South India (BAPASI)
was a much-anticipated event. Usually held during the Pongal holidays, the Fair had to be postponed to February this year, due to the COVID-19 pandemic. Nevertheless, it saw a huge turnout. Since BAPASI has a strict
'no posters policy,
they advertised the event through digital platforms and spread the word through voice announcements across the city. A mini-marathon called "Run to Read" was held last month, inaugurated by former Chennai police commissioner A.K Viswanathan, to spread the word about the event among Chennaiites. "It was such a nice feeling to buy books, meet book lovers and writers at the fair," said Vasantha Kumari, who reads books during her free time. Pandemic or otherwise, she would never miss the event that always promises exciting literary events and new book releases.
COVID precautions at the fair
"The new normal made safety a primary prerequisite. The temperature was checked at the entrance and sanitizers provided across most stalls. This year, masks were made mandatory for both the participants and the attendees. We regularly monitored spaces across the fair to ensure that people were wearing their masks and social distance was being maintained. Since this was the first event since the pandemic to see such huge mass gathering, safety was our first priority too," said Dinesh Kumar R, media coordinator of BAPASI.
"
I've been visiting the book fair for the past few years regularly. It is a good platform to meet prominent writers, as they visit the fair for reading sessions. The new release this year, 
A Man Ahead Of His Time
by renowned Journalist G Babu Jayakumar is my most recent read," said Gopi Venkat SR, an avid reader and a student of Madras Christian College.
Helping publishers
The fair received an overwhelming response from book lovers who missed the physical feel of books during the lockdown. "Staying indoors for 10 months has revived reading habits among people. Though the new normal has made most pursuits and interactions virtual, people are still fascinated by the idea of reading physical books. Even under the present circumstances, we were expecting an increase in sales and our business has been only marginally restricted," said Dinesh. The organisers shared that the rent of the stalls in the fair had been reduced by 20% to support publishers affected during the pandemic; for those who could not afford to rent stalls, racks had been provided where they could display their books for free.
The organisers also honoured publishers and publishing houses who were celebrating their platinum jubilee. The event will conclude with the organisers honouring citizens who have lent their service to the publishing industry for 25 years.
Political titles emerge favourites
"Perhaps because it's election season in Tamil Nadu, a lot of books on the state's politics and Dravidian culture were sold. Among the Tamil books, Velpari by Vikatan publications and the list of books mentioned by actor Kamal Haasan on the Big Boss television show found many buyers," said Saravanan of Taran publications. Among English books, Think Like A Monk, Ikigai and novels by Chetan Bhagat were fast movers, Saravanan added. Read more:
'Game of Thrones' Author's Story Getting a Movie Adaptation by 'Resident Evil' Duo Paul W.S. Anderson and Milla Jovovich