5 recommendations for kids' books you can take out of the library
5 recommendations for kids' books you can take out of the library
on
Jul 19, 2021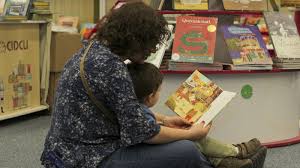 We have curated 5 books for kids you can take out of the library.
Walter the Farting Dog (William Kotzwinkle, 2001)
Walter is a fine dog, except for one small problem: he has gas. He can't help it; it's just the way he is. Fortunately, the kids Billy and Betty love him regardless, but Father says he's got to go! Poor Walter, he's going to the dog pound tomorrow. And then, in the night, burglars strike. Walter has his chance to be a hero. A children's beloved classic, this story will have kids rolling on the floor with laughter. Adults are permitted to laugh too.
Rescuing Mrs. Birdley (Aaron Reynolds, 2020)
Miranda is an animal expert. Or at least, she watches a lot of Nature Joe. Nature Joe is incredible. He rescues animals, returning them to their natural habitat. Mrs. Birdley is a teacher. The natural habitat of a teacher is a classroom. So when Mrs. Birdley escapes school and ends up wild, loose, and confused at the local grocery store, Miranda knows just what to do: she must use her brain, her guts, and her extensive knowledge of Nature Joe to rescue Mrs. Birdley—at any cost!
Creepy Pair of Underwear! (Aaron Reynolds, 2017)
Jasper Rabbit is NOT a little bunny anymore. He's not afraid of the dark, and he's definitely not afraid of something as silly as underwear. But when the lights go out, suddenly his new big rabbit underwear glows in the dark. A ghoulish, greenish glow. If Jasper didn't know any better he'd say his undies were a little, well, creepy. Jasper's not scared obviously, he's just done with creepy underwear. But after trying everything to get rid of them, they keep coming back!
Ada Twist, Scientist (Andrea Beaty, 2016)
Scientist Ada has a boundless imagination and has always been hopelessly curious. Why are there pointy things stuck to a rose? Why are there hairs growing inside your nose? When her house fills with a horrific, toe-curling smell, Ada knows it's up to her to find the source. What would you do with a problem like this? Not afraid of failure, Ada embarks on a fact-finding mission and conducts scientific experiments, all in the name of discovery. But, this time, her experiments lead to even more stink and get her into trouble!
That is Not a Good Idea! (Mo Willems, 2013)
One day a very hungry fox meets a very plump goose. A dinner invitation is offered. Will dinner go as planned? Or do the dinner plans involve a secret ingredient? (Don't forget to listen to the baby geese!) ***Note from Heidi - I recommend just about any Mo Willems book, including the Pigeon and the Elephant and Piggie series.
Source - sudbury