Frontlist | 5 DC Comics To Read If You Love Poetry
Frontlist | 5 DC Comics To Read If You Love Poetry
on
Dec 28, 2020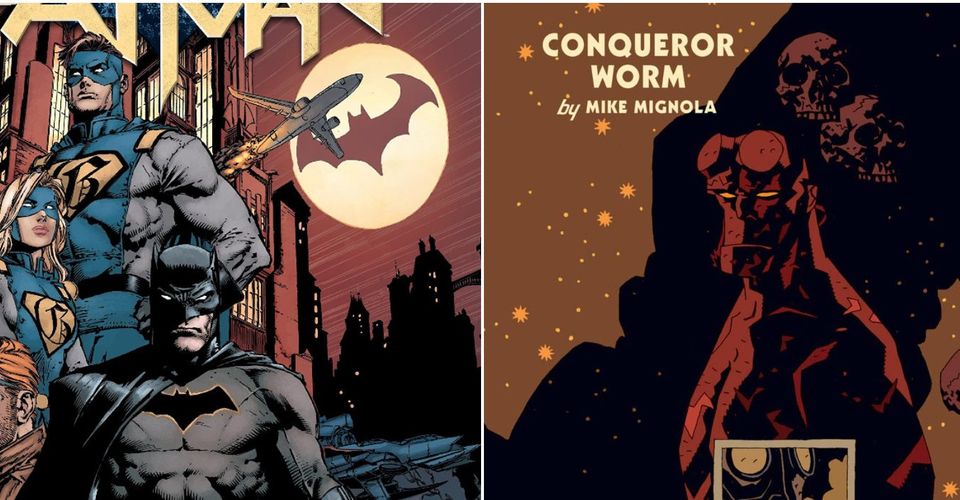 Comic books might not seem like the best source of poetry but some DC stories have great poems for any literature lovers to enjoy.
Comics, and particularly superhero comics, have often been described as modern myths. But before stories of larger-than-life heroes and villains were printed in bright-colored sequel art, myths were passed down in the form of poetry, both as oral traditions and recorded epic poems like 
The Epic of Gilgamesh.
It should not surprise people to learn that quite a few comics pay their respect to poetry. From Tom King's 
Batman
 using lyric poetry in the dialogue to original indie series that invoke poetic classics, there are plenty of classic comics for lovers of poetry—and quite a few poets working in the comics industry.
10) DC: Tom King's Batman
Tom King took over writing 
Batman
 at the start of 
DC: Rebirth
 in 2016. He had already proven his chops as a writer with his amazing work writing 
Vision
 for Marvel and his innovative 
Omega Men
 series for DC. His 
Batman
 run had numerous innovations, but an ongoing theme was the exploration of poetry. Penguin and Alfred quote poetry at different times, but much of the dialogue is written as spoken-word poetry with a rhythm and cadence as repeated phrases change meaning throughout an interaction. The best examples of this are when Batman and Catwoman banter back and forth.
9) Indie: Hellboy: Conqueror Worm
Hellboy has had numerous misadventures in his fights against monsters, supernatural horrors, and literal Nazis. One of his most notable stories is "Conqueror Worm," named after a poem by Edgar Allen Poe. Not only does Poe's poetry weave through the narrative, but this dark cerebral story weaves numerous elements of lore together in truly compelling ways, making it a story new readers and those already familiar with Hellboy will both love. It won the 2002 Eisner Award for Best Limited Series.
8) DC: The Sandman
Neil Gaiman's 
The Sandman
 is a brilliant work of literary fiction that spans across just about every imaginable facet of time, space, and genre. It also happens to be a comic set in the DC Universe. Throughout the series, numerous poems are referenced. The character Lucifer casually quotes from
 Milton's Paradise Lost. Shakespeare's A Midsummer Night's Dream
 is performed for the very fey it depicts, the iambic pentameter demonstrating the Bard's lyrical mastery. A story featuring John Constantine uses the modern poetics of pop music while another story depicts Geoffrey Chaucer busy at work composing Canterbury Tales in an inn.
7) Indie: Archer & Armstrong
Valiant's 2012 
Archer & Armstrong
 series is simultaneously one of the smartest and funniest books ever produced by the company—which is saying quite a bit. Written by Fred van Lente with illustrations by artists like Pere Perez and Clayton Henry, this story follows the misadventures of an immortal drunkard named Armstrong who has been partying it up since his time in ancient Mesopotamia and a repressed boy named Obadiah Archer who was trained by his Evangelical parents to assassinate Armstrong.
6) DC: V For Vendetta
This book is not written in the DC Universe but is a DC property. Written by Alan Moore and drawn by David Lloyd, 
V For Vendetta
 is a political and philosophical exploration of two opposing ideologies—fascism and anarchism—set in a dystopian fascist Britain inspired by Margaret Thatcher's policies. The book is brimming with too many poetic references to list here, but among them is the poem/song "Remember, remember, the 5
th
 of November; the gunpowder, treason, and plot"—a song about Guy Fawkes's attempt to blow up the House of Lords.
5) Indie: Fun Home
Alison Bechdel is a fantastic feminist comics creator whose cultural contributions include "the Bechdel Test," a study of storytelling to see if there is a scene with at least two women in it who have a conversation about something other than a man. Her book 
Fun Home
 is a comic memoir, and it involves numerous references to both classical works of prose and poetry—as well as some literature that blurs the line. Growing up in a funeral home, she learned to bond with her father over great writing.
4) DC: Saga Of The Swamp Thing #34
Alan Moore's work writing 
Saga of the Swamp Thing
 helped make comics into a respected literary art form, and one of the stories that made this transformation possible was issue #34 "entitled "Rites of Spring," with art by Stephen Bissette and John Tolteben. This issue is beautifully written as a prose poem about sex, love, and life, exploring these themes with more nuance and insight than almost any work of modern literature.
3) Indie: Fearscape
This book cannot be praised enough. It is a brilliant journey through literary themes and archetypes, simultaneously celebrating and subverting them. There are allusions to Nabokov and invocations of Petrarch, while the protagonist, Henry Henry, is an unreliable narrator in love with his own ego. Written by Ryan O'Sullivan and drawn by Andrea Mutti, this dark comic scintillates with radiant writing while delving into the marrow of poetry, literature, folklore, and myth.
2) DC: Batman: The Long Halloween
The Long Halloween
 is a story about how Gotham transitioned from a city under mob rule to one terrorized by supercriminals. The change was important, as Frank Miller's 
Batman: Year One
 showed the Dark Knight fighting against the systemic corruption of organized crime, police brutality, and City Hall all working together—a far cry from the Joker's zany antics of the or shapeshifting horror of Clayface that Batman fights against in most of his stories. One of the supernatural characters introduced is Solomon Grundy, whose name is based on a 19
th
 Century poem first collected by the antiquarian and English scholar James Orchard Halliwell.
1) Indie: The League Of Extraordinary Gentlemen: The Black Dossier
Alan Moore and Kevin O'Neil's 
The League of Extraordinary Gentlemen
 is a series originally pitched as a Victorian version of the Justice League, bringing together notable literary figures such as Mina Harkness, H.G. Wells's Invisible Man, and Captain Nemo. Each subsequent volume expanded the lore and literary references. The third book in the series, The Black Dossier, brought in numerous poetic elements, including Orlando/Roland (from such poems as 
The Song of Roland 
and 
Orlando Furiosa
), William Shakespeare's The Tempest, and the stream of consciousness-style beat poetry of Jack Kerouac. It is a dense read, but absolutely worth delving into—though it is a good idea to start with the first book in the series.
Source: CBR.com