5 Best Horror Books To Read On This Halloween Special
5 Best Horror Books To Read On This Halloween Special 1
on
Oct 30, 2021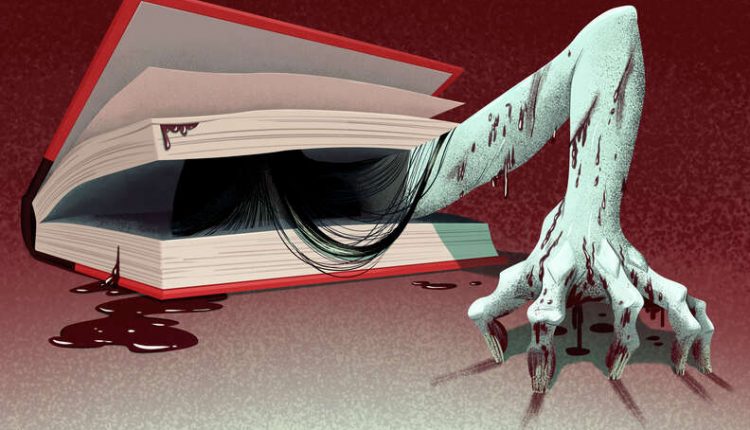 It's a Halloween Week!  Here's a list of some terrifying reads recommended by us that will instill the fear in every reader's mind and keep them up all night
The Glass Woman
In the tradition of 
Jane Eyre
 and 
Rebecca
—
The Glass Woman
 by Caroline Lea in which a young woman follows her new husband to his remote home on the Icelandic coast in the 1680s, where she faces dark secrets surrounding the death of his first wife amidst a foreboding landscape and the superstitions of the local villagers. "Gripped me in a cold fist. Beautiful." —Sara Collins, author of 
The Confessions of Frannie Langton
"An Icelandic Jane Eyre."  —
Sunday Times
, London Rósa has always dreamed of living a simple life alongside her Mamma in their remote village in Iceland, where she prays to the Christian God aloud during the day, whispering enchantments to the old gods alone at night. But after her father dies abruptly and her Mamma becomes ill, Rósa marries herself off to a visiting trader in exchange for a dowry, despite rumors of mysterious circumstances surrounding his first wife's death. Rósa follows her new husband, Jón, across the treacherous countryside to his remote home near the sea. There Jón works the field during the day, expecting Rósa to maintain their house in his absence with the deference of a good Christian wife. What Rósa did not anticipate was the fierce loneliness she would feel in her new home, where Jón forbids her from interacting with the locals in the nearby settlement and barely speaks to her himself. Seclusion from the outside world isn't the only troubling aspect of her new life—Rósa is also forbidden from going into Jón's attic. When Rósa begins to hear strange noises from upstairs, she turns to the local woman in an attempt to find solace. But the villager's words are even more troubling—confirming many of the rumors about Jón's first wife, Anna, including that he buried her body alone in the middle of the night. Rósa's isolation begins to play tricks on her mind: What—or who—is in the attic? What happened to Anna? Was she mad, a witch, or just a victim of Jón's ruthless nature? And when Jón is brutally maimed in an accident a series of events are set in motion that will force Rósa to choose between obedience and defiance—with her own survival and the safety of the ones she loves hanging in the balance.  
Imaginary Friend 
We can swallow our fear or let our fear swallow us. Single mother Kate Reese is on the run. Determined to improve life for her and her son, Christopher, she flees an abusive relationship in the middle of the night with her child. Together, they find themselves drawn to the tight-knit community of Mill Grove, Pennsylvania. It's as far off the beaten track as they can get. Just one highway in, one highway out. At first, it seems like the perfect place to finally settle down. Then Christopher vanishes. For six long days, no one can find him. Until Christopher emerges from the woods at the edge of town, unharmed but not unchanged. He returns with a voice in his head only he can hear, with a mission only he can complete: Build a treehouse in the woods by Christmas, or his mother and everyone in the town will never be the same again.
Twenty years ago, Stephen Chbosky's The Perks of Being a Wallflower made readers everywhere feel infinite. Now, Chbosky has returned with an epic work of literary horror, years in the making, whose grand scale and rich emotion redefine the genre. Read it with the lights on.
Daughter of Smoke & Bone
Around the world, black hand prints are appearing on doorways, scorched there by winged strangers who have crept through a slit in the sky. In a dark and dusty shop, a devil's supply of human teeth grows dangerously low. And in the tangled lanes of Prague, a young art student is about to be caught up in a brutal otherworldly war. Meet Karou. She fills her sketchbooks with monsters that may or may not be real, she's prone to disappearing on mysterious errands, she speaks many languages - not all of them human - and her bright blue hair 
actually
 grows out of her head that color. Who is she? That is the question that haunts her, and she's about to find out. When beautiful, haunted Akiva fixes fiery eyes on her in an alley in Marrakesh, the result is blood and starlight, secrets unveiled, and a star-crossed love whose roots drink deep of a violent past. But will Karou live to regret learning the truth about herself?  
A Slow Fire Burning
Laura has spent most of her life being judged. She's seen as hot-tempered, troubled, a loner. Some even call her dangerous. Miriam knows that just because Laura is witnessed leaving the scene of a horrific murder with blood on her clothes doesn't mean Laura is a killer. Bitter experience has taught her how easy it is to get caught in the wrong place at the wrong time. Carla is reeling from the brutal murder of her nephew. She trusts no one and no thing: good people are capable of terrible deeds. But how far will she go to find peace? Innocent or guilty, everyone is carrying damage. Some are damaged enough to kill.      
Source - Goodreads