Frontlist | 2 Manipur editors, 'author' booked under sedition law, UAPA for 'endorsing armed revolution'
Frontlist | 2 Manipur editors, 'author' booked under sedition law, UAPA for 'endorsing armed revolution'
on
Jan 20, 2021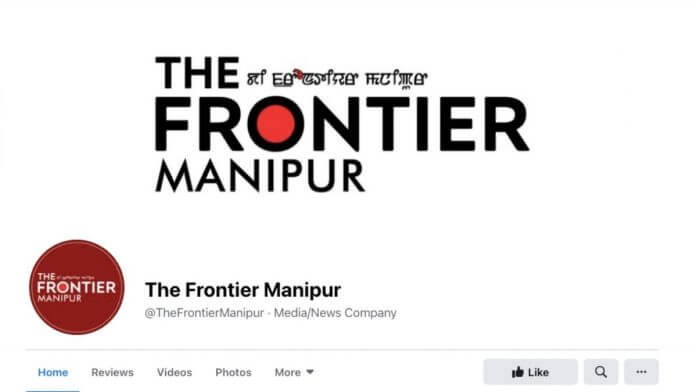 Guwahati: 
The Manipur Police filed a suo motu FIR against the executive editor and the editor of online news portal 
The Frontier Manipur 
over the publication of an article that "openly endorsed revolutionary ideologies and activities".
Executive editor Aribam Dhananjoy, popularly known as Paojel Chaoba, was arrested late Sunday night while editor Dhiren Sadokpam was called in for questioning. The two were released Monday afternoon.
The FIR also named the author of the article, M. Joy Luwang, though police are still trying to establish the person's identity. "The person who has written the article is not known… they (the editors) are not disclosing his identity," Imphal West Superintendent of Police K. Meghachandra Singh told ThePrint. All three have been charged under sections 124A (sedition), 120B (criminal conspiracy), 505(b) (causing alarm to induce offence against the state), and 34 (common intention) of the the Indian Penal Code, as well as Section 39 (supporting terror organisation) of the Unlawful Activities (Prevention) Act. Speaking to ThePrint after being released, Chaoba said, "The government needs to be appreciative of what journalists are trying to do. As journalists, we are supposed to move the opinion of public. And when our freedom of expression is stifled, we need to stand together and fight these repressive measures."
Article published without verification'
The two editors were released after members of the All Manipur Working Journalists Union (AMWJU) met with Chief Minister N. Biren Singh Monday. "The Chief Minister and the Union negotiated, and at some point, the CM realised and ordered for their unconditional release," Khwairakpam Naoba, AMWJU general secretary, told ThePrint. Police said the editors had published the article without any verification.
"They have been released for the blunder they committed. Without authentication, they published the article. Their web page is not even registered. Some clarification was sought from their end, and after examination, it was found that their intention was not bad," said Meghachandra.
In a letter addressed to the superintendent, a copy of which is with ThePrint, Chaoba said the "source was unverified, but came from one person called M. Joy Luwang". "I regret that the government finds the article questionable and I submit that it was an oversight from our part. There will be no such mistake which will not pass our scrutiny in future," Chaoba wrote. Speaking to ThePrint, Chaoba later said, "We need to carry all kind of news, but while adhering to journalistic ethics. My number is available in open platform and that's how M. Joy Luwang sent me his article, through WhatsApp. It had only his address and name. Yes, there was an oversight on our part. His credentials were not checked." According to the FIR, in the 8 January article, "the author has openly endorsed revolutionary ideologies and activities and expressed shock and dismay at the deteriorating character of the armed revolutionary leaders of Manipur in the recent decade". Luwang has "preached about the behaviour and characters that a true revolutionary should possess", the FIR stated, and added that he is "calling out to the people of Manipur to become true revolutionaries". "His article clearly expressed sympathy and support to the ideologies and activities of the armed revolutionary groups and out rightly called the rule of law of the Union government and Centre as colonial law," it said.
'Media becoming less and less free'
Speaking to ThePrint, senior journalist and author Pradip Phanjoubam, editor of Imphal-based news portal 
FPSJ Review of Arts and Politics,
 said media in Manipur is becoming "less and less free". "It's shocking … (there is) a really big spike in the manner the press is being targeted by this government. Either much of the press here has been intimated or else, there is hardly a media which is standing up against the government," Phanjoubam said. He said the media has for long been publishing news related to militant groups, but that does not amount to endorsing those views. "What's written about the UGs (underground groups) or militants is also news. We have to publish it and people should know what they are talking … unless, of course, they are calling for violence or assassination of people. I don't think there's any wrong in publishing what the militants are saying… It doesn't mean we are endorsing it." Manipur student activist Thokchom Veewon told ThePrint that such action against journalists amounts to "political persecution by the BJP-led government in Manipur". "The journalist has been very outspoken against the BJP government for the past few years. If there is any name for how the government conducts itself when it comes to freedom of speech and expression, it is fascism. And they don't want to be called that. That is their problem. Not the people's," said Veewon. However, BJP's chief spokesperson Chongtham Bijoy said "the government is more concerned with enforcing law and safeguarding the unity of the country than being worried about political loss or gain". "We may not be popular today because of these actions, but we cannot overlook things. Northeast is very sensitive, and we cannot permit any seditious or anti-national narrative to grow here. Journalists might not be publishing such things out of free will, but (could be) pressured by insurgent groups," he told ThePrint. "Some journalists tend to put forth the narrative of insurgents. That is when the government takes action. Working as a journalist in Manipur is hazardous. They are pulled up by the government and also receive death threats from militants," he added.
Not the first time
Over the past few years, the Manipur Police has booked several journalists in defamation cases and lodged criminal complaints against a few others. In 2018, Kishorchandra Wangkhem, associate editor with 
Frontier Manipur,
 was detained under the National Security Act for posting a Facebook video critical of CM Singh and Prime Minister Narendra Modi. He had spent over four months in jail and was arrested a second time last year under sedition charges, when he spent another two months in jail. "What Kishorechandra did was outrageous. Hate mongering and hate speech is not freedom of expression. There is a limit and any decent person should know it. The media suppresses this fact and highlights only one side of the story," said BJP's Chongtham. The same year, the state government filed a criminal defamation case against the 
Imphal Free Press
, an English-language daily, for reporting on a poll that indicated a dip in CM Singh's popularity rankings. Phanjoubam, who was IFP's editor at the time, was named in the complaint along with two others.
(This report has been updated to reflect that the two editors have been released by police, and include a statement from executive editor Aribam Dhananjoy.)
Source: https://theprint.in/india/2-manipur-editors-author-booked-under-sedition-law-uapa-for-endorsing-armed-revolution/587500/