16 Movies That Are Better Than the Books They're Based On
16 Movies That Are Better Than the Books They're Based On
on
May 26, 2021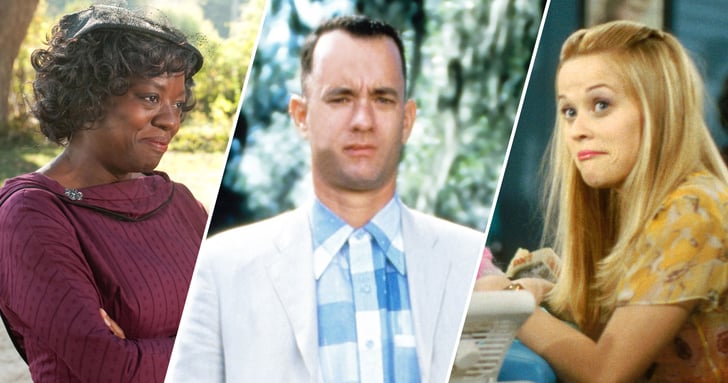 Movie adaptations of books often get a bad rap. And often, it's deserved. Seriously, don't even get us started on The Great Gatsby. (We still love you, Leo.) Or My Sister's Keeper? We did not just pay $12 to see them completely ruin the ending. Luckily, the following 16 films buck the trend of bad film adaptations. From The Notebook to Forrest Gump, read on for movies that are better than the books on which they're based.
1. 'THE GODFATHER' (1972)
Don't get us wrong, Mario Puzo's 1969 novel is wonderful. It's just that Francis Ford Coppola's 1972 film adaptation is a damn masterpiece. (Don't feel too bad for Puzo, though, he co-wrote the screenplay with Coppola.)
2. 'THE DEVIL WEARS PRADA' (2006)
Based on Lauren Weisberger's 2003 account of her time working for Vogue's Anna Wintour, the 2006 movie is inherently quotable and pretty close to perfect (in our humble opinion). Meryl Streep and Anne Hathaway are infallible as Miranda Priestly and Andy Sachs—a chilly editrix and her beyond naïve new hire.
3. 'NO COUNTRY FOR OLD MEN' (2007)
Cormac McCarthy's 2005 novel was great but sometimes confusing (thanks to McCarthy's famously punctuation-averse prose). Throw in an increased sense of plot clarity along with Javier Bardem's supremely creepy portrayal of Anton Chigurh and you've got yourself an Academy Award-winning film. This 2007 adaptation takes the cake in our mind.
4. 'THE LITTLE MERMAID' (1989)
Originally an 1837 fairy tale by Hans Christian Andersen, the story of Ariel the mermaid is way less dark in the 1989 film adaptation. Also, what would we do without such bangers as "Part of Your World" and "Under the Sea?
5. 'FORREST GUMP' (1994)
Written in 1986 by Winston Groom, Forrest Gump the novel is almost unidentifiable as the basis for the hit 1994 movie. Aside from the title character's name, the film is a totally different entity, and we couldn't be more thankful. In the book, Forrest grows up healthy and becomes an astronaut who befriends an ape named Sue in space.
6. 'FIGHT CLUB' (1999)
Even Chuck Palahaniuk, who wrote the novel in 1996, loves David Fincher's 1999 film adaptation of this cult classic. He's been quoted praising Fincher for his ability to streamline the plot and make connections that Palahniuk himself never thought to make. We agree, and applaud all the gratuitous shirtless imagery of Brad Pitt.
7. 'THE PRINCESS BRIDE' (1987)
Rob Reiner's masterful direction of this beloved 1987 comedic classic surpassed William Goldman's 1973 text by just a hair. Plus, like The Godfather, Goldman served as a screenwriter on the project, ensuring the plot didn't stray too far from the wonderful source text.
8. 'JURASSIC PARK' (1993)
Michael Crichton's 1990 book was a hallmark of our childhood, but in terms of action sequences and actually seeing the dinosaurs come to life (well, sort of), Steven Spielberg's 1993 movie slightly edges out its literary predecessor.
9. 'THE GRADUATE' (1967)
Charles Webb's 1963 book is great, but it doesn't hold a candle to the 1967 movie (if for nothing other than the latter's Simon and Garfunkel score).
10. 'JAWS' (1975)
Spielberg's touch wins out again, this time with his 1975 adaptation of Peter Benchley's 1974 novel. Add to his next-level direction a different ending and that music and you've got a totally iconic piece of cinema.
11. 'THE NOTEBOOK' (2004)
Nicholas Sparks' 1996 novel about the timeless love between Noah and Allie isn't everyone's cup of tea (basically, it's a run-of-the-mill love story), but for whatever reason, the 2004 movie resonated with a much wider audience. We're willing to bet the reason is the electric chemistry between Ryan Gosling and Rachel McAdams.
12. 'A WALK TO REMEMBER' (2002)
After falling in love with this wholesome teen romance film, we thought we'd give Nicholas Sparks's eponymous 1999 novel a read, but it wasn't nearly as engrossing. It's just not the same without Shane West's swoon-worthy smile or Mandy Moore's impressive rendition of "Only Hope."
13. 'ONE FLEW OVER THE CUCKOO'S NEST' (1975)
Don't get us wrong, Ken Kesey's novel, which centers on patients in an Oregon psychiatric hospital, is brilliant. But Jack Nicholson's powerful performance in the movie adaptation took it to a whole new level. Not only did it earn five Academy Awards, but it's also widely considered one of the best movies ever made.
14. 'HIDDEN FIGURES' (2016)
The 2016 nonfiction book, written by Margot Lee Shetterly, is certainly fascinating, but it reads more like a textbook than a gripping narrative. Thankfully, Taraji P. Henson, Octavia Spencer and Janelle Monáe did a stellar job of bringing NASA women Katherine Johnson, Dorothy Vaughan and Mary Jackson to life on screen.
15. 'THE SILENCE OF THE LAMBS' (1991)
Thomas Harris' 1988 psychological horror novel is a page turner from start to finish, but it doesn't hold a candle to the 1991 adaptation, with Jodie Foster's Oscar-winning performance. The movie won four more Academy Awards, including Best Picture—and yes, it's that good.
16. 'THE JANE AUSTEN BOOK CLUB' (2007)
Although most fans are typically turned off by adaptations with even the slightest change from the original story, it seemed to do wonders for this movie, based on Karen Joy Fowler's book of the same name. Come for the fun plot, stay for the dazzling cast (including Emily Blunt, Kathy Baker, Maggie Grace and more).