Frontlist | 10 comics you'll never read (because they're out of print)
Frontlist | 10 comics you'll never read (because they're out of print)
on
Jan 27, 2021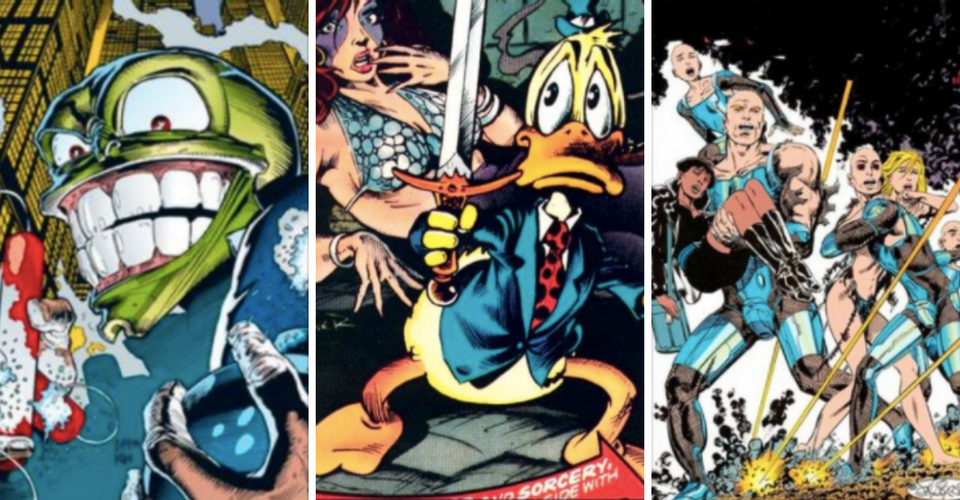 There are many comics that have gone out of print and may be worth having another look at.
As many stories have been created, they eventually have come to a standstill. In the best of scenarios, it is because the story has come to a happy conclusion. There aren't any other or better ways the story could be told, so then it comes to a close. Sometimes those stories may end sooner for a number of other reasons that may be out of the creator's control. In either scenario, when a story ends, it sometimes suffers the effects of never being retold. It's not always a matter of them lacking interesting content. Since comics have been a source of inspiration for many live-action stories, there are many that have gone out of print and may be worth having another look at.
Howard The Duck — Howard Was Meant To Be A One-Off Character That Was Killed In His First Introduction
The stories of Howard Duckson, as were originally told by his writer Steve Gerber, were stories that were very much made for the time they were written. First introduced in 1973 and then having his own series in 1976, Howard was meant to be a one-off character that was killed in his first introduction. He became extremely popular and was brought back and used his wit to give a satirical point of view of how the world functioned at the time. With Gerber's writing, his stories were unique in that he often used Howard as a vehicle for his own thought processes. He would often give nods to things that were happening in real life as he was experiencing or seeing it. Unfortunately, Howard's history was mired in a convoluted mess of conflict, and Gerber had eventually retired from writing for the character before his passing in 2008. Marvel still owns the rights to the character, but attempts to bring him back have generally flopped.
Amalgam Universe — Unfortunately, The Imprint Only Lasted A Year Before Shutting Down For Good
DC Versus Marvel was one of the biggest events to ever exist in comic book history. In 1996, characters from each universe were forced to battle each other over a series of issues, and it helped solve some of the biggest questions asked by fans: which universe had the stronger characters? Of course, for the sake of upholding each business, the battle came to a draw, but what resulted was a temporary fusion of the two universes and the creation of the Amalgam Universe. Character mash-ups of all kinds were made — Spider-Boy was a mix of Superboy and Spider-Man, Amazon fused Wonder Woman and Storm together, and Dark Claw had Batman and Wolverine sharing the cowl. It was a really strange but wonderful time.
Next Men —  The Stories Have More Or Less Concluded With Next Men: Aftermath Even Though John Byrne Had Originally Intended For It To Stop After Volume One
Known for having one of the earliest introductions of Mike Mignola's Hellboy, John Byrne's Next Men was a team of misfits who were raised under questionable circumstances. As the product of experimentation, each member of the group is grown with special abilities that appear to be "contagious" in nature. Byrne designed the series to be somewhat analogous to the X-Men. A common theme is given where those with superpowers are regarded as freaks. Many of the stories are fairly dark, which is in sharp contrast to many team-based comics at the time. The first volume of the series was published with Dark Horse in 1992-1994, and volume two was made with IDW.
Psi-Force — The Original Series Ran For Over Thirty Issues Between 1986 To 1989
The White Event is something that was highly influential to Marvel Comics' history. Acting as the trigger for the spawn of many new heroes in 1986, CIA operative Emmett Proudhawk found himself endowed with new psionic powers that gave him abilities in telepathy and mind control. Using these powers, he located an eclectic group of teens who also had gained similar abilities. He is killed by a Russian agent with similar abilities, but the teens together found that they could combine their powers together to form the psionic powerhouse, Psi-Hawk. As one of Marvel's teams, they often would lean into themes of teamwork and individual identity throughout the series.
M. Rex — It Saw A Continuous Run For Three Seasons Before Its Conclusion
Readers might recognize some of the characters as well as parts of the story that came from the extremely short run of M. Rex, a title published by Image Comics. Created by Aaron Sowd, Joe Kelly, and Duncan Rouleau, the two-issue series included a young boy who gains the ability to create and manipulate machines at will. The story became the inspiration for the animated series Generation Rex. It was made from the same studios that made Ben 10 and saw a continuous run for three seasons before its conclusion. The comic had the potential to be far going, which is evidenced by the success of the show.
Korak Son Of Tarzan — In 1972, The Rights Were Transferred Over To DC Comics, But Then It Was Shortly Renamed To The Tarzan Family & Then Shut Down In 1976.
Most people who are familiar with Tarzan may not be aware of how the story continues after his first adventures with Jane. At some point in his life, he does team up with Red Sonja. Eventually, he settles down in England and is married to Jane. Not enjoying his life in civilization, Tarzan and Jane end up back in Africa where they raise their son, Korak, in the vast jungle. Korak's adventures have been described in novels, but it was in the comics where it truly came to life. It was first published under Golden Key Comics in 1964.
WildC.A.T.S — There Have Been Conversations About Relaunching The Comic, But The Numerous Cancellations & Setbacks Have Made It Uncertain If Or When It Will Continue
Jim Lee's first project with Wildstorm yielded the launch of an entire universe that later was integrated into DC's own. Seeing enough success to also be made as an animated series, WildC.A.T.s introduced a team that hugely impacted both Image and DC brands. As a superhero team, the group was composed of specially powered beings who fought in a war against the Daemonites, a demon-like race of beings who were set on causing destruction on Earth. There have been conversations about relaunching the comic, and characters such as Grifter, have also made their appearance in DC comics. As of now, the numerous cancellations and setbacks have made it uncertain if or when it will continue.
Battle Chasers — It Suffered From Extremely Slow Publication Dates, Having Produced Only Nine Issues In Four Years
Joe Madureira was an extremely talented artist coming from the '90s. Having done a lot of work with Marvel, especially on some of the X-Men titles. He eventually created a comic of his own, called Battle Chasers, another title published under the DC imprint, Wildstorm. It was a fantasy tale about a girl on a search for her father, with the only clue being a pair of large magical gauntlets that he had left behind. The comic was highly praised by many of his fans, but it suffered from extremely slow publication dates. Having produced only nine issues in four years, many fans have eagerly asked for the story to continue. They sort of got their wish when Madureira released the video game Battle Chasers: Nightwar.
The Mask — The Comics Were Published As A Number Of Limited Series With The Last Series Being Published In 2015
A title made popular by Jim Carrey's film of the same name, The Mask was actually started as a comic book. While most people are familiar with his cartoonish energy, they might not realize his true, ultraviolent origins that he began with. The original comics feature a number of mask wearers, who are each overtaken by its powers and the insanity that it instills. The comics were published as a number of limited series. The last series published was in 2015. The gap of fourteen years between the prior publication may be an indication that it may be slow to return, if at all.
100 Bullets — It Came To A Well-Written Conclusion & Should Be Given A Read
The modern noir series created by Brian Azzarello and Eduardo Risso drew in folklore that is not usually seen in newer iterations of the genre. Themed heavily around the idea of revenge, the mysterious Agent Graves travels around and offers characters an untraceable gun and one hundred bullets. Each story goes in-depth with the questions and morality of payback while also weaving an intricate tale that comes to its end after one hundred issues. Thematically, it is extremely clever down to the titles used in the collected volumes.
Source: CBR.com