10 Best Sports Books of All Time
10 Best Sports Books of All Time
on
Jul 02, 2021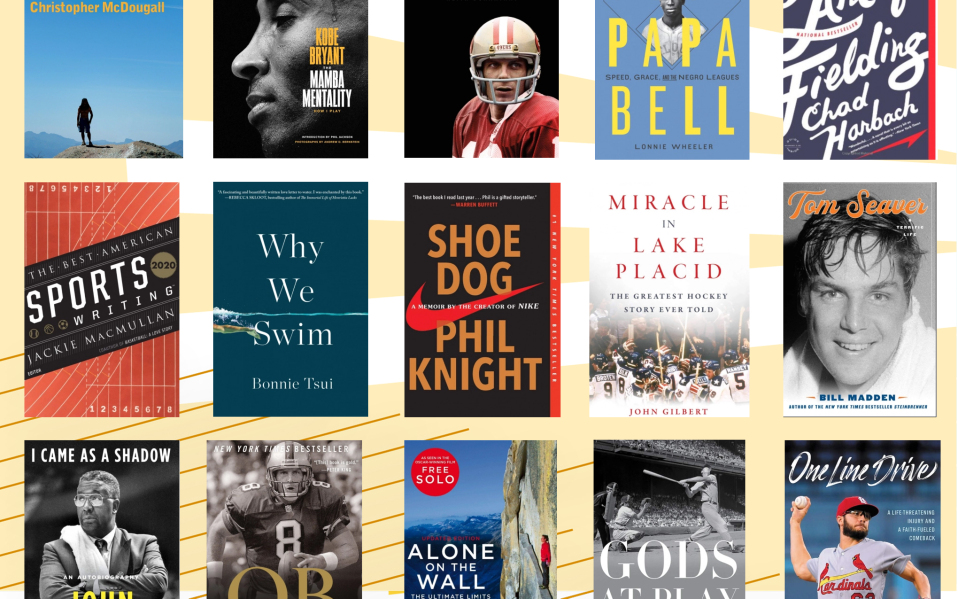 We all miss the way sports used to be, but what better way to reconnect than with one of the best sports books of all time? The greatest books transport you to another world, and sports books are no exception. Take a deep dive into the life of your favorite players, coaches and legends through a classic sports biography, memoir or even a playbook. Sports novels are another great way to experience your favorite game in a new way, especially when told through the lens of a sports fanatic who also happens to be a novelist. Or, if you're more interested in bettering yourself, coaches like Pete Carrol have written how-to guides to help you improve your mental game on and off the field. Whatever it is you love about sports, be it the entertainment factor, the history or hometown pride, there's a book here for you. Get back into the game with the best sports books ever written. These 10 books are also great gifts for sports fans. So whether you love baseball, basketball, football or more obscure sports like trail running, we've got something for every type of player and fan.
1. Shoe Dog by Phil Knight
What better way to start a new hobby than with one of the most beloved American brands? Reading about the beginning and lasting legacy of Nike is an astute form of sports knowledge and entertainment. You'll have plenty of fun facts and trivia to impress your friends with by the time we can all watch a game together again. Knight went on to sell his Nike shoes from the back of his car to being a worldwide phenomenon. His story is intriguing and brilliantly told: you won't regret picking up a copy of this enthralling life story of the man behind the brand.
2. Born to Run by Christopher McDougall
If you're an avid runner, then you probably have plenty of running memoirs and advice books but Christopher McDougall's exploration of the Tarahumara Indians in Mexico's Copper Canyon is the ultimate adventure story. McDougall set out to discover why his foot was hurting and discovered an entirely new (to him) way of running from the Tarahumara's ancient practice. They can run for hundreds of miles without stopping, chasing deer and Olympic marathoners with equal glee, but what's their secret? Why have we all been running wrong this entire time? McDougall's book explores all of these questions and seeks to answer his own initial question of why he's been taught the wrong techniques his entire life. Pick up this book if you're interested in a new way of running and to explore an untold history.
3. The Mamba Mentality: How I Play by Kobe Bryant
Famous all-star player Kobe Bryant's book has been an all-time favorite since its publication in 2018. The basketball star goes on to explain his role in the game and how he personally approaches it with a strong mindset and something called "the Mamba Mentality" which he cites is his key to success. A teacher, mentor, and fan favorite, Bryant has given the world a gift with this book, a how-to guide for young players around the world to play in his style. As one of the most successful and creative players, Bryant has a thing or two to say to young people or anyone seeking to find their way into the game. A great book for any basketball fan and aspiring player.
4. One Line Drive: A Life-Threatening Injury and a Faith Fueled Comeback by Daniel Ponce De Leon and Tom Zenner
At once a horrific story of injury and an amazing recovery story, Daniel Ponce De Leon was drafted four times by the MLB, only to take a hard one line drive to the skull that landed him in the hospital. Told with the help of writer Tom Zenner, De Leon's story is a tale of how faith can take us as far as we want to go. The book follows De Leon's miraculous recovery 14 months later to show one of the most impressive baseball pitching debuts in history. A great read for anyone seeking encouragement that your dreams are never over.
5. I Came as a Shadow: An Autobiography by John Thompson
Georgetown University's famous basketball coach has finally gifted us with a book of personal secrets. Having spent the last three decades inside the lives of famous players, on the front lines of racial disparity, and coming to terms with his childhood in the Jim Crow south, Thompson opens up and lets readers in. You won't want to miss this autobiography for all of it's insider stories, basketball lore, and plain good history. A great book for any basketball hopeful or fan.
6. Finding Ultra by Rich Roll
Rich Roll may be known best for his podcast but it all started with the book. His inspirational story covers the transformation he made from slightly overweight and not exercising, abusing alcohol and feeling depressed to becoming an Ironman athlete. His story is at once an inspiring tale and a cautionary one, foretelling what we can let happen to our bodies but also how we are capable of so much wonderful change. This is a great book for anyone on the cusp of changing their life or for those who are realizing they need to.
7. The Bona Fide Legend of Cool Papa Bell by Lonnie Wheeler
The historical legend that is Cool Papa Bell is a baseball player rich in stories and history. Born to sharecroppers in the south, baseball saved him from a life working in the slaughterhouses. A player known for his speed, Bell's story is told by baseball writer and historian Lonnie Wheeler, who charts his ups and downs throughout the US during racial disparity and Bell's escape to Mexico and the Dominican Republic to be free of the MLB color line. This is a fantastic story for all baseball fans and contains legends and lore you won't want to miss.
8. Montana: The Biography of Football's Joe Cool by Keith Dunnavant
This epic football biography covers the life of the legend Joe Cool, one of the most famous and influential players out there. Writer Keith Dunnavant takes readers along for a sweeping view of the life and struggles of Joe Cool as he portrays a keen-eyed portrait of the man who again and again defied the odds of the game. This competitive player's life was a routine of tension on and off the field from back surgery to the father who pushed him to the college coach who nearly got rid of him and every football fan who's ever played a sport will relate to his harrowing journey. An excellent choice for anyone missing out on the action.
9. QB: My Life Behind the Spiral by Steve Young and Jeff Benedict
Steve Young started out as an eighth-string quarterback at BYU — slim chances of ever getting to the big leagues but his story changed when he became All American and was the first pick of drafting season. But the more intense and deeply personal story of Young comes with the revealing of his anxiety and the consequences that led him to almost leave the NFL forever. An instant New York Times Bestseller, Young's story is a lesson for all young sports players about mental health and where the intensity can lead you, on and off the field.
10. Tiger Woods by Jeff Benedict and Armen Keteyian
The inspiration for the HBO series directed by Alex Gibeny, the real untold story of Tiger Woods, one of the greatest golfers that ever lived. Dive deeper than ever before for the harrowing account of the superstar's childhood, relationship with his father, and his narrow focus on golf and how he came to be the best player in history. As the most famous player in 2009, to the terrible Thanksgiving Day crash that set his personal and professional life over a cliff, who is Tiger Woods, really? A fantastic story told by two excellent sports writers, this is a great book for any fan of Woods looking to continue the story.
Source: Spy